Onwards to the next of our interviews with sustainability pioneers. Akepa has a word with SANVT – a fair fashion brand from Munich that makes timeless basics.
Many of SANVT's garments are prefixed with 'The Perfect' – The Perfect T-Shirt, The Perfect Sweatshirt, and so on. It's not an inaccurate way to put it because of the rare blend of quality, fit, and sustainability.
And now, let's get to the details….
To kick things off, why did you start SANVT?
My brother Felix and I had been looking for the perfect T-Shirt for a long time. After failing to find it, we decided to simply make it ourselves.  This idea inspired us to create SANVT, a brand that offers everyday-wear essentials of highest quality, produced in fair working conditions within minimal impact on the environment.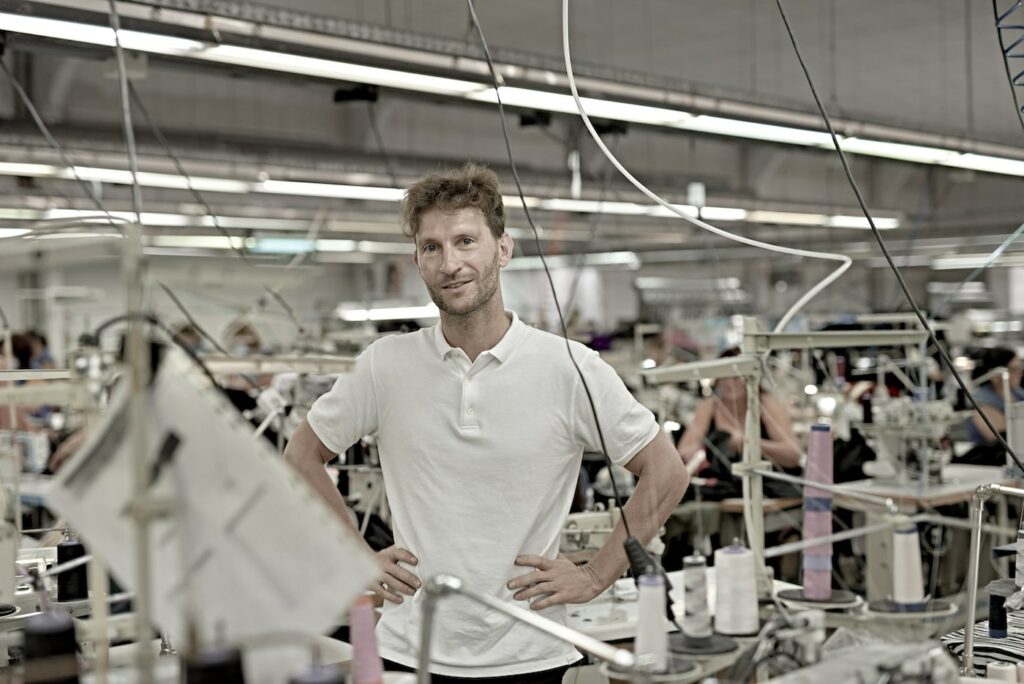 Can you explain the meaning behind the brand's name?
SANVT derives from the German word 'sanft' which has a similar meaning as the word 'soft'. It is a reference to our high-quality, soft materials and perfect fit, but also stands for our guiding principle in everything we do: sustainability and being as 'sanvt' as possible to humans and nature.
In what ways does SANVT differ from other sustainable essential brands that are out there?
We value transparency and offer in-depth information about our whole value chain to our customers. This is how we avoid greenwashing and prevent misinformation about sustainability.
We also stand out from other brands thanks to our innovative sizing system, where you can select your size by width but also length. There are more than 20 unique size combinations available on some items, so we can almost guarantee the perfect fit for every customer – no matter preferences or body type.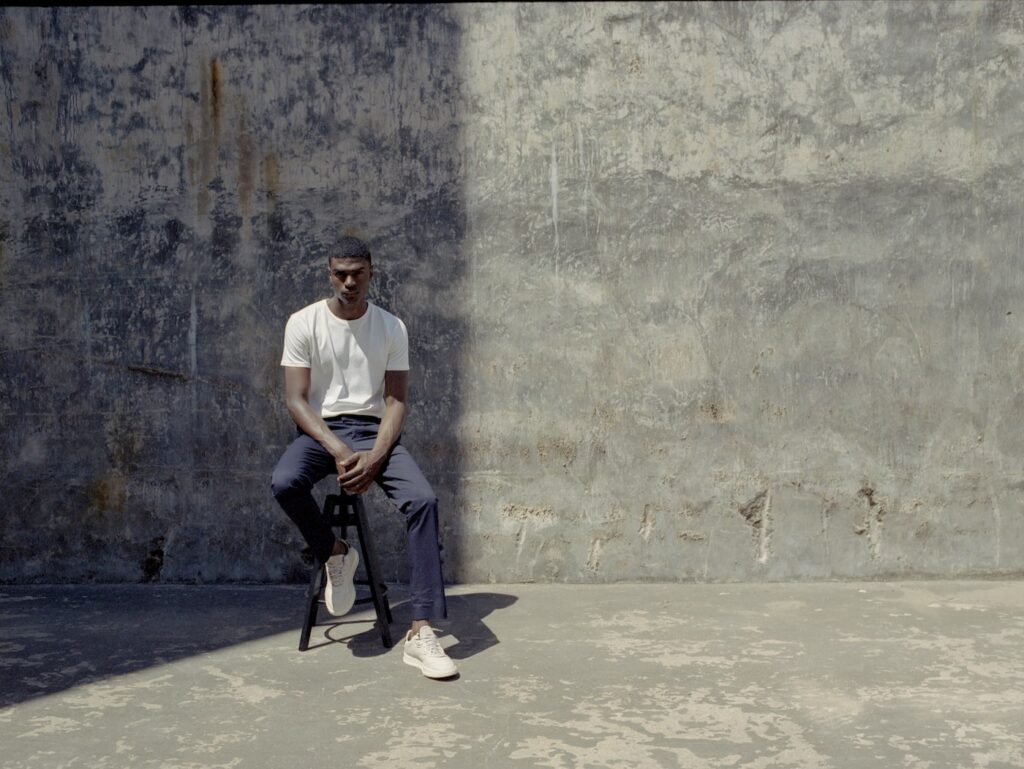 Buyers are now relying on certifications and labels to help them make sustainable choices. How important are these to SANVT?
As mentioned earlier, greenwashing is still a major issue in the fashion industry. That is why we value independent certifications that assure us and our customers that our products are made from sustainable materials. For example, most SANVT garments made from cotton are GOTS certified, which is a leading organic cotton certification. And our knitwear, we use 100% recycled materials – these are GRS (Global Recycled Standard) certified.
However, eco-labels are not a holy grail. A good example is our signature T-Shirt. "The Perfect T-Shirt" is made from ELS (extra long staple) cotton. Even though this luxury cotton variety is not available as GOTS, we decided to use it. Thanks to its outstanding quality the T-Shirt will last much longer than shirts made from conventional varieties. That in mind, we think that our ELS T-Shirt is probably the most sustainable garment in our collection (even though it is not certified with one of the standard sustainable labels). We also develop personal relationships with the yarn suppliers and know exactly where the ingredients for this premium fabric comes from…
SANVT is a brand that focuses on premium quality. How important is this towards the sustainability of the final garment?
All of our essentials are handmade from premium materials. High quality means long life and durability. Therefore our customers only have to invest once in good basics that they can wear for a long time. This principle is much more sustainable than the fast-fashion process, where cheap fashion has to be bought again and again at short intervals.

Another aspect of your garments is the minimalist style, is this also a conscious choice when it comes to sustainability?
Yes, we deliberately avoid big prints or flashy logos because we want our fashion to be as timeless and minimalist as possible. This is the only way we can assure our customers of maximum longevity, as our essentials always remain 'in'.
So if you equip yourself with SANVT clothing, you'll always have good basics in your wardrobe.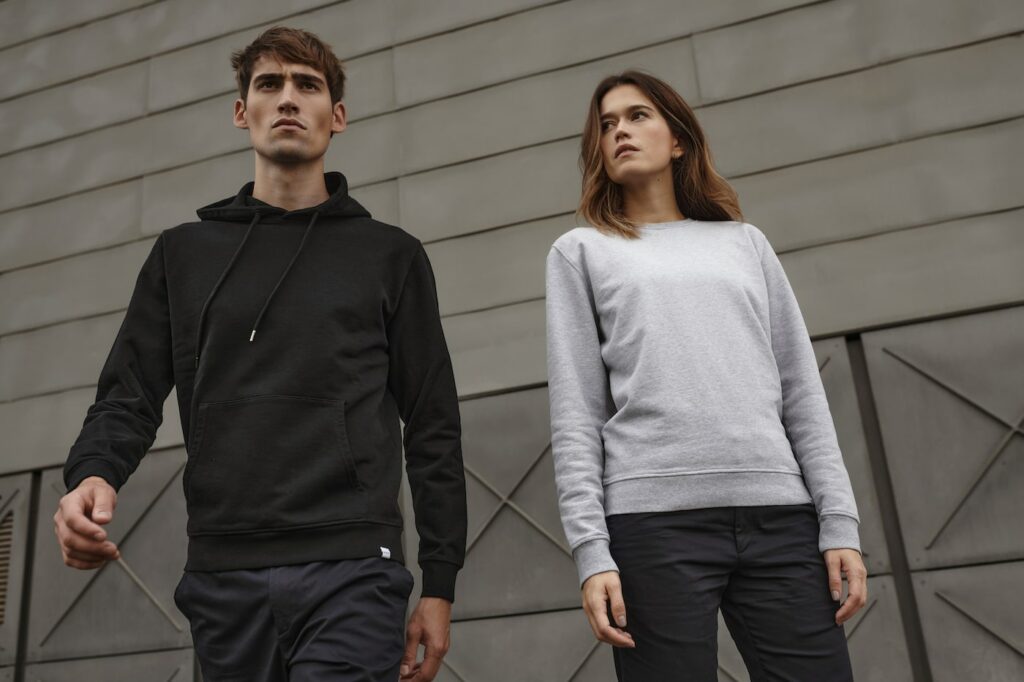 How do you discover and select factories to work with to make sure clothes are ethically made?
We manufacture exclusively in Europe and chose Portugal because there are many companies here that share our values. The factories we work with have been selected through research and personal visits. We also send a questionnaire to all our producers, asking clear questions about their approach to sustainability. Not only do we ask about the use of energy-efficient machinery or closed water cycles but also make sure workers are being paid and treated fairly.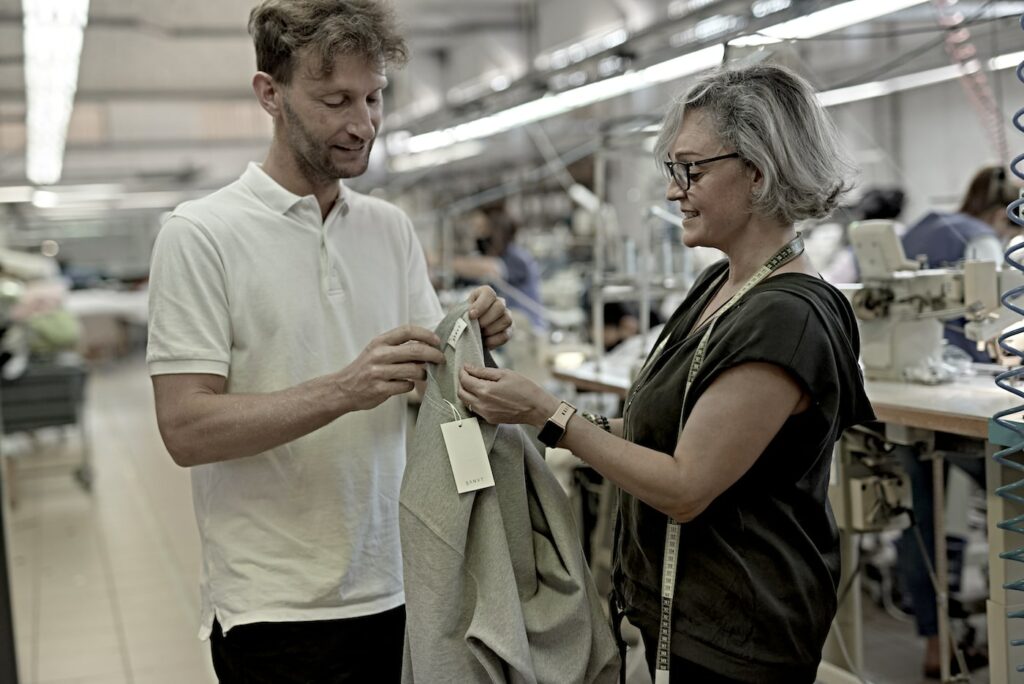 What other sustainable fashion brands do you admire?
The first brand that comes to mind is surely Patagonia. With the latest development of orienting the whole purpose of the company towards environmental goals is remarkable.
Aside from fashion, what are some of the most exciting sustainable brands that you're following at the moment?
I personally like the business model of "1 Komma 5" – a German tech start-up helping home-owners to install carbon neutral energy systems at their property. The company also has an innovative approach to aid with financing (leasing), which means 1 Komma 5 is not only tech innovation but also rethinks the whole value chain.
Sustainability can be a tricky concept to define. What's your definition?
To me, being a sustainable brand means producing long lasting essentials that are manufactured with minimal negative impact on humans and nature. This means that for SANVT, sustainability does not end with the environment. In our sustainability approach we do consider the ecological but also the economic and social aspects.
To put that in context, ecologically we design our entire value chain, from the procurement of raw materials to shipping to the end customer, to be as sustainable and environmentally friendly as possible. Economically, we value our economic situation and support where we can. Through projects such as our cooperation with Bergwaldprojekt e.V., we for example financially support the preservation of local forests in the Allgäu Alps.
Socially, together with Eden Projects, we want to enable a positive impact on the planet while supporting some of the poorest regions in the world. To that end, we plant a tree for every essential sold, not only helping the environment but providing jobs in developing countries.
2023 is likely to be another slow year economically, do you think this could present any problems for sustainability's… sustainability?
In fact, we believe that the current economic situation could have a positive impact on our sustainability thinking. More and more people are being persuaded by the 'more is less' mentality, especially as many are having to live better now.
This is where we come in with intelligent communications, to convince our customers of our mentality: consume less, but better. This is a story that we think needs to be told.
Do you have any predictions for the year ahead in sustainable fashion?
I think we'll see plenty of new legal regulations (perhaps not quite in 2023 – but in the next couple of years), helping transparency for people and ultimately making it harder for global players to "greenwash their sins".
Where would you like to be this time next year?
We have quite a few targets for this year. A first is to expand our supplier base by two additional production partners that are fully GOTS certified, while continuing to exclusively produce in the EU. On CO2, we want to stay 100% carbon neutral and reduce emissions where we can. Sustainability is also about social commitment so we want to earn at least 2.000€ at our sample sale and donate the whole revenue to a local social project.
We'd like to use more than 80% of fabrics made from natural and sustainable fibres over the coming year and plant at least 50,000 trees, to add to the 35,000 we planted in 2022. With our garment suppliers we aim to achieve 100% transparency. We'd also like to become B Corp certified in 2023 but we've heard the process can take a lot of time!
Like what you've heard so far? Visit SANVT's website to learn even more.