Sustainability stands firm in the spotlight against the backdrop of COVID-19. But sustainability is more than a mere trend. It's clear from the record attendance at the recent UN Climate Change Conference (COP26) that more people are ready to tackle the global climate crisis in more innovative ways.
With the urgency to develop an environmentally-friendly society, I expect to see global efforts carried through into the new year. Factors such as comprehensive regulation and social pressure will likely play a critical role in the shift towards a more sustainable future.
On this front, the sustainable landscape is evolving.
Let's zero in on some sustainability trends to look out for in 2022 that will continue to drive sustainable progress.
Cost reduction in green technology
In the last decade, the cost of green technology significantly dropped. Get ready to wave goodbye at fossil fuels as the most cost-effective source of energy. A new report shows the cost of solar and wind energies in dramatic decline against fossil fuel costs – thanks to advanced technology, a rise in production and savvier renewable developers.
One curious question you can expect to linger in 2022 is, are fossil fuels in trouble?
The answer is complicated, to say the least. The cost of renewable energy depends in part on the decisions governments make. Still, progress has been made.
For example, United Airlines just became the first airline ever to fly on 100% Sustainable Aviation Fuel (SAF). This made headlines because SAF is a biofuel that emits 75% less CO2 than traditional fossil fuel.
Here's what it means:
SAF is made of things like waste byproducts and even branches that have fallen on the forest floor.
United's test flight proves that SAF is as effective as conventional jet fuel. The big difference is that it has a smaller carbon footprint.
More people make it their personal goal to support corporations that prioritise innovative climate solutions.
Large corporations can drive change on a larger scale.
United has pledged to go 100% green by 2050.
It's a big milestone for the aviation industry.
Sustainable tech is far from perfect, sure, but I prefer celebrating the progress made. I will happily fuel this sustainable fire (aka buy from companies that prioritise sustainability).
A shift to a circular economy
Although in the early stages, the circular economy is a beautiful and ever growing trend inspiring environmentalists and businesses alike. It's a transition away from a throwaway economy into one where elimination, circulation, and regeneration takes shape.
What I'm most excited about is the idea that products are designed for durability and the materials come from old products. As a case in point, plenty of sustainable fashion brands are offering clothing repairs and recycling, as well as selling new stuff – with brands like Levi's and Nudie Jeans leading the way.
More of this sort of thing should appear in 2022. It's a good start to minimize waste destroying the planet and all its inhabitants.
I can't wait to see this concept grow.
Boost in ESG investment
Speaking of growth, since the start of the pandemic, ESG (Environment, Social, and Governance) has gained considerable popularity in the sustainability sphere. This is clear from the results in the Google Trends data below.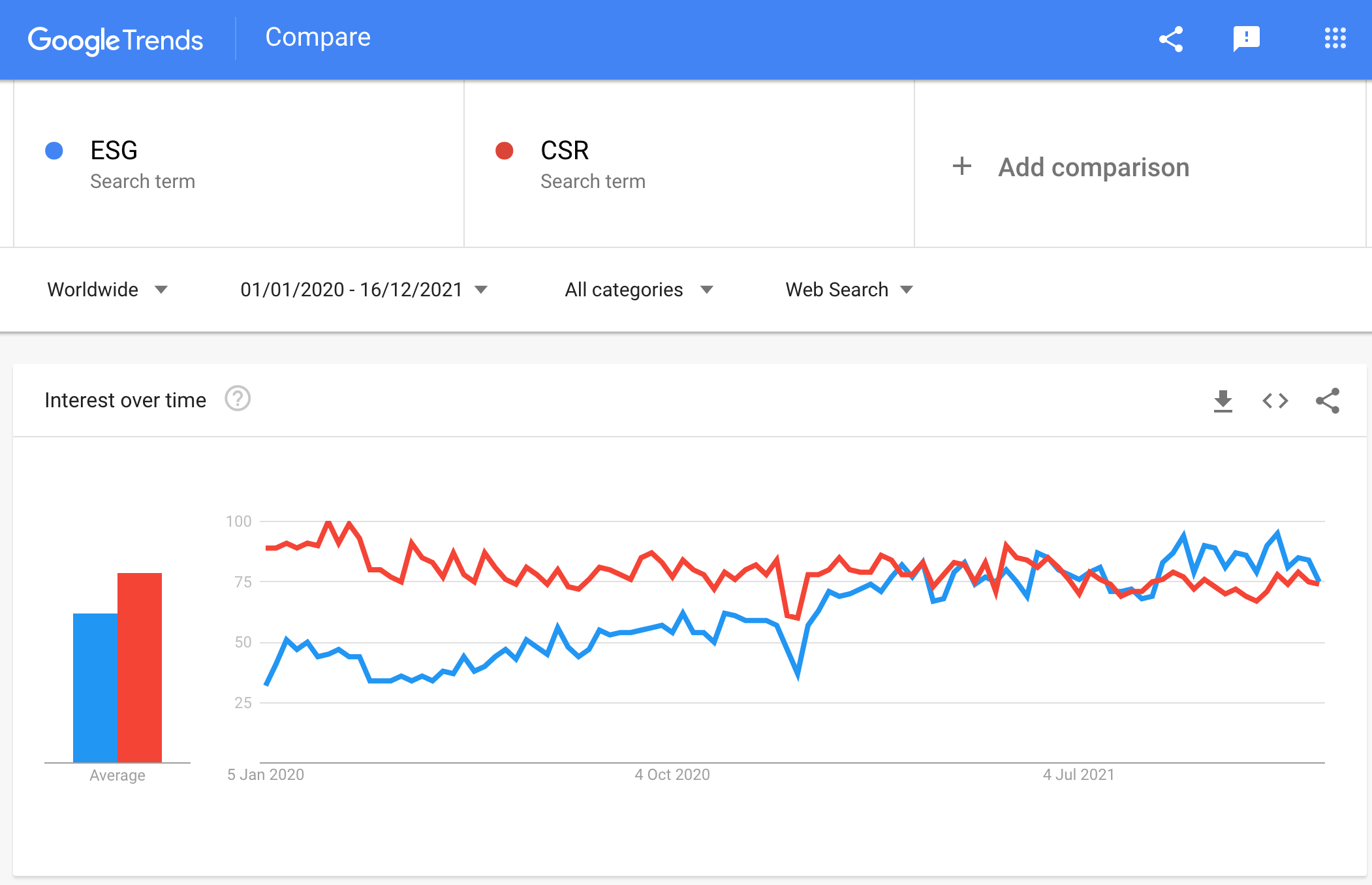 With everyone clambering their way onto the sustainable bandwagon, businesses in all industries must take note of the ESG movement. It's a forward-thinking idea to invest in businesses' future potential based on sustainable performance rather than profits.
Businesses can commit to ESG in a number of ways.
Some might choose to adopt a zero-waste model to reduce their environmental impact. Others might focus on improving the lives of their employees and even the surrounding community. While benefits are immeasurable in most cases, companies must keep up with ESG to gain a competitive edge.
With all of that, expect more businesses to seek accreditations like B Corp Status – and new statuses to appear – some of them more sincere than others.
The good news is that this rising trend compels businesses to be more transparent about their environmental impact. Though, the pressure is lifted knowing one can still make money while making the world a better place.
It's a win-win agenda.
To put it into an analytical perspective, McKinsey & Company brings conservation into focus with their new report. The results show the co-benefits and value of nature conservation in a refreshing way.
That all said, ESG is another area that can get tainted by greenwashing. So investors and customers alike need to learn to make the distinction between eco-authenticity and pretence.
Extended climate financial support
With ESG on the map, more countries might aspire to extend their national climate plans, and commit to science-based ambitions and net-zero targets. Here's a flavour of a few recent climate actions of note (just so you know, there are many more examples):
Colombia aims to be carbon neutral by 2050 and will make it happen with a National Determined Contribution (NDC) – an action plan to adapt to the effects of climate change. The goal is to green the power system in agreement with the industrial, agricultural and energy sectors.
Jamaica's revised NDC commits to better regulate water usage in an effort to decrease waste and potential shortage.
Rwanda is the first African country to rework its initial NDC with a confident plan to reduce emissions by 38% by 2030. It has developed a system to pursue reductions in agriculture, water, human settlements, land and forestry, transport and mining, and health.
With such bold goals on the horizon, stakeholders, banks, and asset managers might potentially voice the need for the finance industry to support climate efforts.
Not only that but also in light of COP26, it's anticipated that countries will deliver on the goal (set in 2009) to pledge $100 billion to help poor nations tackle climate change.
Bigger shelf space for sustainable products
It's clear that people are buying more sustainable products. In the UK alone annual spend on ethical and sustainable products breached the £100bn watermark for the first time in 2022, at £122bn.
With this, green products have moved rapidly to the forefront of the hot-seller lists. You can expect sustainable products to become the norm in the coming months and way into the future. Wherever you go, you'll see sustainable stuff because more than ever before, people are aware of loss of biodiversity, climate change and the responsibility they carry to make a change. But I predict a big wave of change to happen sooner than expected with global eco-wakening in full swing.
People also want to know where their products come from. Who made it and how it is transported. So expect to see more handy details (and even tech) to tell a product's sustainability story, such as QR codes to reveal info on supply chains, and carbon-footprint labelling.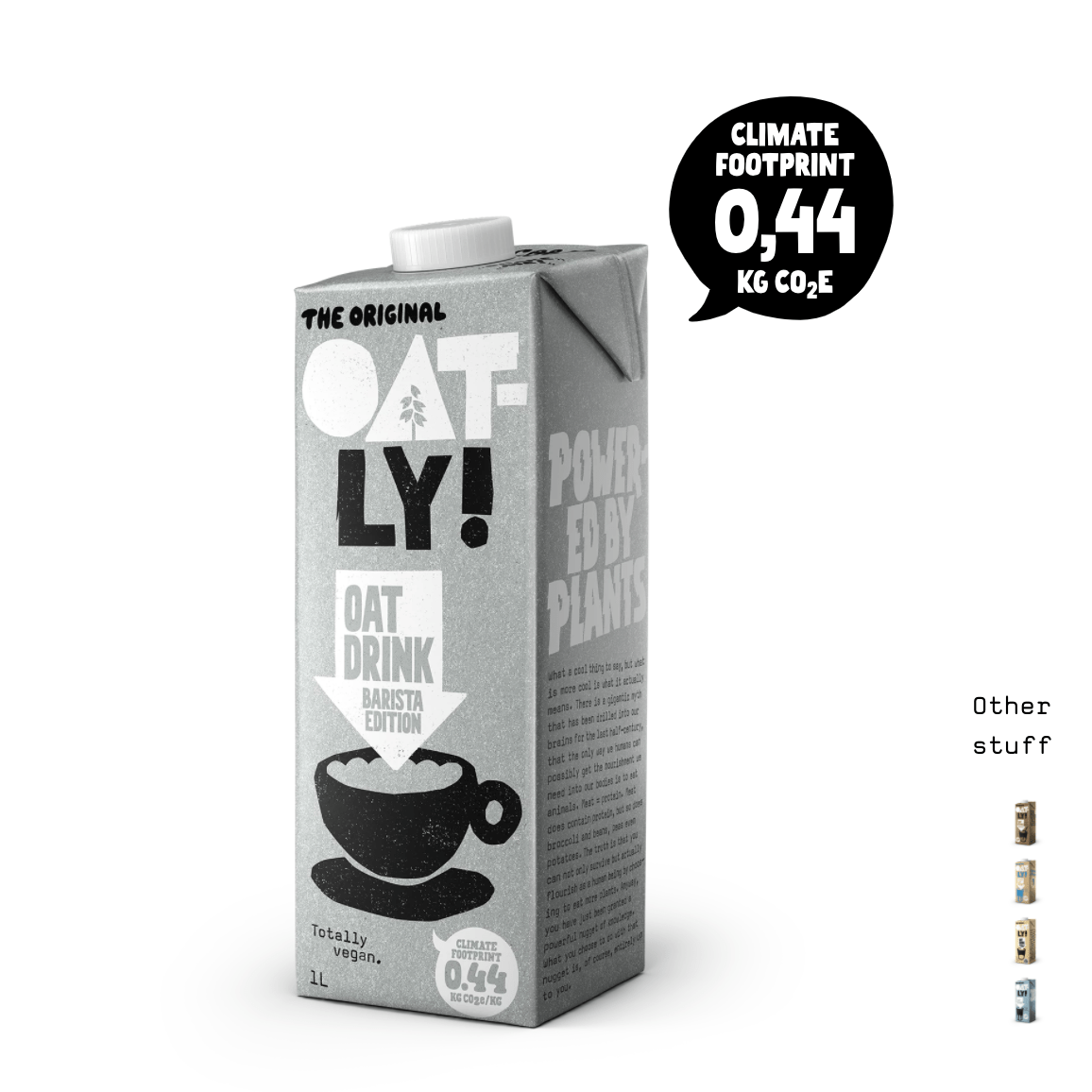 Consumer demand is undoubtedly the catalyst that will continue to drive positive change. Still, to win favour with customers, businesses must embrace the sustainability movement.
Work-from-home gains momentum
Remote work has been around for a while. But when the work-from-home lifestyle took off as a necessity at the onset of the pandemic, the positive environmental impact astounded people everywhere.
Though an unconventional sustainability trend, the work-from-home movement should be here to stay.
It's only natural to see a reduction in fossil fuel consumption and greenhouse gas emissions with fewer cars on the roads and offices using much less energy. I understand why the work-from-home trend will continue into the new year. It's the quickest and most cost-effective way to reduce your carbon footprint.
With all that said, I have to acknowledge the privilege that comes with the ability to work remotely. Ideally, it shouldn't be regarded as a privilege but rather a right for all. Some industries like agriculture, mining, health and medical, leisure and hospitality, and construction, find it challenging and often impossible to work from home.
But those working onsite, in the office, or front of house don't always have the resources to work from home.
A few matters will need to be addressed for this movement to effectively work for everyone. Though, a good initial step would be if businesses and employers took compassionate action:
Make sure your workforce is equipped with the required resources for them to work effectively and safely.
Check-up regularly on your remote staff.
Offer allowances to safeguard mental and physical health.
If possible, give employees or contractors the option to work from home (part or full-time).
And also bear in mind that plenty of people don't like working remotely, some of the time or all of the time. So the flexibility works both ways to keep everyone comfortable.
Offer public transportation vouchers to employees working onsite to keep the cars on the roads at a minimum.
These small actionable steps can have a major positive social and environmental impact, enabling everyone to be as productive and efficient as their profession allows.
Comprehensive regulation
While this all sounds good so far, to show real sustainable progress, legal requirements are needed to force companies and organisations to show transparency about their climate risks.
As a starting point, the IFRS Foundation made it clear that "transparent, reliable and comparable reporting" of environmental matters is in high demand among international investors. To help measure up to the expectation, it launched a new standard-setting board – the International Sustainability Standards Board (ISSB) – at COP26 in November 2021. So you see, credibility, accountability and transparency will undoubtedly steer the future of business.
I expect entire organisations to shut down if they lack environmental and social performance, showing the world the seriousness of insufficient climate action.
There is no question that the sustainability movement will play a big role in all facets of life in 2022 and beyond. Sustainability will become the "new normal" and this is good (more like freaking fantastic) news for the planet.