A B Corporation certification is displayed by businesses to communicate to people that they're trying to reduce harm across the environment, society, and in business. It's a public commitment to "meet the highest standards of verified social and environmental performance, public transparency, and legal accountability to balance profit and purpose". This certification has been gaining momentum recently, with the number of B Corps growing exponentially – including well-known global brands like Patagonia, Allbirds, The Body Shop, and Organic Basics.
Apart from the obvious reason of caring for the environment, there are other reasons why a company might choose to get B Corp certified, such as to stand out from their competitors and show buyers that they care. This might not always be an accurate reflection of real sustainability though, and there are criticisms of the B Corp certification. Some feel the impact of B Corps is hard to assess. Others say their standards are not legally enforceable and that any regulation changes remain secretive.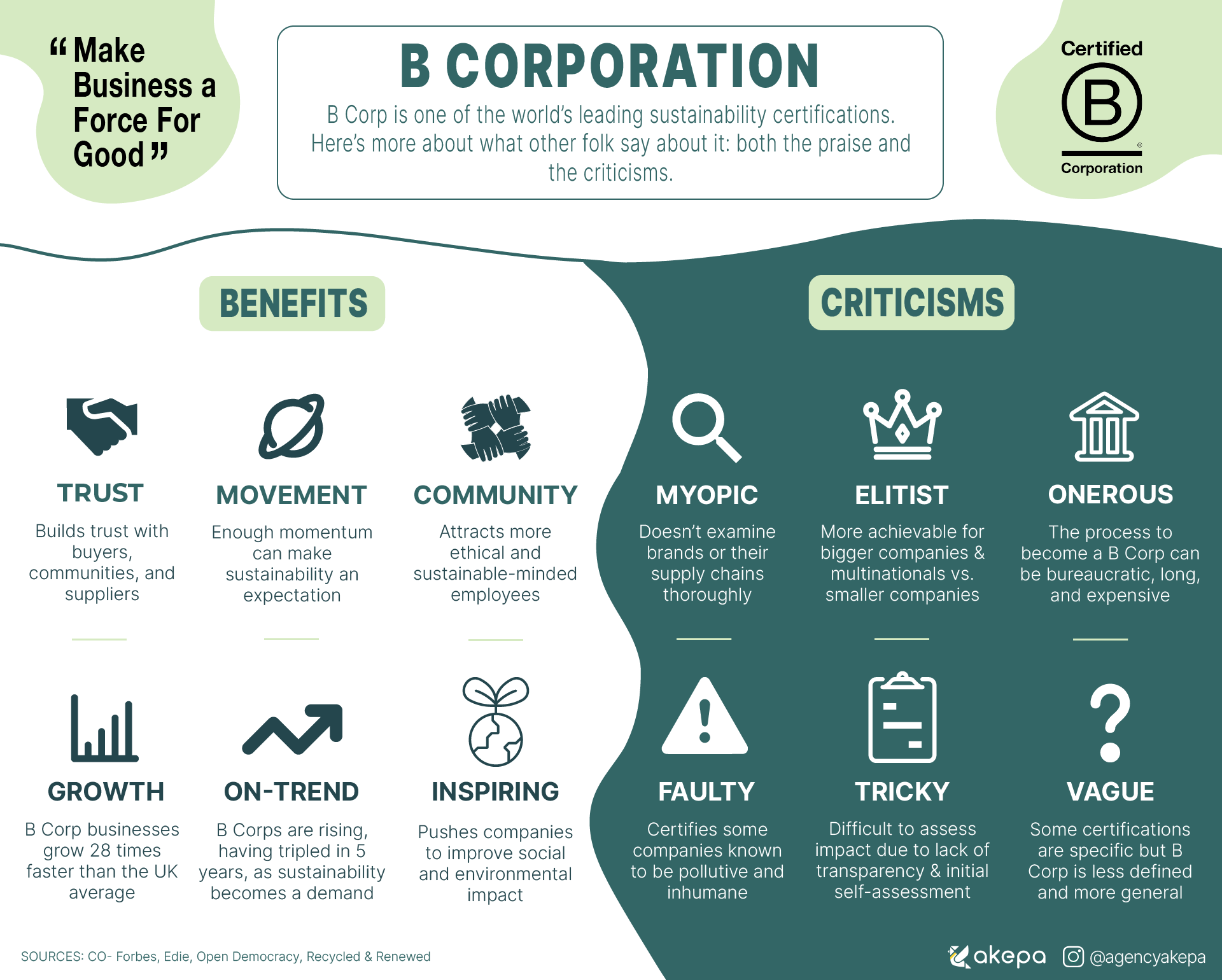 Look, it's a top certification! But understandably, you might not want to become a B Corp because maybe you're not convinced by it, or because you're in the start-up phase of your company and you don't meet the one-year requirement yet. Maybe you just want to do things differently. Of course, that doesn't mean you're not a sustainable or ethical company – and if you are, then there are definitely other means of getting that message across.
The following list is not exhaustive; it can go on and on. But here's some inspiration!
Other certifications & partners
B Corp has distinct aims – it's about balancing purpose and profit (moreso, ethics) – and all other certifications address sustainable or ethical practices from different angles. There is no single certification that covers all aspects of what's known as 'sustainability'. That said, there is a smörgåsbord of certifications a company can choose to get in order to distinguish themselves, environmentally and ethically. Some examples are:
So an alternative to the B Corp certification is to select a bit of a pic 'n' mix portfolio of the finest certifications available. In this way you can also support specific causes that are most important to you.
However, bear in mind that in the same way a B Corp certification receives criticism, other certifications do, too. And at the end of the day, certifications mean nothing if your business model is unsustainable at its core.
So while an alternative to being a B Corp is to look at other certifications, being a sustainable company is also about doing impactful things without that kind of validation. Let's look at a few of the alternative certifications ways that are just as good as being a B Corp (even though you don't get a badge). But remember to show these things off if you're doing them.
Become a benefit corporation
'B Corp' and 'benefit corporation' are often confused for each other, but they are completely different and a company can be both. While B Corp can be any legal for-profit entity, a benefit corporation is a type of corporate entity which places social and environmental values on the same level as profit. This type of legal structure is for businesseses that have a dual purpose of making profit and promoting a positive impact on all stakeholders. Some examples of benefit corporations are Patagonia and Kickstarter.
Remote work – not certified but as potent as any certification!
As far as we know, there are no remote working certifications. It's not really an area that suits a certification. Nevertheless, a move to remote work can be one of the most impactful things you can do. It's at least as meaningful as anything under a B Corp certification.
The reasons are simple. Not having an office or commuting can save huge amounts of waste and emissions. And remember: sustainability is about people too, so giving folk more time and flexibility – and not piling everyone into an office everyday – is also something that can be kinder on human factors like mental health.
Can it work? Yes! Just a few years ago remote work was frowned upon – it still is to some extent. But now, it's perfectly feasible to work remotely or in a hybrid way. Akepa does it with workers all over the world and it really isn't an issue. And remember, the people that work for you are to be trusted to get work done even if they're not at arm's length.
Offer a window into your sustainable business
Many companies choose to not be transparent simply because it's not required. How often do you see brands unsolicitedly displaying their supply chain and what their workers are up to? If you're a brand and you want to be different, and you want to show people that you have a purpose over profit as the B Corp certification suggests, then let people see your brand's ins and outs! After all, 73% of consumers are willing to pay more for products that guarantee total transparency. A fine example of a brand being transparent is Lucy & Yak.
Could you smooth out the corporate corners?
We've entered a new era of business. Companies are now almost obliged to sustainably transform their business models. Yes, that's what the planet needs but it's also what people want. That in mind, if your company is still a part of the so-called linear economy, assess if you can make that linearity more circular. Get rid of the 'take-make-waste' mindset!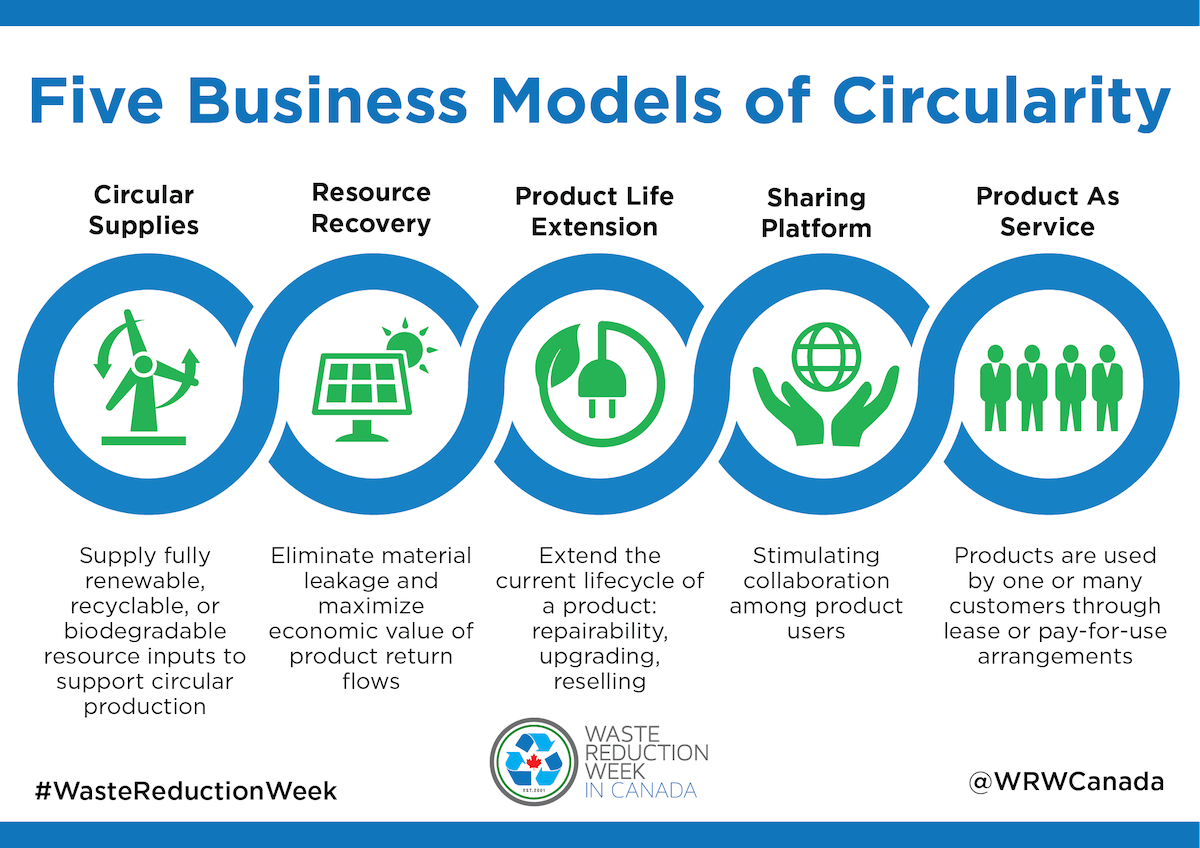 How does that work in practice? Well, an example of a circular company is Hylo Athletics – they design their running shoes with a product life framework in mind. From the use of renewable materials like corn, to taking shoe returns so they can be recycled.
And yes, It's a little bit of a trickier concept if you're a services company but still worth a bit of mulling over. There are always ways.
By the way, who are you working with?
One of the criticisms of B Corp Status, which we've covered in a bit more detail in this post, is that the certification may not examine a brand's customers and collaborators all that well. The sustainability of clients, partners, suppliers, etc. may be a little overlooked.
Staying within our own milieu for this example, a marketing agency may be B Corp certified. All great on the surface, but what if that marketing agency is working to help clients who're not in the least bit sustainable, grow and succeed? Say, with companies that are appallingly pollutive? For example a fast fashion company or a drinks company that leaves a load of plastic lying around on beaches in faraway places.
We'd argue that's not all that sustainable – and who's to say that B Corp is inspecting this agency's clients on an ongoing basis? So, an alternative to being B Corp certified – or to any certification really – is to choose your business partners carefully. They might not be covered by any of your scintillating certifications, after all. This is also just a good rule of thumb with sustainable services in general.
---
Here at Akepa, we say we're a sustainable marketing agency. We feel that's accurate and meaningful but there's always room for improvement. We're constantly looking for new and better ways to implement sustainability. We're looking beyond becoming a B Corp, too.
So far in 2022, this is shaping up to be a potpourri of the certifications and ways that we've mentioned in the post:
Reducing emissions with a 100% remote working model
Offsetting emissions with ClimatePartner
Becoming plastic neutral, as well as climate neutral
Getting involved in reforestation and rewilding projects within the UK & EU
Only working with other sustainable companies