Have you changed any of your habits over the last few years in an effort to be more environmentally conscious? No more plastic bags? Taking fewer flights? Buying more organic food?
Well it's not just individuals that are altering their behaviours in response to our changing world. Brands are changing how they work too. 
At its core, becoming more sustainable allows a brand to continue to offer a service and to be productive in a way that reduces harm to the environment and broader society. It's about taking a look at the results of unfettered capitalism, of growth for growth's sake whatever the cost, and adjusting to reduce or eliminate that harm.
That adjustment could be something as fundamental as the product being produced or it could be the working practices that produce the product.
It's not just about it all being the right thing to do; it's also what the buying public wants – according to Forbes: "…the majority of Generation Z (54 percent) state that they are willing to spend an incremental 10 percent or more on sustainable products, with 50 percent of Millennials saying the same."
Sustainable marketing is about making sure that these people who care are aware of what your brand is doing.
Here are a couple of examples of sustainable marketing in action.
Patagonia
For a brand that is all about equipping people to enjoy the outdoors, it makes perfect sense that sustainability is so crucial to Patagonia. Beyond being a CSR initiative that you might find buried in a press release, sustainability is at the forefront of much of its marketing. For many, it's the reason to choose the brand over a competitor.
How does it do it? 
For any apparel brand, the product itself is what's going to have the biggest impact on the environment, so Patagonia uses recycled and sustainable materials where possible, as well as being Fair Trade Certified and traceable. So far, so expected for a sustainable fashion brand.
It has also realised that the second hand market for their clothes represented a big opportunity, both for sustainability (why make the same shirt twice) and economically. If Patagonia own the resale market, they can sell the same shirt twice while reducing the impact on the environment. So it created the Worn Wear shop, an e-commerce platform that allowed users to buy second hand Patagonia products in a place owned and operated by Patagonia.
Most radically of all though, the brand has shifted from advertising to activism. In 2011, it posted a provocative full-page ad in the New York Times, discouraging people from buying its product.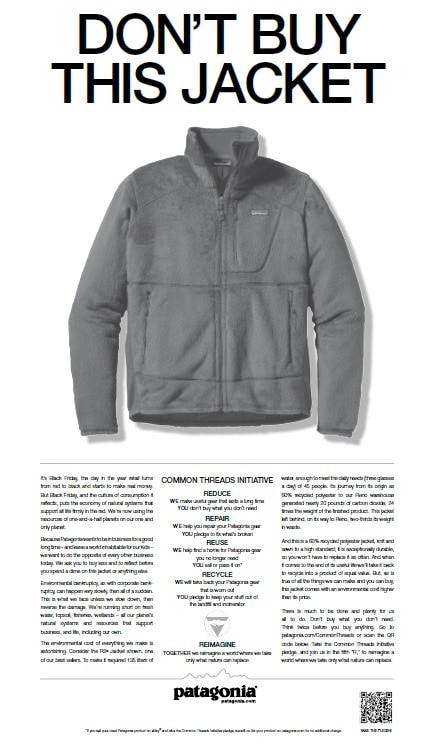 It started a discussion about consumerism and the pursuit of stuff that needed to happen, as well as starting the brand on a path of putting sustainability and ethics at its centre.
Lego
By now, we're all aware of the need to create less plastic. Once it's made, it will exist in the environment for hundreds of years before breaking down. So what to do when your entire business revolves around creating millions of tiny plastic bricks?
How does it do it? 
For Lego, it requires a seismic shift in priorities. Ambitious sustainability targets have been set – including making all core products from sustainable materials by 2030. The company's sustainability efforts are being promoted through a digital marketing strategy that connects content marketing, PR, and social media to get the message across.
It's an especially tricky task, since Lego can't compromise on the integrity of its bricks, which have been so precisely engineered that bricks produced in the 1970s still perfectly click together in the hands of someone that's just a few years old. Too much of a change in the materials could compromise the brand.
So while it's very much a work-in-progress, it's also a good demonstration of the sort of changes and challenges that come from incumbent brands if they want to stay relevant to a public who are increasingly demanding sustainable products.
Sustainable marketing – as a service
Another way to consider the term 'sustainable marketing', is from a service point of view.
Traditional marketing agencies, operating in office blocks, with an army of staff in perpetual motion – are hardly sustainable. So it follows that while sustainable brands are emerging, sustainable forms of marketing as a service are becoming a thing too. These new service models are typically offering either marketing expertise specifically for sustainable brands or just aiming to improve sustainability through initiatives like carbon offsetting.
At Akepa we fit the bill on both fronts, as a sustainable marketing agency for sustainable brands. And we'd like to think we're doing so authentically. After all, greenwashing is the cynical side to sustainability that still leaves a question mark over any product or service that's labelled with the s-word.
Find out more about our sustainability here.
And for examples of some sustainable marketing in action you can also take a look at our client case studies.