Don't know which sustainable marketing agency to pick? Akepa reduces the rigmarole with our rules and picks for sustainable agencies that will grow your brand.
You're ready to hire a marketing agency for your sustainable brand. But who to pick?
A quick google might leave you feeling overwhelmed. Marketing agencies are lining up to claim the sustainable label. Choosing the one that will create value for you isn't easy.
Akepa is here to help. We advise you what to look for in a sustainable business partner to save you wasted enquiry time. We then select five top agencies to get you started in your search.
How to find your sustainable agency match
1. Sustainability
We've said it before, and we'll say it again: all sustainable brands need a sustainable marketing partner. We find that sustainable brands on a budget sometimes forget this and choose a vanilla agency. They shouldn't for two reasons:
A sustainable agency has the knowledge you need. A sustainable agency understands how your people think. They'll know the keywords to use. They'll know the messages that make folk nod along. And they'll know how to avoid every sustainable brand's nightmare – accidental greenwashing. When researching an agency, ask yourself if they are as excited by sustainability as you are. Do they have a lonely '/sustainability' landing page and nothing else? Or do they dedicate blog posts, mission statements, and case studies to their sustainability? You can probably guess which you should be hiring.
A sustainable agency shares your mission. Doing business sustainably means sourcing suppliers that fit your mission. This also goes for your laptop-based services. We recommend holding your marketing providers to the same standard you hold your own business – your brand deserves nothing less. When searching, ask yourself:
Does the agency have a remote working policy to cut down on unneeded flights?
If they've opted for carbon offsetting, have they used a recognised provider on a trackable project?
Is sustainability woven into their approach?
2. Fit
Digital marketing covers a dizzying number of specialisms. So make sure your agency has experience where it pays for your brand.
This isn't as easy to figure out as you might think. Some agencies will offer a laundry list of services around their core offering. Between content marketing, influencer marketing, badger-based marketing (we may have made the last one up), it's hard to know where they excel.
Our best advice is to check the case studies on the site, like ours here. Case studies cut to the important stuff: the results an agency can achieve for your brand.
To start you out, we've made a note of the marketing specialisms for our chosen agencies below.
3. Location
Check that an agency can work well where you are. The joy of remote work means an agency can offer a service from anywhere in the world. But the fact they can doesn't mean they have optimised their business to work remotely.
While Akepa is a remote-first agency, others still emphasise an in-person model. This can be costly and involve unnecessary flying. When contacting an agency, don't forget to ask how they plan to transform your brand from far away.
Now let's move on to the agencies:
---
Agency 1 – Akepa
Location: Worldwide
Expertise: Digital marketing & content marketing
Website: https://thesustainableagency.com
Instagram: https://www.instagram.com/agencyakepa/
Akepa is the sustainable marketing agency that helps sustainable brands of all sizes grow and succeed.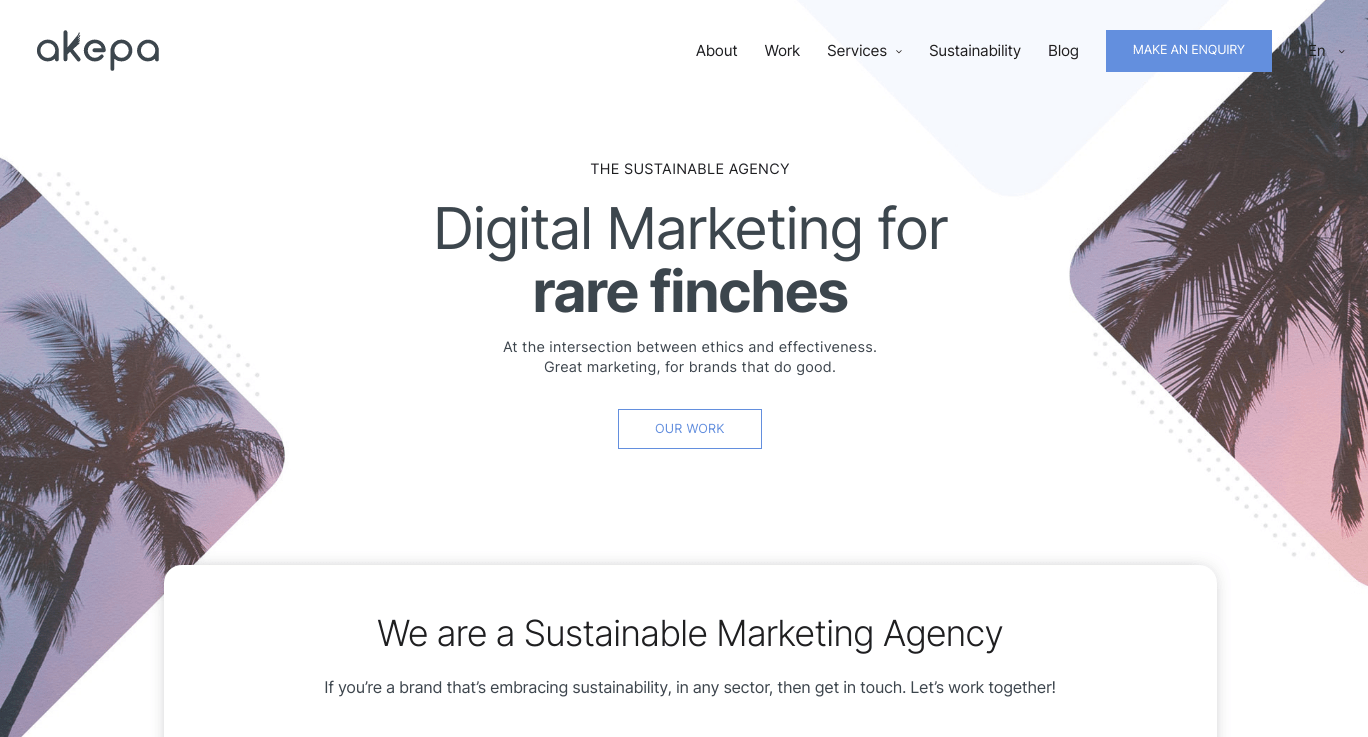 Focusing only on sustainability means we get your climate-conscious folk and know how to talk to them. Our expertise has enabled sustainable clients to run authentic ad and content campaigns that increase online reach by as much as 15 times in two years.
The pure remote-work setup we roll with doesn't only mean a low-carbon service for global clients. Cutting wasteful flights and office space allows us to offer a premium service at affordable rates for clients of all sizes.
And now onwards to some other fine agencies focused on sustainability…
Agency 2 – Futerra
Location: Worldwide, UK-based
Expertise: Sustainability strategies
Website: https://www.wearefuterra.com/
Instagram: https://www.instagram.com/futerra/
If you're a larger brand with an ambitious budget, then why not take a peek at Futerra? The female-led B-corp helps corporate giants like Mars, Google, and Danone define their sustainability strategy.
A mix of sustainable know-how and creative design drives their eye-catching sustainability campaigns. All under the daring slogan 'Make the Anthropocene Awesome'.
For smaller brands who aren't quite ready for Futerra (yet), we still recommend following their work for inspiration.
Agency 3 – Enviral
Location: Worldwide, UK-based
Expertise: Combined communications and marketing for sustainability
Website: https://www.enviral.co.uk/
Instagram: https://www.instagram.com/go_enviral/
Need help defining your purpose before marketing your products? Enviral's combined marketing and communications support will do the trick.
Enviral works with companies of all sizes to find their unique voice in the crowd. Their expertise in e-commerce, paid media, and email marketing then gets your freshly-crafted message to the people that matter.
Enviral is worth a click alone for its handy set of guides for sustainable brands. Its Campus features tutorials from vision statements to Instagram, perfect for one-person marketing departments.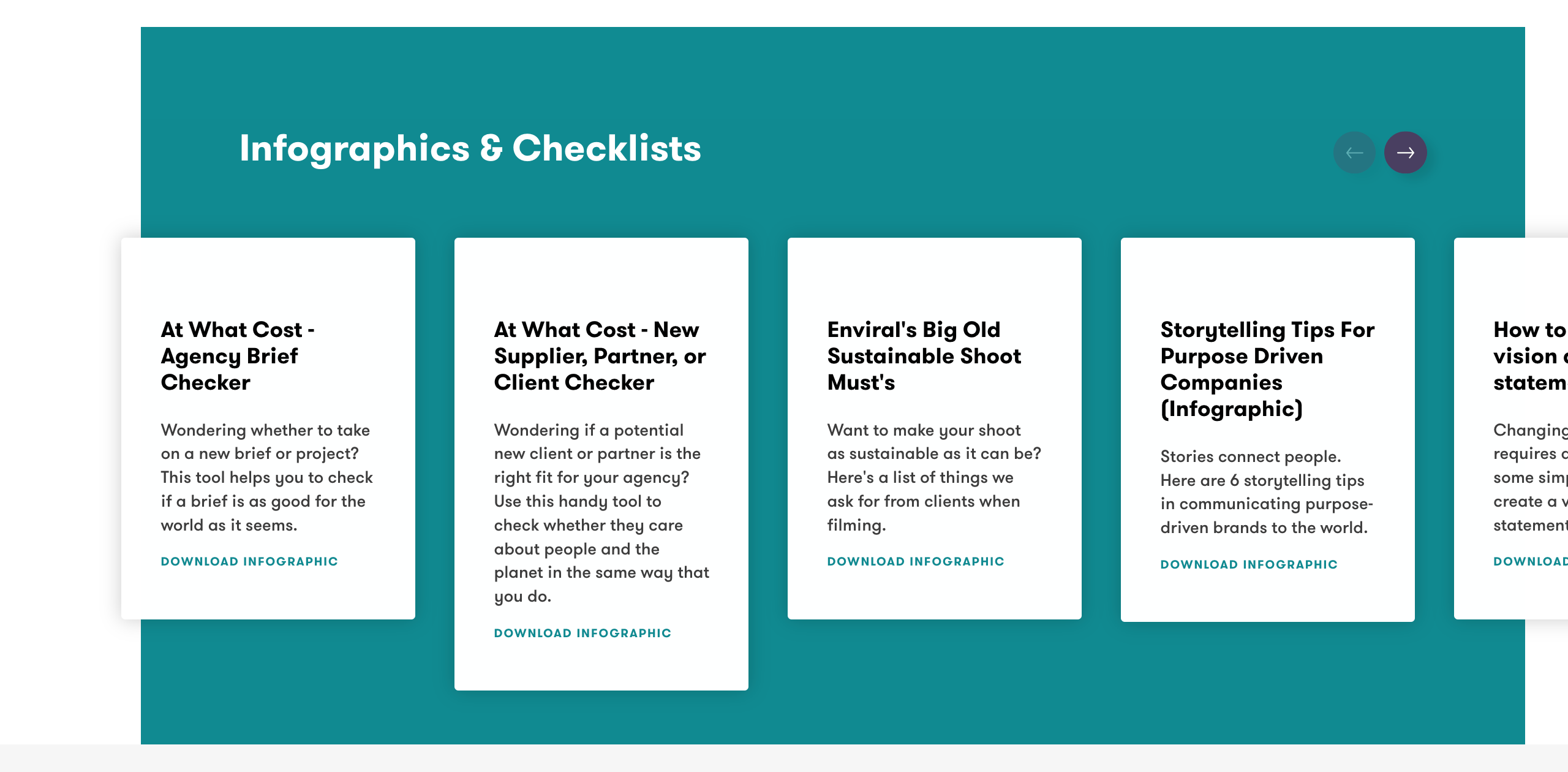 Agency 4 – Wholegrain Digital
Location: Worldwide, UK-based
Expertise: Web design for sustainability
Website: www.wholegraindigital.com
Instagram: https://www.instagram.com/eatwholegrain/
Unhappy with your underwhelming website? Wholegrain Digital could be your go-to web designer.
Wholegrain works only with positive businesses to design clean and intuitive WordPress sites. Their 15 years of experience in digital strategy and user experience will transform your site into a beautiful online resumé for your product.
Every sustainable brand should read Wholegrain's impressive list of commitments to sustainability. It shows convincing joined-up thinking on sustainability that all brands can learn from.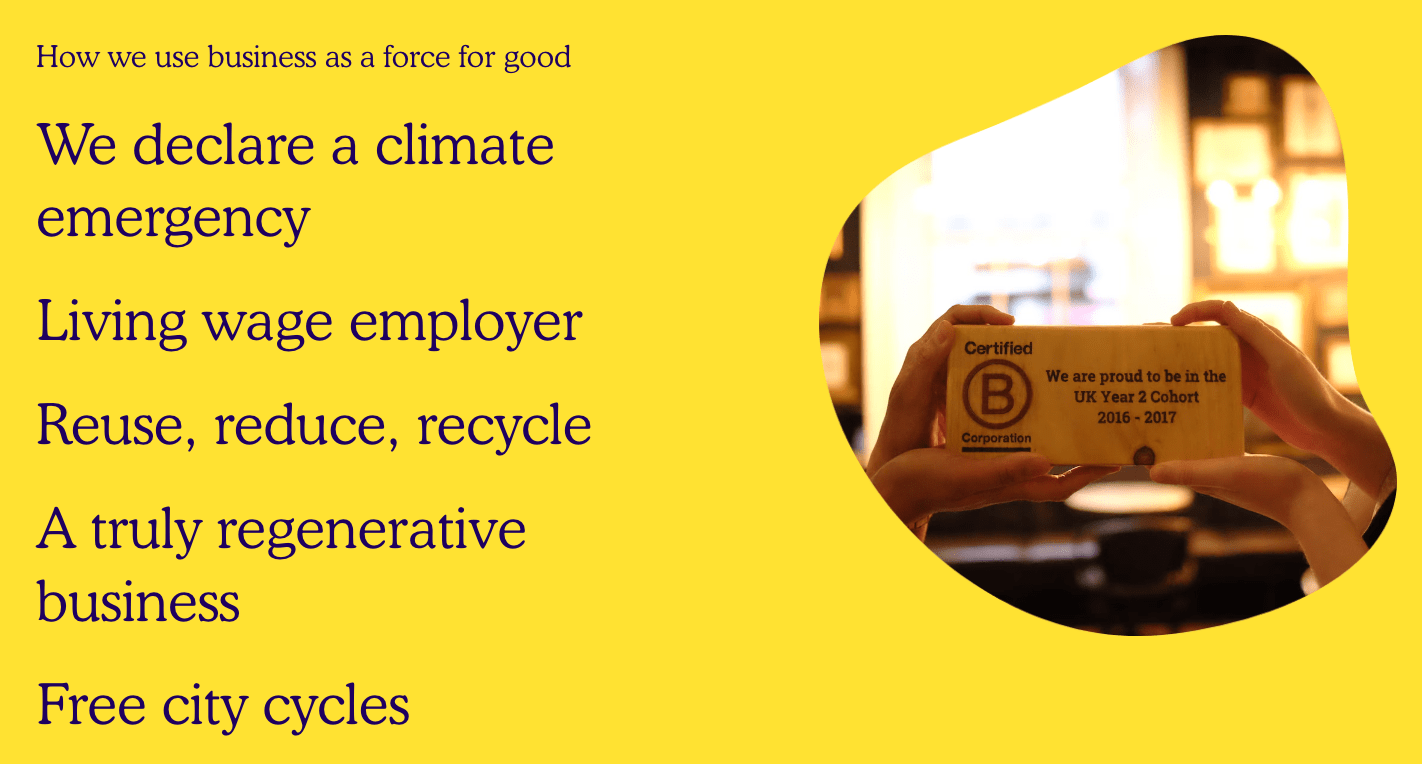 Agency 5 – The Influence Agency
Location: Worldwide, Canada-based
Expertise: Influencer Marketing for Sustainability
Website: https://theinfluenceagency.com/category/sustainability/
Instagram:  https://www.instagram.com/nfluenceagency/
Over half of Gen Zers look to influencers for product recommendations. So if you have a large Gen Z or millennial audience, consider an influencer marketing agency.
Though not a sustainability-first business, The Influence Agency manages a large network of sustainability personalities who will understand your brand.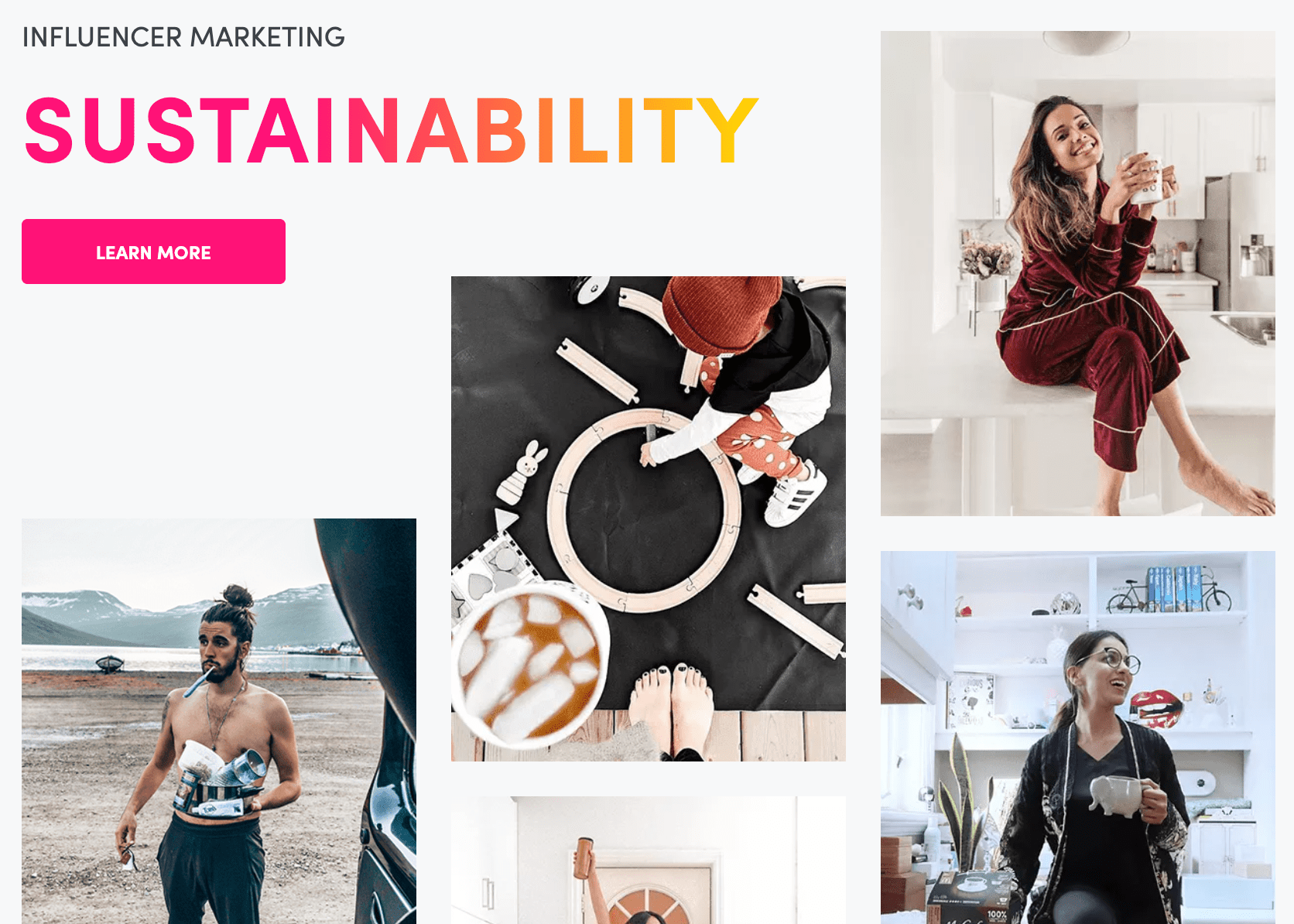 Alternatively, you run a lean influencer campaign through Ethical Influencers. This online community connects you with 1,200+ influencers ready to get your product straight onto sustainable feeds.
---
Whatever your brand needs, we hope the sustainable agencies above can help. When starting conversations with any agency, don't forget the three important rules:
A business-wide focus on sustainability
A glove-like fit with what your business really needs
A smart remote setup that works from any location
Ready to start speaking with agencies? Tell us what you're looking for at hello@thesustainableagency.com and we'll see if we can help.