Don't know which sustainable marketing agency to pick? Akepa reduces the rigmarole with our rules and picks for sustainable agencies that will grow your brand.
Oh, and while this list is titled as being about the 'best' sustainability marketing agencies, we're well aware that there's a shifting sustainability landscape out there. There are all sorts of great, purposeful companies springing up – so we revisit this post every three months to make sure that we really are doing our best to capture the finest agencies out there. That doesn't mean just in Europe and the US, but all over the world. If you'd like to be featured, wherever you are, and feel like you're from one of the best agencies in the area – then just send us an email and we'll see what we can do. And if you're a competitor – so what? We can still add you. The last thing that sustainability needs is for folk to not collaborate…
You're ready to hire a marketing agency for your sustainable brand. But who to pick?
A quick google might leave you feeling overwhelmed. Marketing agencies are lining up to claim the sustainable label. Choosing the one that will create value for you isn't easy.
Akepa is here to help. We advise you what to look for in a sustainable business partner to save you wasted enquiry time. We then select ten top agencies to get you started in your search.
What is a sustainable marketing agency, anyway?
A sustainable marketing agency is different from a traditional marketing agency as sustainability is at the core of what they do. There's a higher knowledge base surrounding the complex topic of sustainability, a specialisation in sustainability marketing, and an accustomed practice to working with the niche market of sustainable brands.
When it comes to sustainable marketing agencies, it's about better marketing for better brands. Marketing can have a bad reputation for being misleading and deceitful. But marketing can also be done consciously, for brands that are genuine about trying to make the world a better place through our current system. The goal is to excel these brands instead of the unethical and polluting brands that are the most lucrative today.
Importantly, a sustainable marketing agency is not about one sustainability-related marketing campaign. It's about propelling brands forward who are already purpose driven. Because the right marketing means nothing if it contradicts brands' actions.
How do you know if you need one?

How to find your sustainable agency match
1. Sustainability
We've said it before, and we'll say it again: all sustainable brands need a sustainable marketing partner. We find that sustainable brands on a budget sometimes forget this and choose a vanilla agency. They shouldn't for two reasons:
A sustainable agency has the knowledge you need. A sustainable agency understands how your people think. They'll know the keywords to use. They'll know the messages that make folk nod along. And they'll know how to avoid every sustainable brand's nightmare – accidental greenwashing. Well, hopefully. Not all sustainable agencies are the same and we might have to do a bit of research to make sure they aren't greenwashing themselves! We address this at the end of the article.
A sustainable agency shares your mission. Doing business sustainably means sourcing suppliers that fit your mission. This also goes for your laptop-based services. We recommend holding your marketing providers to the same standard you hold your own business – your brand deserves nothing less.
2. Fit
Digital marketing covers a dizzying number of specialisms. So make sure your agency has experience where it pays for your brand.
This isn't as easy to figure out as you might think. Some agencies will offer a laundry list of services around their core offering. Between content marketing, influencer marketing, badger-based marketing (we may have made the last one up), it's hard to know where they excel.
Our best advice is to check the case studies on the site, like ours here. Case studies cut to the important stuff: the results an agency can achieve for your brand.
To start you out, we've made a note of the marketing specialisms for our chosen agencies below.
3. Location
Check that an agency can work well where you are. The joy of remote work means an agency can offer a service from anywhere in the world. But the fact they can doesn't mean they have optimised their business to work remotely.
While Akepa is a remote-first agency, others still emphasise an in-person model. This can be costly and involve unnecessary flying. When contacting an agency, don't forget to ask how they plan to transform your brand from far away.
Now let's move on to the agencies:
---
Agency 1 – Akepa
Location: Worldwide, Spain-based
Expertise: Digital marketing & content marketing
Website: https://thesustainableagency.com
Instagram: https://www.instagram.com/agencyakepa/
Akepa is the sustainable marketing agency that helps brands who share our passion for sustainability grow and succeed.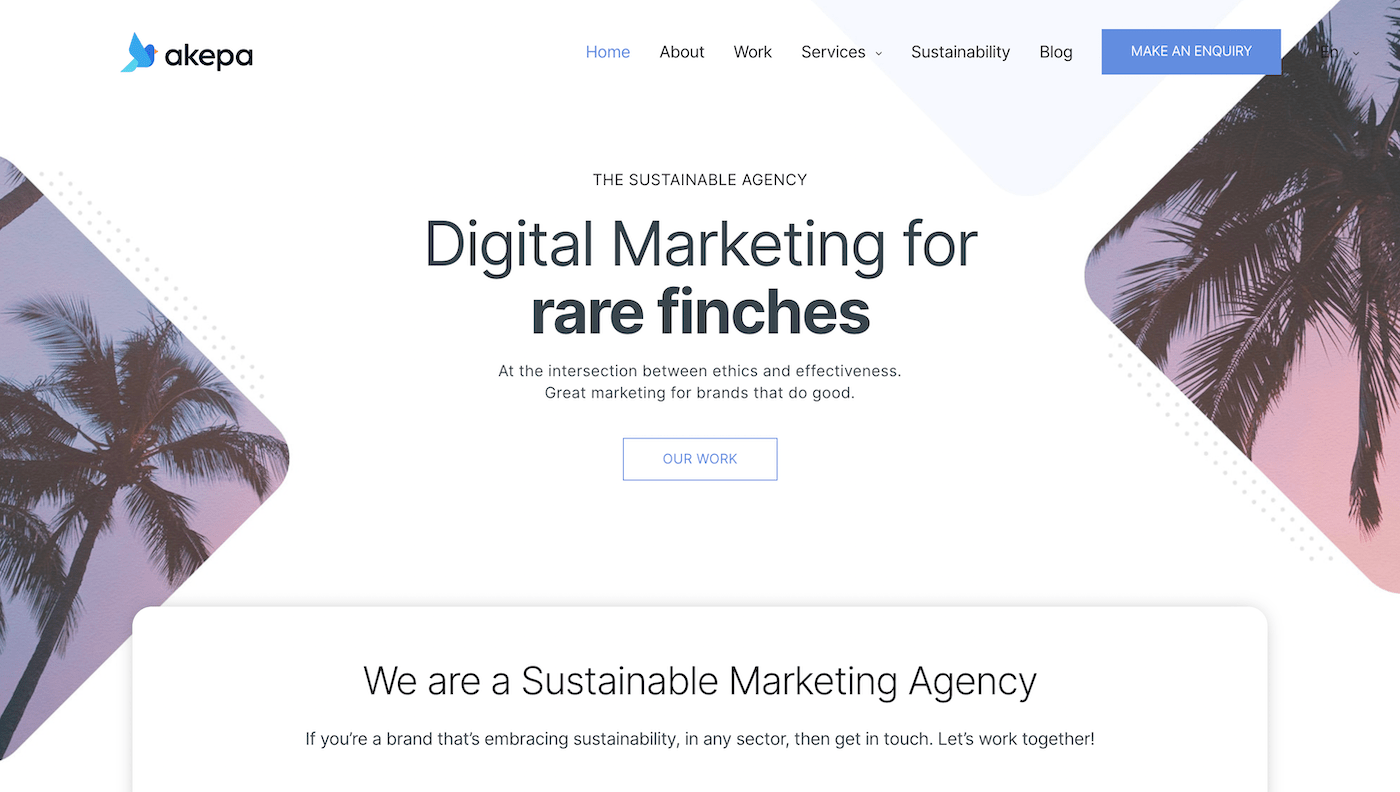 Focusing on sustainability means we get your climate-conscious folk and know how to talk to them. Our expertise has enabled sustainable clients to run authentic ad and content campaigns that increase online reach by as much as 15 times in two years.
The pure remote-work setup we roll with doesn't only mean a low-carbon service for global clients. Cutting wasteful flights and office space allows us to offer a premium service at affordable rates for clients of all sizes.
And now onwards to some other fine agencies focused on sustainability…
Agency 2 – Futerra
Location: Worldwide, UK-based
Expertise: Sustainability strategies and creative campaigns
Website: https://www.wearefuterra.com/
Instagram: https://www.instagram.com/futerra/
If you're a larger brand with an ambitious budget, then why not take a peek at Futerra? The female-led B-corp helps corporate giants like Mars, Google, and Danone define their sustainability strategy.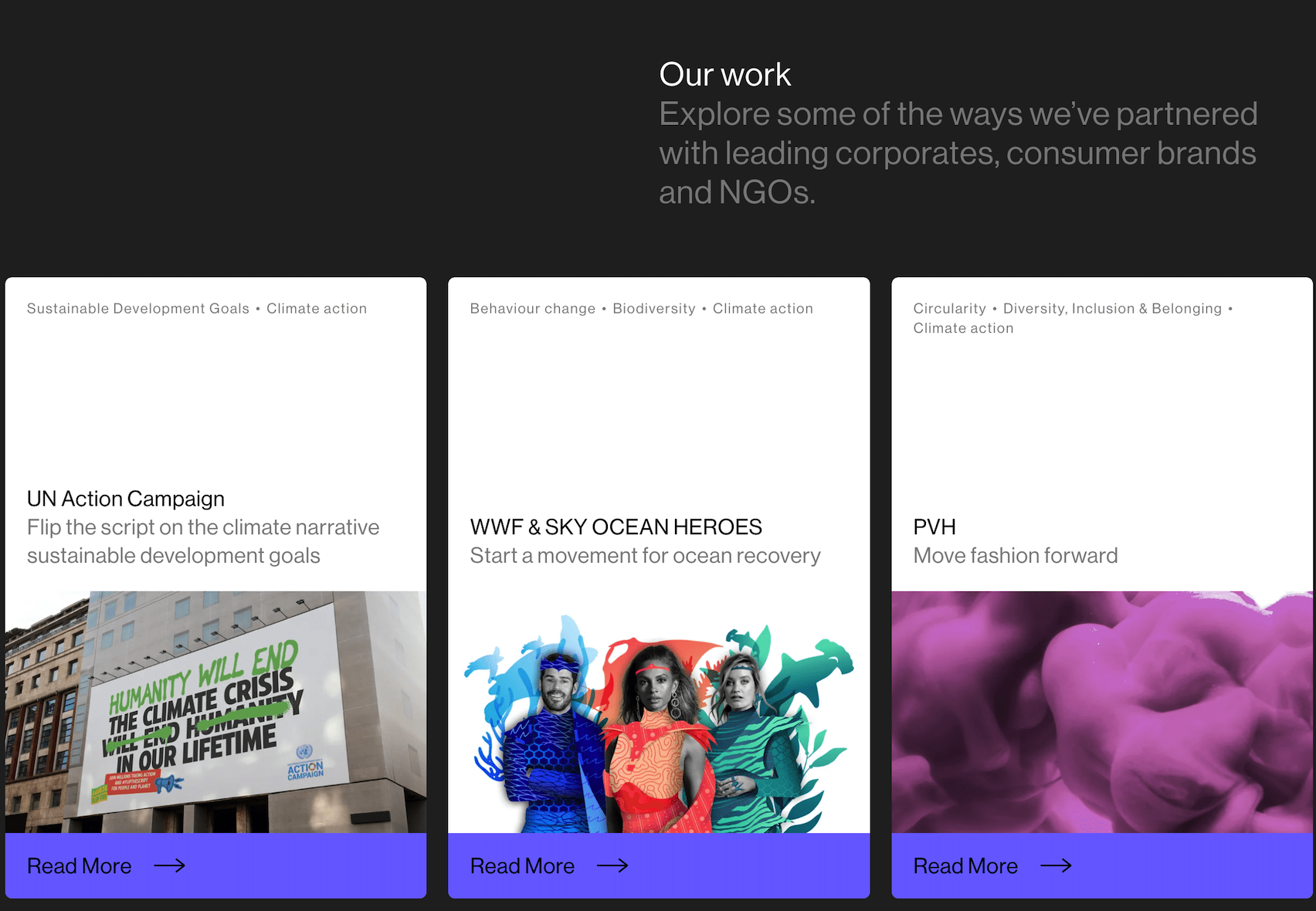 A mix of sustainable know-how and creative design drives their eye-catching sustainability campaigns. All under the daring slogan 'Make the Anthropocene Awesome'.
For smaller brands who aren't quite ready for Futerra (yet), we still recommend following their work for inspiration.
Agency 3 – Enviral
Location: Worldwide, UK-based
Expertise: Combined communications and marketing for sustainability
Website: https://www.enviral.co.uk/
Instagram: https://www.instagram.com/go_enviral/
Need help defining your purpose before marketing your products? Enviral's combined marketing and communications support will do the trick.
Enviral works with companies of all sizes to find their unique voice in the crowd. Their expertise in e-commerce, paid media, and email marketing then gets your freshly-crafted message to the people that matter.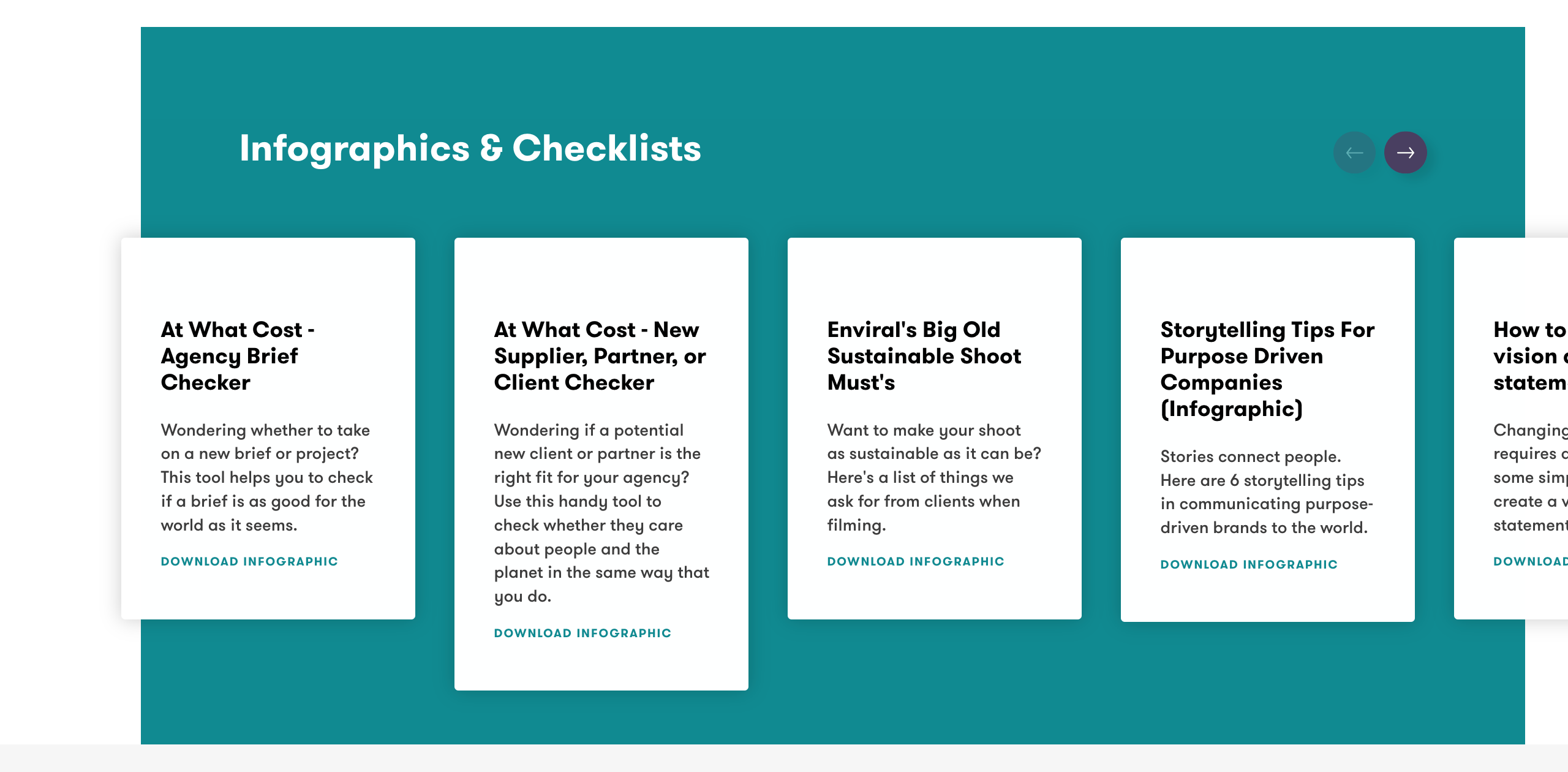 Enviral is worth a click alone for its handy set of guides for sustainable brands, such as the one above. Its Campus features tutorials from vision statements to Instagram, perfect for one-person marketing departments.
Agency 4 – Wholegrain Digital
Location: Worldwide, UK-based
Expertise: Web design
Website: www.wholegraindigital.com
Instagram: https://www.instagram.com/eatwholegrain/
Unhappy with your underwhelming website? Wholegrain Digital could be your go-to web designer.
Wholegrain works only with positive businesses to design clean and intuitive WordPress sites. Their 15 years of experience in digital strategy and user experience will transform your site into a beautiful online resumé for your product.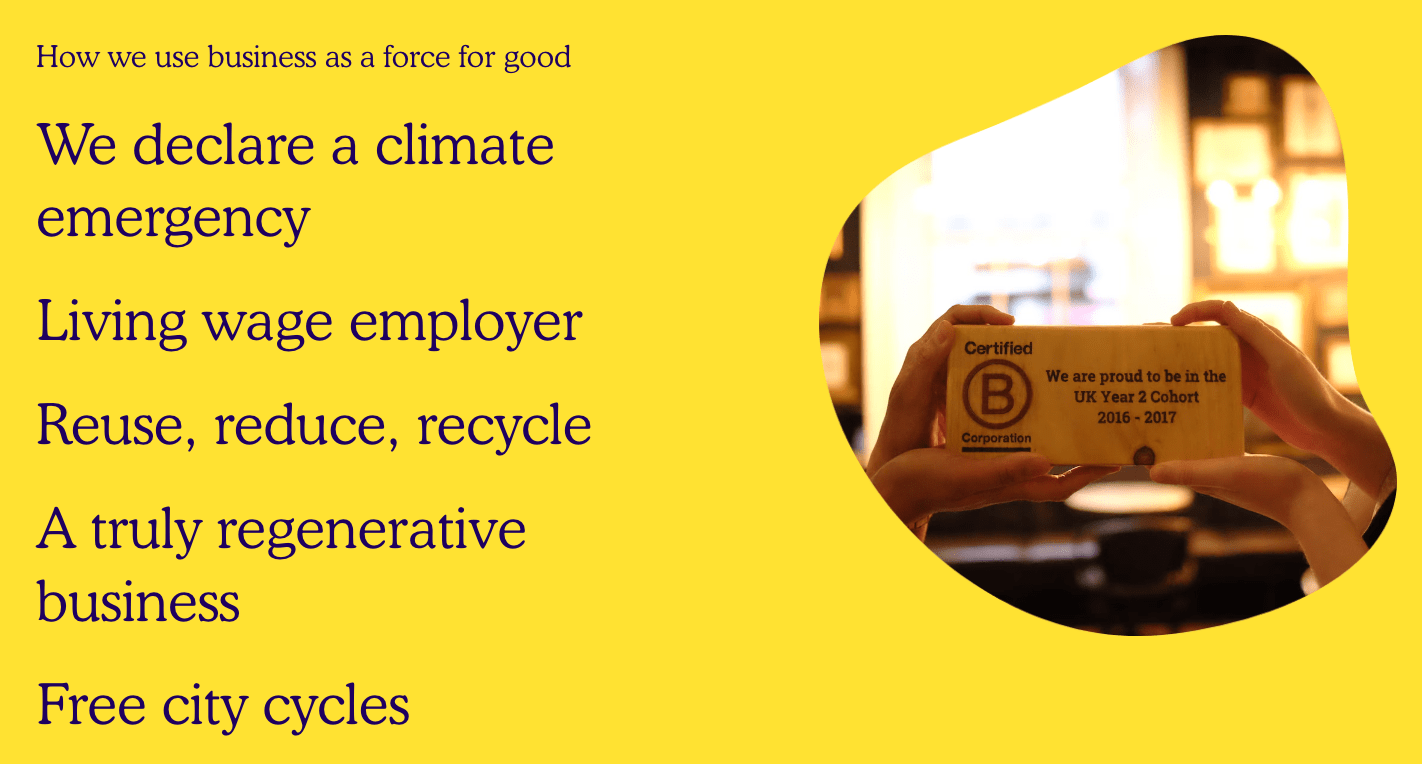 Every sustainable brand should read Wholegrain's impressive list of commitments to sustainability, some shown above. It shows convincing joined-up thinking on sustainability that all brands can learn from.
Agency 5 – The Influence Agency
Location: Worldwide, Canada-based
Expertise: Influencer marketing
Website: https://theinfluenceagency.com/category/sustainability/
Instagram:  https://www.instagram.com/nfluenceagency/
Over half of Gen Zers look to influencers for product recommendations. So if you have a large Gen Z or millennial audience, consider an influencer marketing agency.
Though not a sustainability-first business, The Influence Agency manages a large network of sustainability personalities who will understand your brand.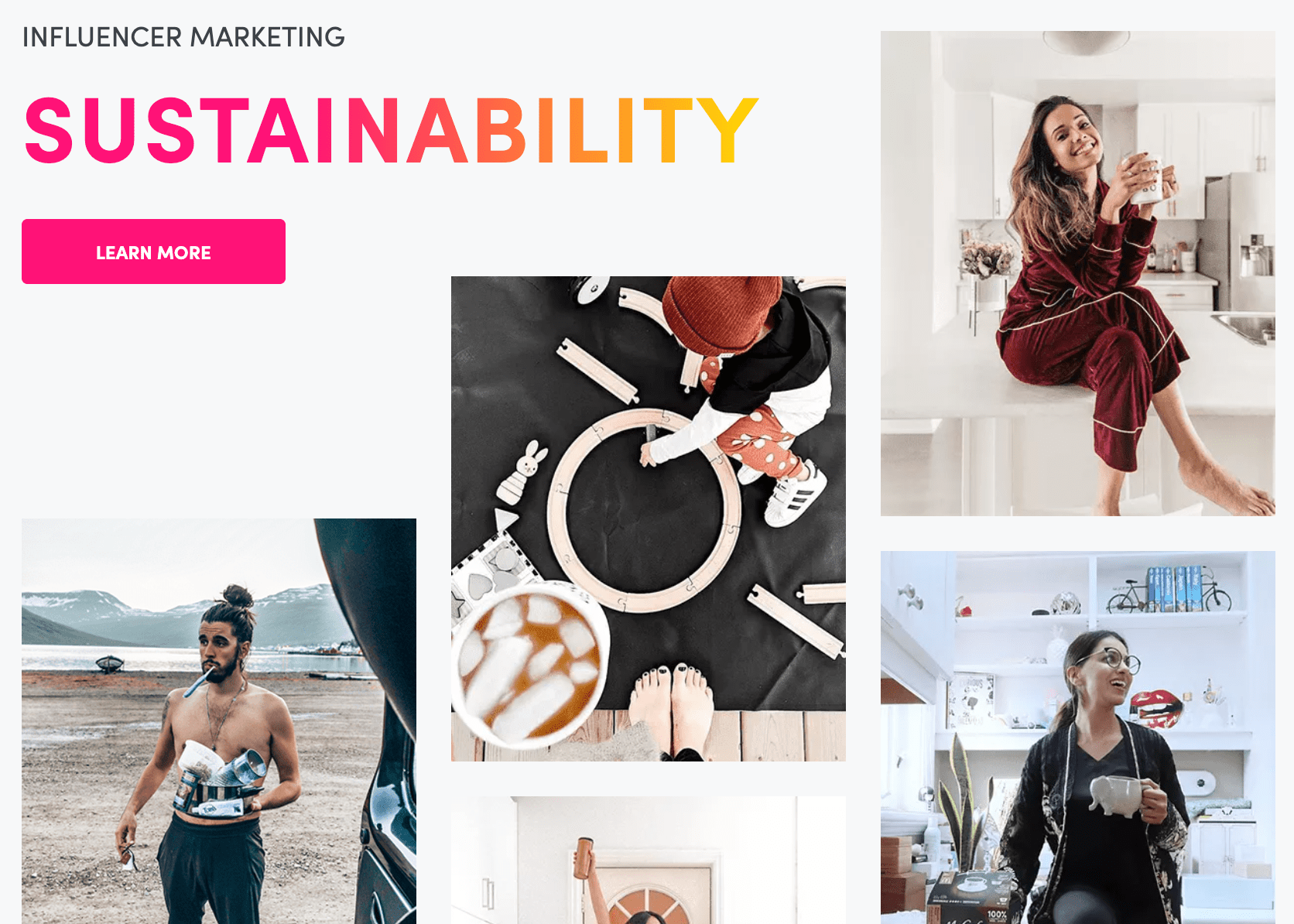 Alternatively, you run a lean influencer campaign through Ethical Influencers. This online community connects you with 1,200+ influencers ready to get your product straight onto sustainable feeds.
Agency 6 – Creative Wilderness
Location: Worldwide, UK-based
Expertise: Authentic brand identity and design
Website: https://www.creativewilderness.co.uk/
Instagram:  https://www.instagram.com/creativewilderness/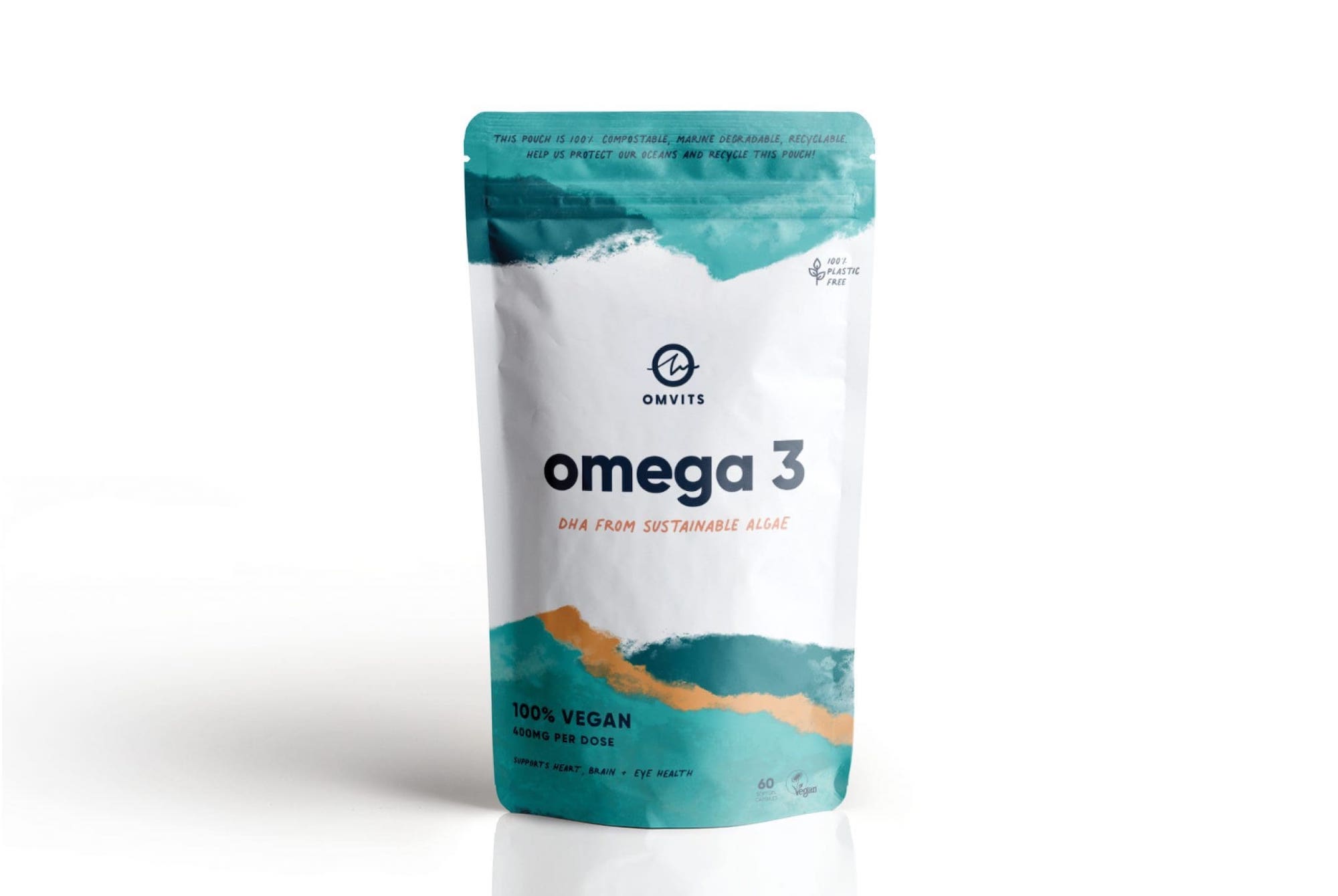 Creative Wilderness is an ethical branding design agency based in the UK passionate about producing sustainable brand identity design.
The studio works with sustainable and ethically minded brands on their brand strategy, brand experience, website, copy and 'brand roots' using the innovative power of nature-based brand exploration.
Creative Wilderness can help you create a brand identity that makes you feel connected to it by "digging deep into the roots of your business". The founder is motivated by a strong passion for sustainability and helps brands achieve what they want through full brand experience design, design days, branding workshops, and more. See the portfolio full of sustainable clients.
Agency 7 – Little Fox Design
Location: Worldwide, Canada-based
Expertise: Green graphic design and sustainable materials
Website: https://www.littlefoxdesign.com/
Instagram:  https://www.instagram.com/littlefoxdesignstudio/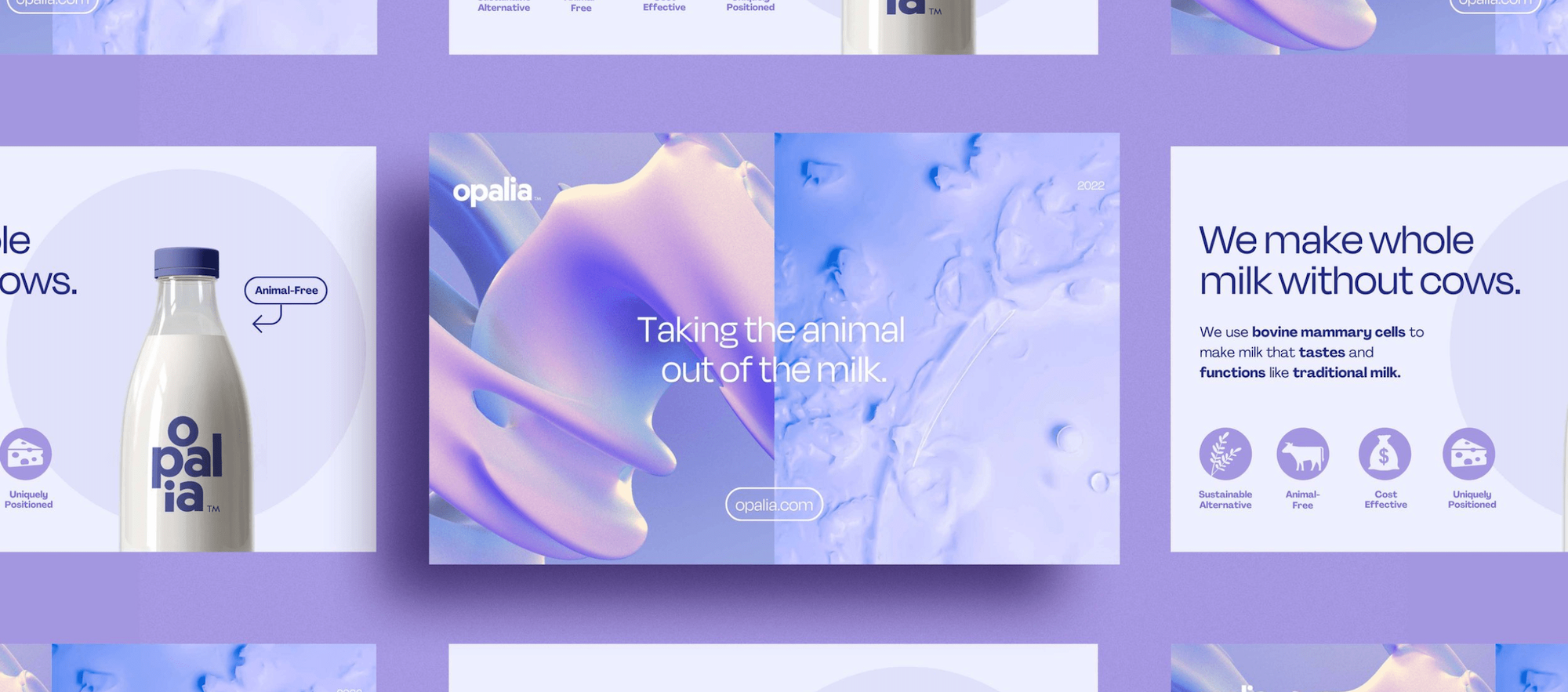 Little Fox Design work with compelling brands – like a fungi-based seafood startup and an edible cutlery company – to help with their visual identity, web design, and packaging. The best part about Little Fox Design is their painstaking attention to detail, which is something not everyone can manage.
From green web design to sustainable design methods and materials, they put strong emphasis on research to promise the best sustainability practices. They even share the resources they use to aid in their graphic design work.
Agency 8 – Growroom
Location: Shrewsbury, UK
Expertise: SEO, PPC & Web Design
Website: https://growroom.agency
If you're a sustainable brand then one of the more important marketing channels should be search engine optimisation (SEO). That's because lots of folk are searching for sustainable products or useful information about sustainability – and those searchers are rising every year. Nevertheless, you might need a bit of a hand with the (sometimes arcane) techniques to get to the top of the results.
That in mind, we might as well feature an agency with strong search marketing expertise and that brings us to GrowRoom. Based in an environmentally spectacular part of the UK, Shrewsbury, they focus on SEO and PPC for sustainable brands – as well low-carbon web design. Like Akepa, they think about sustainability from a connected standpoint, with an environmental focus, and haven't just gone for being a B Corp and left it at that.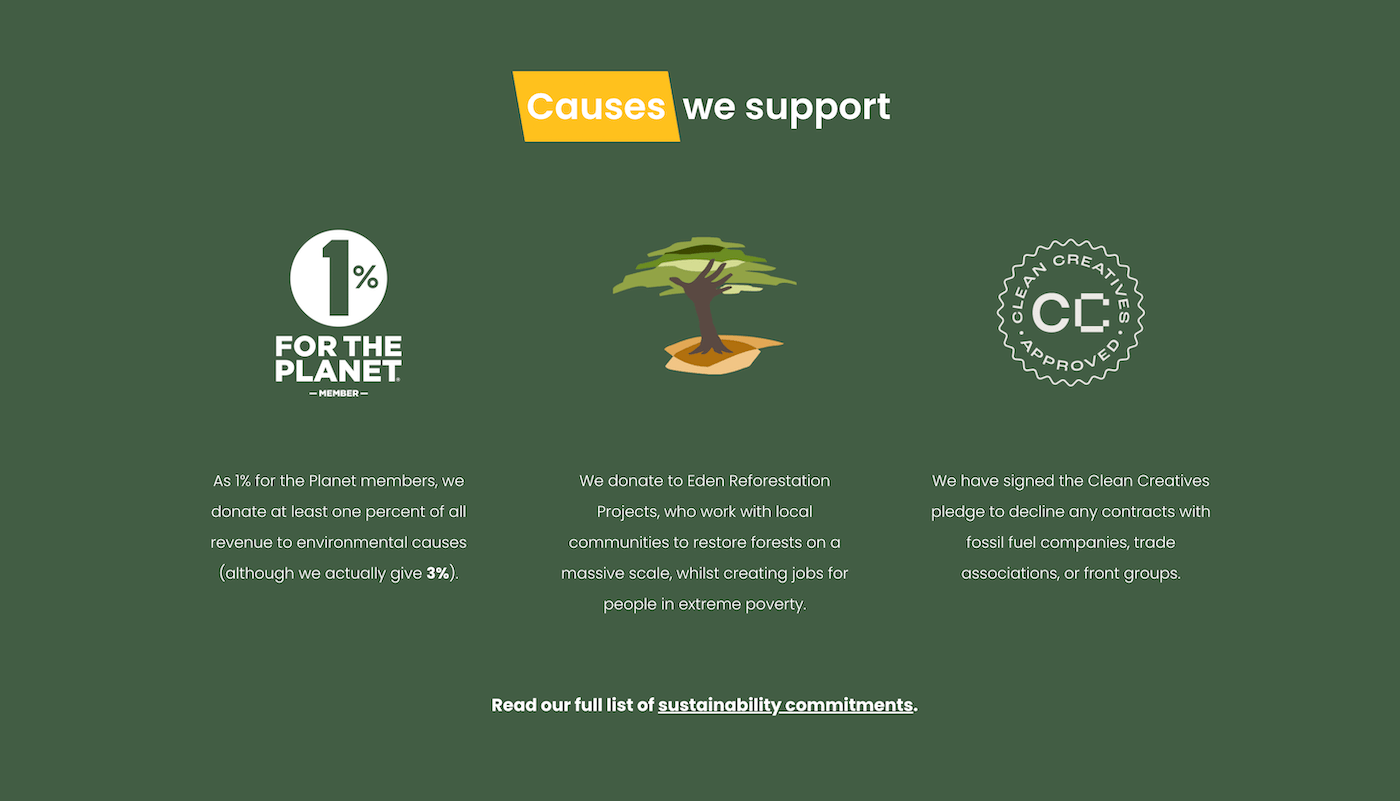 By the way, Akepa does quite a bit of SEO too, which is perhaps why you're here. Here's a little bit more from our blog on why SEO and sustainability can make so much sense together.
Agency 9 – Changing Film
Location: New York, Sweden, Berlin
Expertise: Sustainable video and film production
Website: https://changingfilm.com/
Instagram: https://www.instagram.com/changingfilm/
Changing Film is a boutique production company with expertise across the production process: location scouting, developing concepts, casting, and more. They've worked with big names like BBC, Spotify, Microsoft, and the United Nations. Now they've rebranded to focus on sustainability and plant-based products. You can tell they're passionate about this renewal of purpose.
They'll get your film produced as sustainably as it can be: plastic-free sets, plant-based food, composting services for food waste, travelling by train instead of by flight, remote pre- and post-production. The list goes on.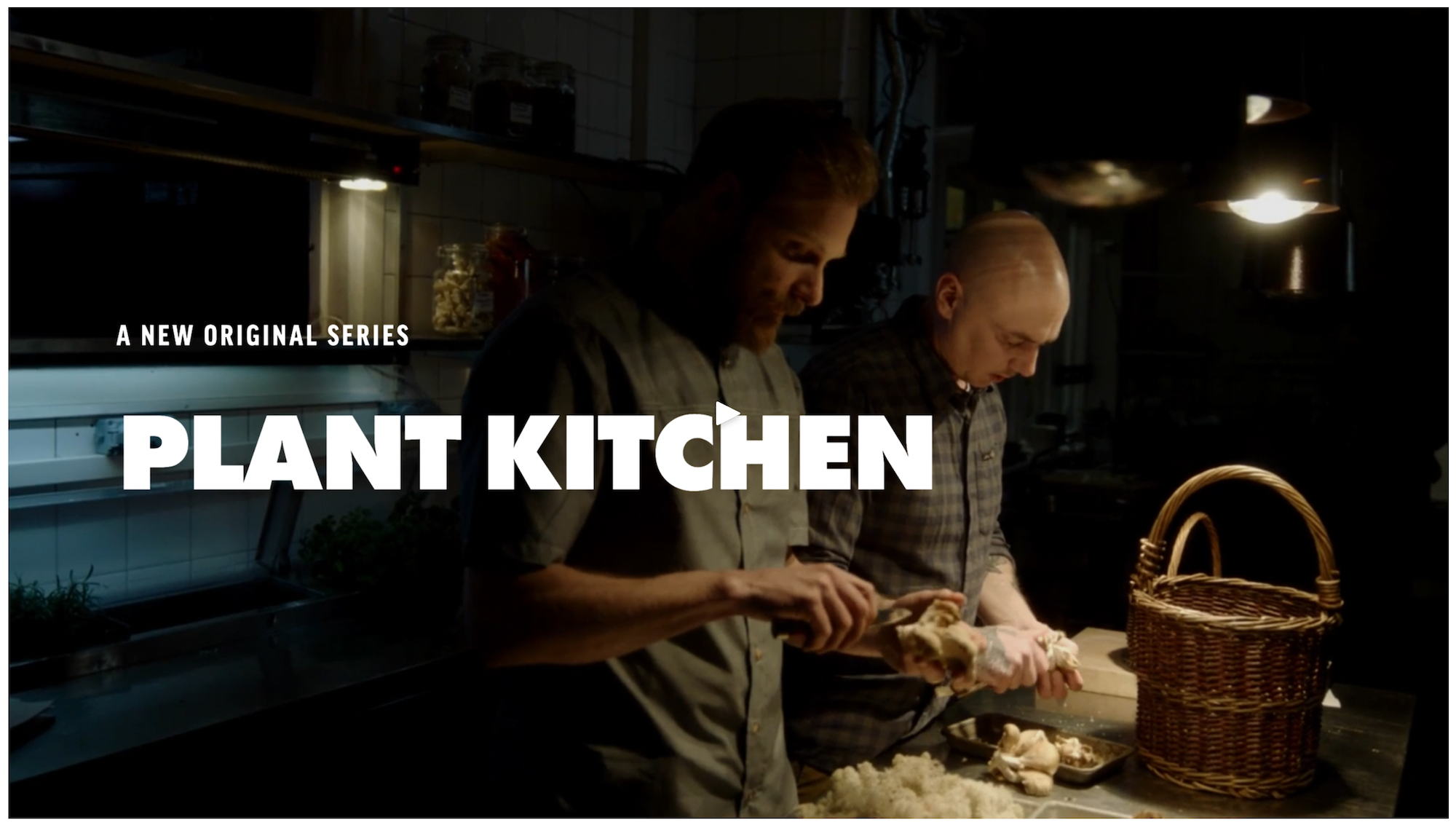 At the time of blogging, they're filming Plant Kitchen, a series dedicated to showing the world how incredible plant-based food can be. It's from the producers of Cowspiracy and Game Changers as well as vegan activist Earthling Ed.
Agency 10 – On Purpose
Location: India
Expertise: Communications, marketing, and PR for social change
Website: https://www.onpurposeconsulting.in/
Instagram: https://www.instagram.com/onpurposecomms/
It's worth remembering that sustainability has multiple faces – environmental and social. Founded in 2017, On Purpose (OP) aims to drive social change in the world's most populous country through creative and effective communications. Until now, India continues to battle a whole list of issues like gender inequity, illiteracy, and child labour. When the final audience makes up almost 20% of the global population, it only makes sense that On Purpose's focus is largely local.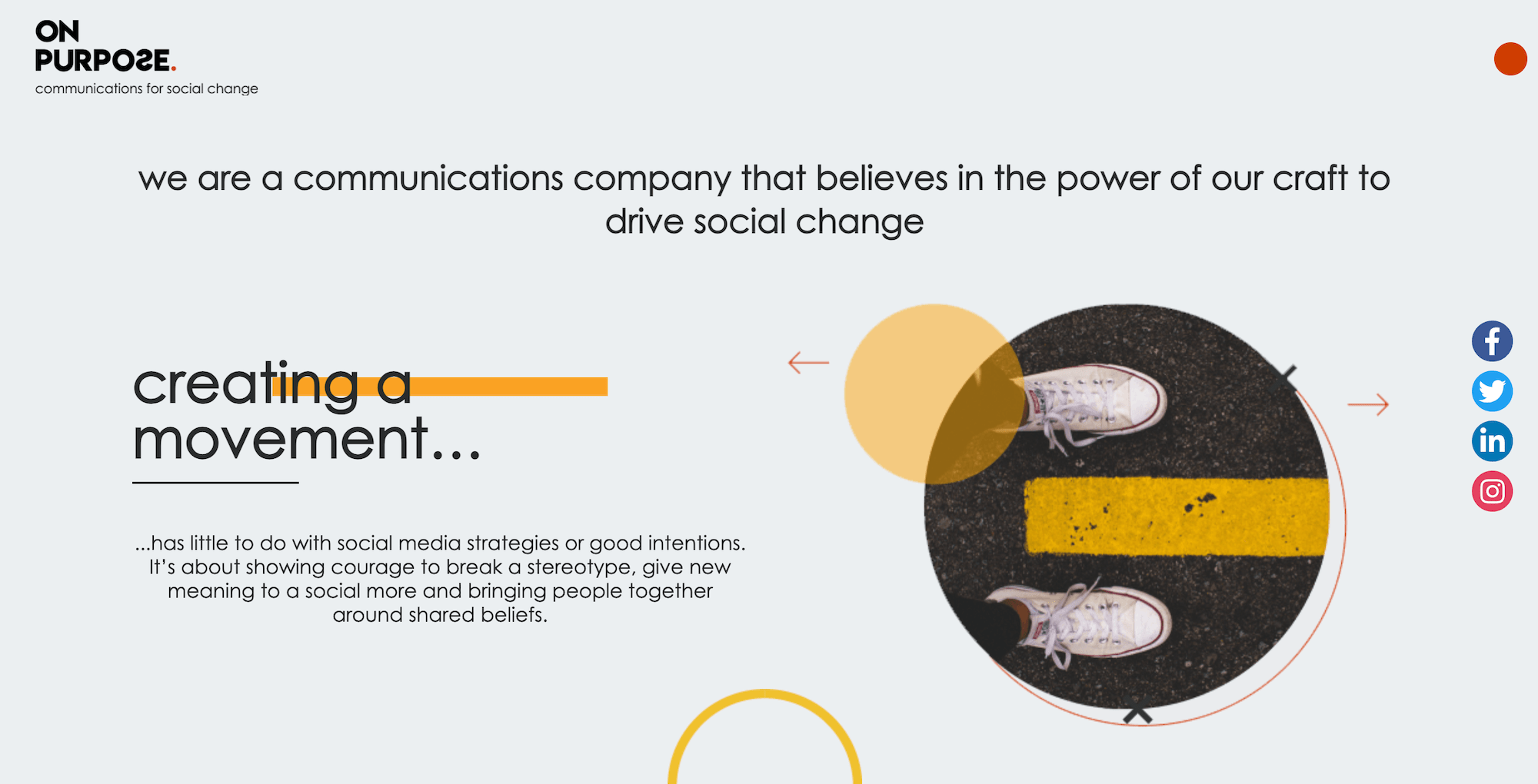 They help brands, development agencies, and other organizations with digital marketing, PR communications, internal campaigns, and a few others. Knowledge areas of expertise range from clean energy to AIDS awareness and mental health.
Some past clients include the Sesame Workshop India, a non-profit dedicated to early childhood education, and the Agastya International Foundation, which nurtures creativity in economically disadvantaged children. If that weren't enough, here's a pretty extensive list of awards they've won in the past five years.
Agency 11 – The Ethical Agency
Location: South Africa
Expertise: Digital marketing, branding, graphic design, and web design
Website: https://theethicalagency.co.za/
Instagram: https://www.instagram.com/theethicalagencysa/
This leading South African agency will help you amplify your brand communication through compelling visual design and effective, data-driven marketing for growth and success. The Ethical Agency (TEA) offers a rounded package of services: from bringing your brand to life, to graphic design for print and digital, and green website design – all the while backed by digital marketing strategies and tracked analytics. A good all-around agency, then.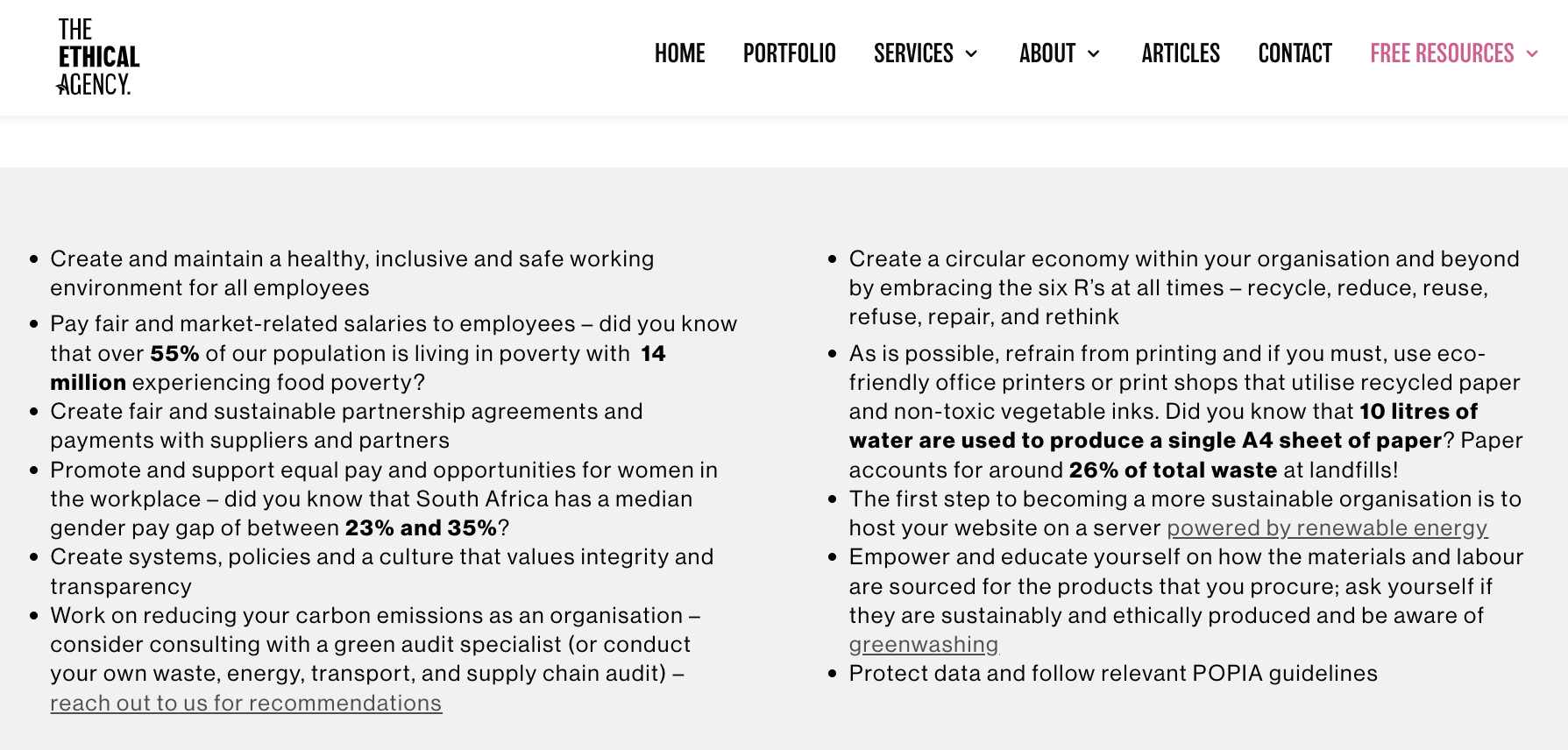 Content wise, TEA also offers plenty of useful marketing advice on their blog, a list of primarily South African sustainable and ethical suppliers, an ethical checklist, and even a free marketing strategy for start-ups and brands on a low budget. P.S. we'd like to award extra sustainability stars for  cultivating their own vegetable garden at their office in Cape Town.
Agency 12 – PAPER & PAGE
Location: Thailand
Expertise: Digital marketing, online PR, web development
Website: https://www.paperandpage.com/
Instagram: https://www.instagram.com/paperandpage/
In 2022, Paper & Page became Thailand's first creative agency to receive a B Corp certification. Based in Bangkok, they offer PR and marketing solutions to clients catering to audiences all throughout Southeast Asia. From luxury businesses like the Pranda Group to nonprofits like ECPAT, they cater to impact-driven entities focused on positive environmental and social change. In fact, they even take some pro-bono cases on board.
Interestingly enough, PAPER & PAGE belongs to the bigger mc Group – an international communications agency and network – with its headquarters in Berlin. But does it matter? The work is what counts at the end of the day. And like Akepa, they're a ClimatePartner certified.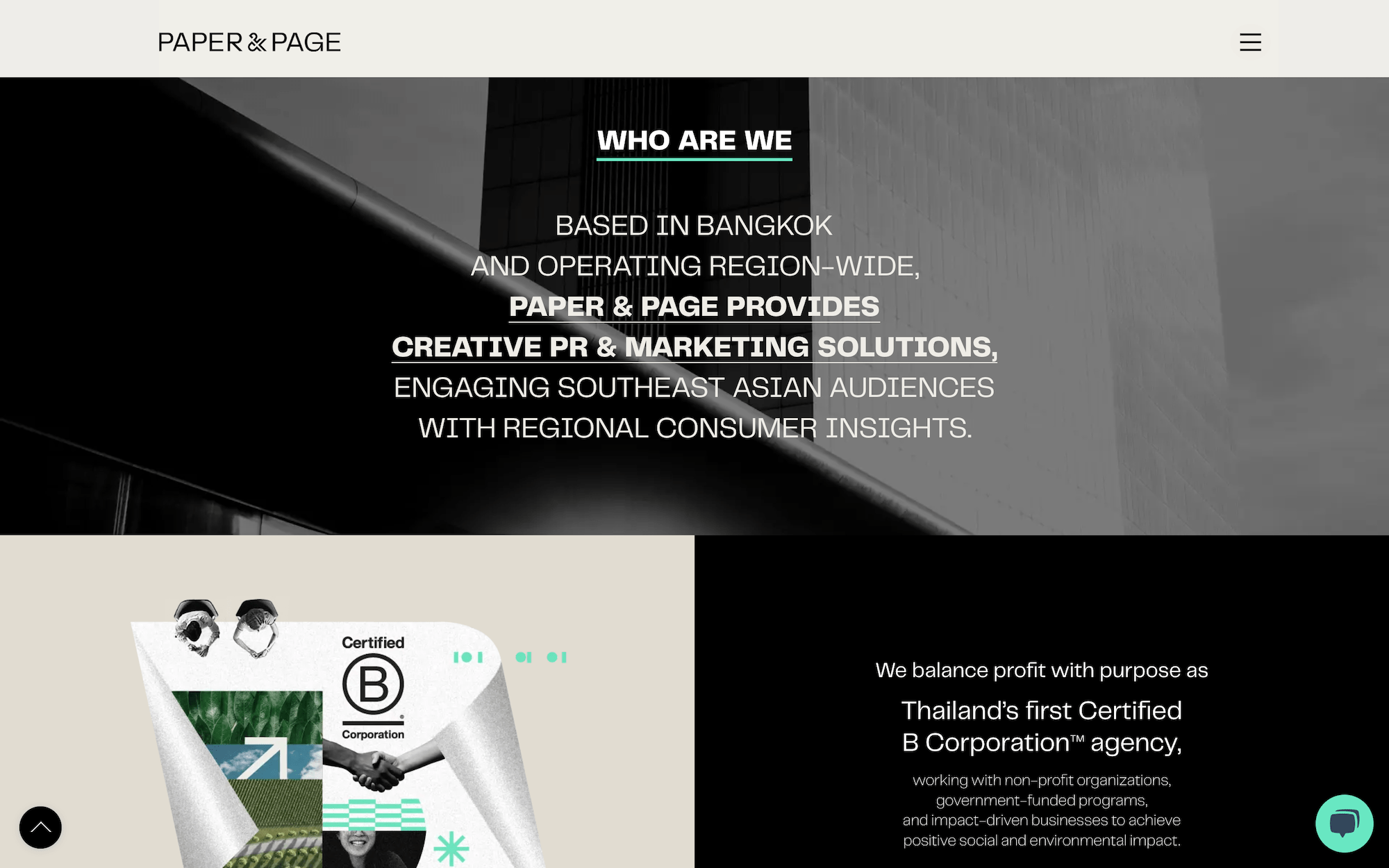 ---
Which marketing agency is closest to me?
Find your local sustainability marketing agency below:
How do I tell if a marketing agency truly is sustainable?
79% of buyers are changing purchase preference based on their social and environmental impact. But 62% of buyers barely trust that brands will stick to their environmental claims.
The list we've created here isn't exhaustive. So, how can you figure out if another agency you find means it – and will thus be good at communicating it? Here are some things to look for:
They'll be passionate
​​This might seem far-fetched but trust us. When researching an agency, ask yourself if they are as excited by sustainability as you are. Do they have a lonely '/sustainability' landing page and nothing else? Or do they dedicate blog posts, mission statements, and case studies to their sustainability? You can probably guess which you should be hiring.
Look at their past and current clients
Do they work with big corporations or notoriously unsustainable clients? This doesn't mean that the agency should be ruled out as unsustainable. But it can help you decide whether the agency aligns with your values or not.
They act sustainably
Does the agency have a remote working policy to cut down on unneeded flights and other transportation? Have they opted for carbon offsetting and if so, have they used a recognised provider on a trackable project? Do they use green web hosting? Is sustainability woven into their services? They might produce little to zero waste in their projects, for example.
This might be a bit harder to figure out if you're not already working with them but some agencies will be proud to share how sustainably they get work done. Talking to the folk behind the agency and asking questions might help and that can also help you detect some of that passion that we mentioned in the first point. On the agency website, there should also be a comprehensive sustainability page like Akepa's.
---
Whatever your brand needs, we hope the sustainable agencies above can help. When starting conversations with any agency, don't forget the three important rules:
A business-wide focus on sustainability
A glove-like fit with what your business really needs
A smart remote setup that works from any location
Ready to start speaking with agencies? Tell us what you're looking for at hello@thesustainableagency.com and we'll see if we can help.