Worried you'll need to cut your marketing budget in 2023? You don't have to sacrifice quality along the way. Akepa brings you tips to help even the slimmest marketing budget achieve growth.
Sustainable brands saw the cost of business shoot up like a weed in 2022. As your business prepares for 2023, you might have considered pruning your marketing budget. But how do you make savings without starving your online presence of the care it needs?
To help your marketing flourish on a lighter budget, Akepa offers four tips to spend where it counts. You can start with every one of them today for free.
#1 – Understand your data, to talk where it counts
#2 – Turn your community into your marketing team
#3 – Redirect your budget towards long-term content
#4 – Lighten your marketing toolkit
Let's not waste any more time (or money) and get to the tips:
#1 – Understand your data, to talk where it counts
Your website and social media channels collect a treasure chest of data about your brand. When used properly, it can save you time and earn you revenue.
Understanding data means understanding your customers. And this can cut out expensive guesswork and sharpen your focus on the folk who matter to your business.
Here are a few examples of free data tools that could improve the effectiveness of your marketing online:
Google Analytics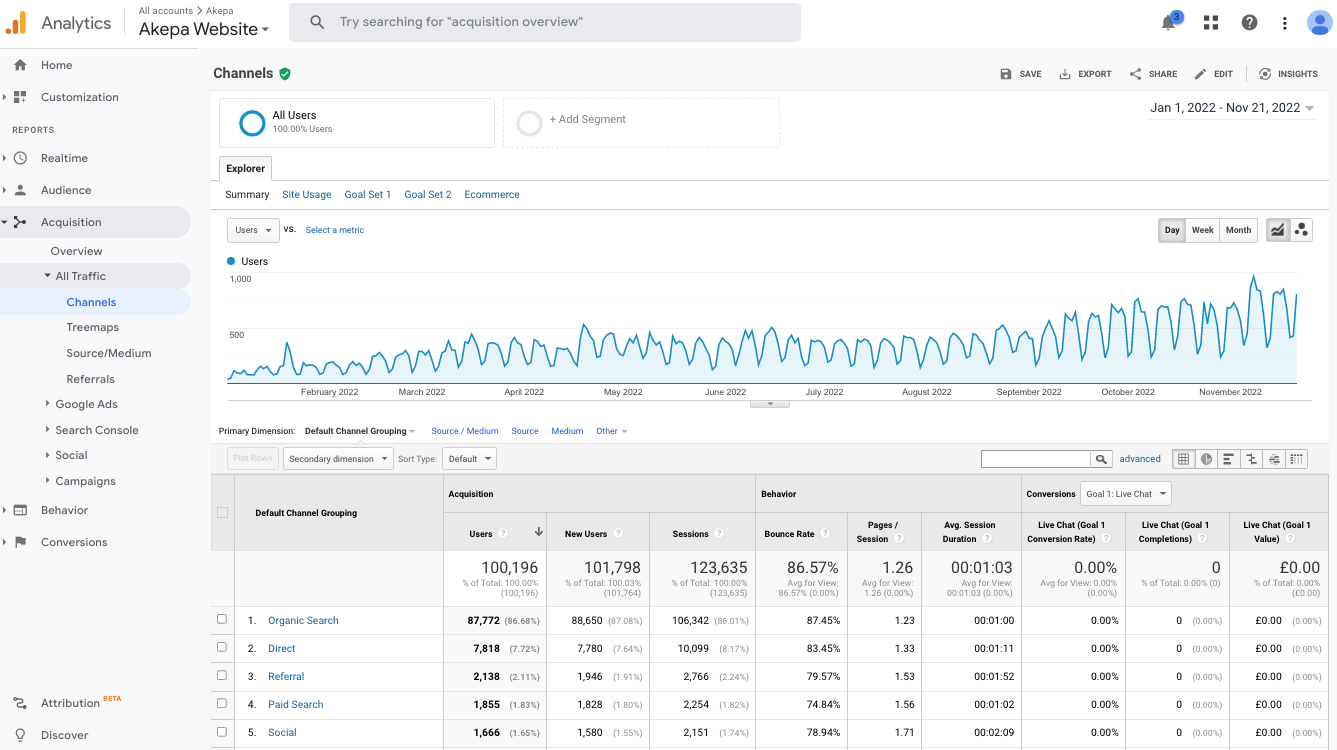 Analytics is overflowing information about your website and people's experience on it. Two sections are indispensable when deciding where to put your precious resources: Acquisition and Audience.
Acquisition reports tell you how people found your brand, which can give you valuable clues on the channels that are worth investing in.
Audience reports give you detailed demographic information on who is reaching your site. If your site isn't attracting the people you want to talk to, you can use this data to rethink strategy. Or you might uncover an opportunity in a demographic or market that you'd never considered.
Analytics can be daunting for the first few hours but its golden nuggets of feedback make it worth the time investment.
Note that in the newest version of Google Analytics, GA4, the reports above are replaced by 'Life Cycle' and 'User'. We advise you also start using GA4 to get comfortable with it. Universal Analytics will be phasing out from July 2023!
Google Search Console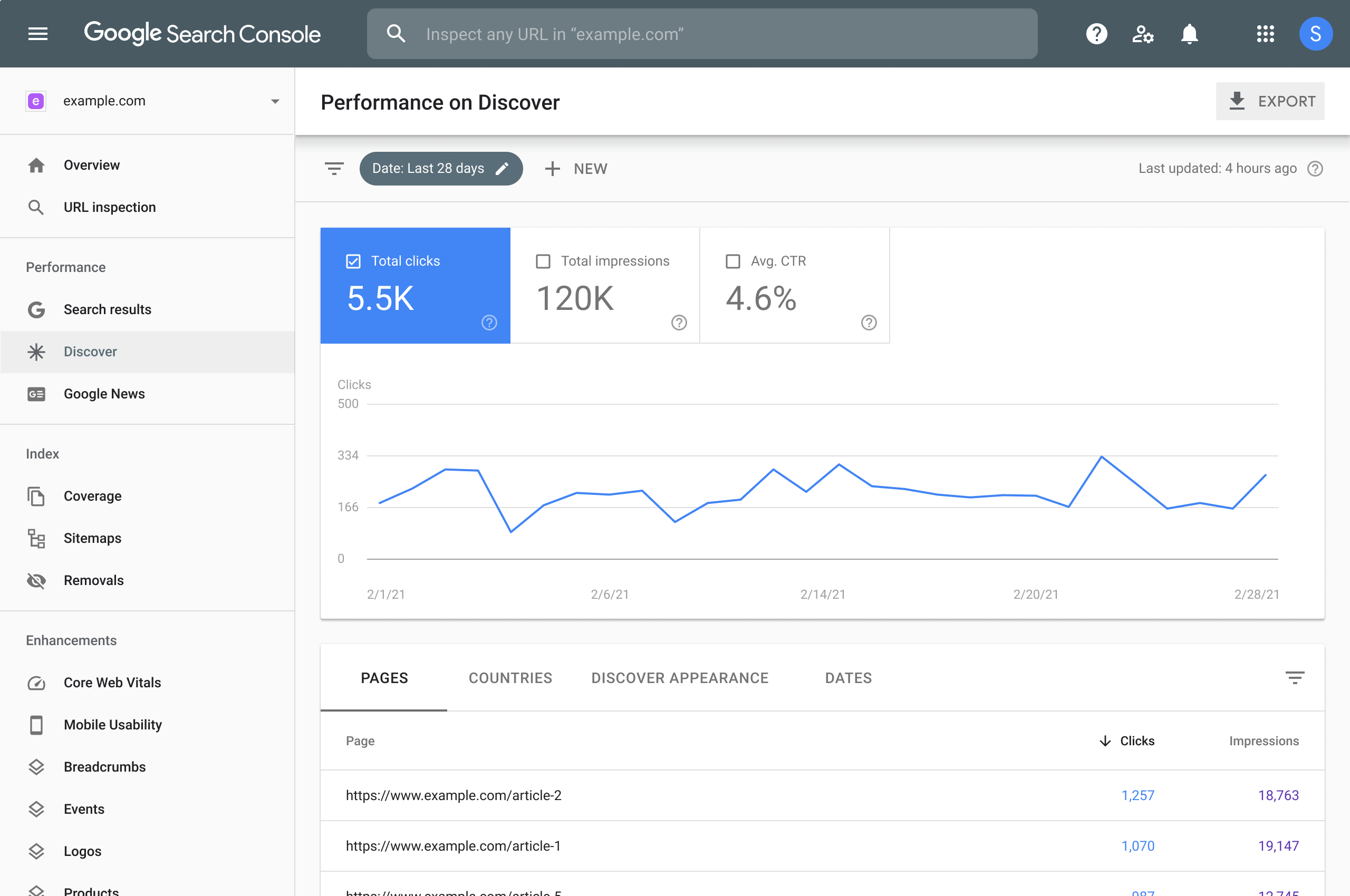 Google Search Console helps you see the terms people are searching for when your site pops up, and whether they click on you. It's like a window into their brain when they're googling.
This can help you plan your upcoming work. You could address concerns that pop up in search results or write more on topics that get people visiting your online home.
Social Media Metrics
It's often the case that brands spread efforts too thin on social media. Facebook, Instagram, Twitter or LinkedIn all offer free platform metrics that will help you understand what's working on your social media. With that information you can focus on the channels and content themes that are bringing the most benefits.
#2 – Turn your community into your marketing team
Turning your existing community into brand champions is a cost-effective way to boost your reputation online. As a bonus, it gives your customers a chance to feel part of your mission.
This is a powerful strategy for sustainable brands. Because your customers share your concerns for the world, helping to promote your product will be part of their mission too. You just need the right call to action.
Here are two ways to do this:
Easier – Encourage your customers to leave a review
Encouraging reviews is a simple but effective way to strengthen your brand for free. Reviews on Amazon, Google Maps, or your own shopfront will all leave glowing words about your product right next to the 'Buy Now' button.
88% of people trust online reviews as much as personal recommendations. So getting people to sing the praises of your world-improving product could help to grow your business.
If you're a B2B company, consider asking for a testimonial as we've done.
Challenge yourself – Give your followers something to create
The more creativity your call to action inspires, the more your sustainable following will take up the fight with you.
As we've mentioned before, one great example of getting your followers to create is Ocean Bottle's #econfession campaign on TikTok. By encouraging platform users to post about their mistakes in the past, they gave a fun and authentic way for a young audience to take part in a message.
#3 – Redirect your budget towards long-term content
Making content is a cost-effective way to improve your marketing in the long-term – and can often outperform buying advertisements. Your content won't shudder to a halt once you stop paying.
Don't get us wrong – ads definitely still have their place in your marketing. Especially in the short term. But organic search (people clicking on your unpaid search result on Google) accounts for almost double the visitors of paid search (a person clicking on your ad) – at 52% vs 27%. Still, for organic search to work, you need useful content that gets people excited to click.
Imagine you make sustainable socks. Instead of paying for Google Ads for sustainable socks, you could write articles like:
        Best sustainable stocking fillers this Christmas
        How to make your wardrobe more sustainable in 2023
        Perfect sustainable gifts that even your grandpa will love
This style of marketing is a natural fit for sustainable brands. Your audience is continuously looking for new tips, advice and suggestions to make their lives more sustainable. Write them articles to realise this goal and they'll be eager to visit your site. Or even come back and convert.
The best part about a content strategy? You can start for free, and even upcycle some of your old articles to save paying for new content.
A word of warning though: getting the right content that will really wow your audience isn't easy. Nor is it simple to get that content appearing at the top of Google. Consider investing some of the money you've saved elsewhere on a professional who can get your people clicking.
#4 – Lighten your marketing toolkit
Our final tip is to check your outgoings and make sure every one is nurturing your brand.
Just as you would across your business, you should evaluate the effectiveness of the online tools and partners feeding your growth. Here are a few starting points:
Audit the tools you already have
Ask yourself: Do I really need everything I'm paying for? Are any of my tools underperforming? What could ditch to lighten the load?
Downgrade to cheaper software package
It's easy to get upsold on fancy bells and whistles when getting a software subscription. So evaluate whether you could slim down by moving down to a lighter package that still fits your needs.
Replace paid tools with free (or cheaper) ones
A small amount of research will often uncover a cheaper way of doing something you're already doing. We've made a list of free tools here to get you started.
Readdress your relationships with digital providers
Whether it's your web hosts, web developers, content writers or marketing support, ask yourself whether your partners are helping your brand flourish to its full potential. If your partner's results have become lacklustre, consider shopping around for a different provider who can revitalise the way your brand speaks to your people.
Conclusion
Keeping your sustainable business thriving through uncertain times isn't easy. Follow these three tips to make your marketing fit for purpose:
#1 – Use data to sharpen your marketing focus
#2 – Give your community a chance to join your mission
#3 – Start a content strategy that keeps on delivering in the long-term
#4 – Re-evaluate the tools & suppliers you're paying for
We hope these tips help your marketing flourish even as you trim back on your spending.
Still need help squeezing the most from your marketing budget? We'd be happy to talk you through it at hello@thesustainableagency.com. We help mission-driven businesses achieve outsized results on lean marketing budgets. Our 100% remote working models means we can offer more affordable rates, while being kinder on the planet too.