In the first of a series of interviews with pioneering companies, Akepa has a chat with ethy: a startup that helps sustainably-minded brands and shoppers to find each other.
The connection's forged through ethy's accreditation labels that are displayed by brands and discovered by shoppers using a multi-channel platform and app. Here are a few of the neat hexagonal trust-marks they use – coloured by one of the six categories. All of the accreditations are aligned with the UN Sustainable Development Goals: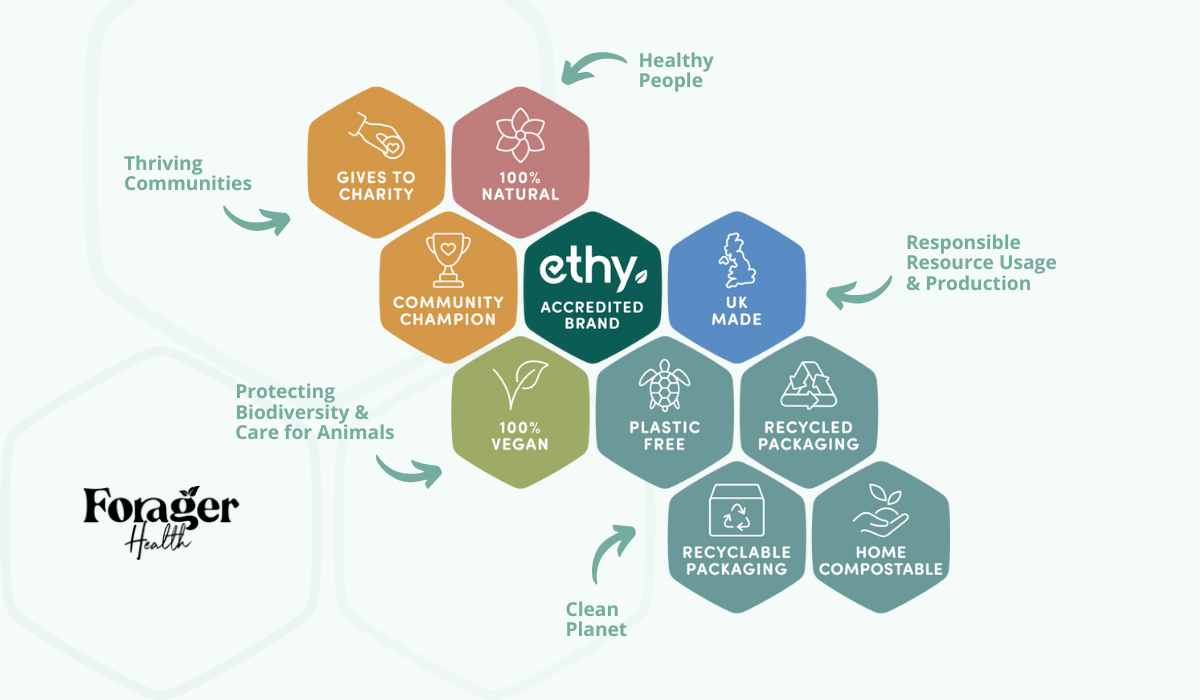 Are you struggling to find new sustainable brands and decipher their claims? Or a brand looking to attract like minded shoppers by showing your credentials? If so, then go forth to find out more…
First thing, why do you think better sustainability certifications and labelling systems are needed?
Sustainability certifications and labels are vital because they ensure the integrity of claims being made and drive transparency as a result. A rather shocking recent review from the CMA found that up to 40% of green claims made online could be misleading consumers. And the impact? 4 in 10 websites are potentially leading us into making unsustainable choices, despite our best intentions. This is a clear indication that we need third party verification when it comes to sustainability claims.
On the flip side, there are so many brands offering products or services with genuine environmental benefits that aren't getting the attention they deserve. Evidence-led certifications and labels can ensure they do, while helping us as individuals easily choose between brands doing the right thing and those who aren't.
Tell us a little more about ethy…
Consumers across all generations – from Baby Boomers to Gen Z – are demanding more sustainable products and services now more than ever. The problem is, making sustainable purchasing decisions is easier said than done, and there are two massive barriers when it comes to shopping sustainably. Firstly, consumers don't know who to believe with all the greenwashing taking place. It's no surprise that 80% of consumers don't trust the sustainability claims made by brands, according to a recent Deloitte report. The second barrier is that sustainability is a huge and complex topic, conflicting with our need for convenience and simplicity in the purchasing decisions we make.
ethy is addressing the above consumer pain points by working with responsible brands to communicate sustainability in a way that consumers can both trust and understand.
Through our industry-leading corporate sustainability framework, hundreds of UK brands have been awarded ethy accreditation, by proving their contribution towards the United Nations Sustainable Development Goals and committing to impact transparency.
Through a suite of communication tools we then help these brands transform the complicated topic of sustainability into coherent communications that consumers understand and engage with. By helping these brands tell their sustainability story in a simple and visual format, we enable those making genuine impact to differentiate from competitors, attract more customers and thrive as a business.
ethy also connects responsible shoppers with accredited brands through a popular mobile app for sustainable living. Over 10,000 people now use the free app, which offers a resource of accredited sustainable brands, along with 'how to' Guides on sustainable living which encourage small changes towards a more environmentally and socially considerate lifestyle.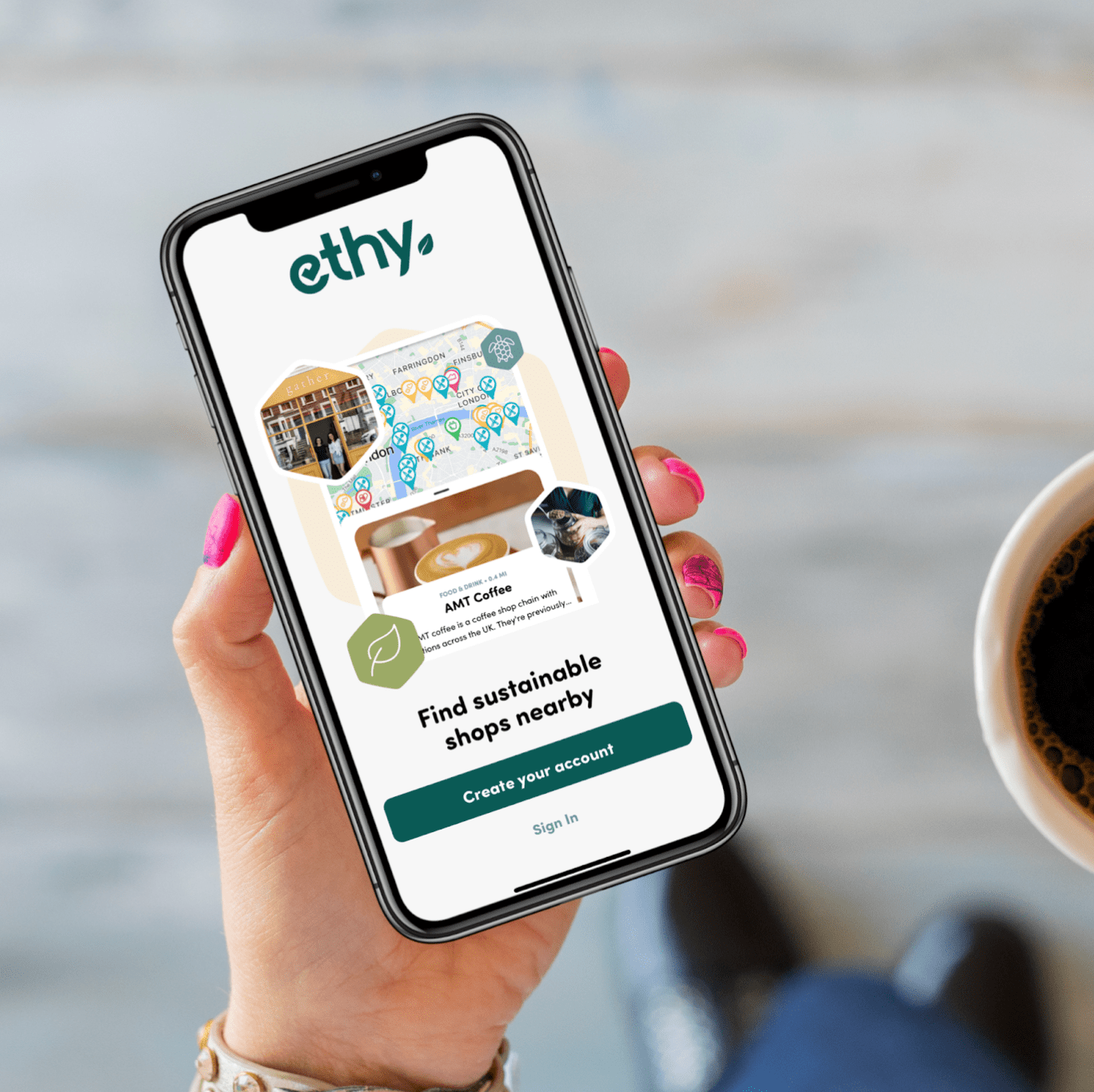 In what ways does ethy differ from the other labels that are out there?
There's a whole load of sustainability certifications and labels out there already – over 450 recognised labels out there today in fact. Yet despite this abundance of ecolabels, we still see a huge amount of consumer confusion around the impact of our shopping. The problem is that so many of these ecolabels are high-level and non-specific. They don't actually inform the consumer.
Instead, ethy's sustainability labelling system takes a granular approach, clearly signposting the various environmental and social achievements of the brand. ethy is striving to be the most consumer-friendly sustainability accreditation, by offering the most context behind the accreditation in a transparent and informative way.
How do you assess brands applying, to make sure they're sustainable?
First and foremost, sustainability is a journey not a destination, so we're cautious to ever call a brand totally 'sustainable'. No brand is ever 100% sustainable and there is always more work to be done.
We assess brands across six core paths – Stable Climate, Clean Planet, Responsible Resource Usage & Production, Animal Welfare & Biodiversity, Healthy People and Thriving Communities. These paths represent the most pressing sustainability challenges, and offer the widest opportunities to have a positive impact on people, animals and the planet. To ensure the integrity of each path, we have worked closely with a network of sustainability partners, from Carbon Neutral Britain to the University of Edinburgh, to develop an industry-leading sustainability framework.
Each path comprises a number of UN SDG-aligned standards, for which the brand can gain recognition for, in the form of a 'trust mark'. For instance, our Stable Climate path includes a 'Powered by Renewables' standard, which requires that all company premises run off renewable energy. To gain recognition for this criteria and be awarded the 'Powered by Renewables' trust mark, the brand must submit energy bills for all company premises, demonstrating 100% renewable energy supplier(s) and tariff(s).
The assessment process works in this format. The brand must meet the standard and then provide eligible supporting documentation to verify their claims. The minimum requirement for accreditation is that the brand has met the criteria and submitted evidence for at least two standards within the framework.
Can you give us an example or two of how ethy is already being used by brands?
Here's a few ethy accredited brands using one of our visual communication tools called the Impact Hive – a nature-inspired snapshot of the company's sustainability journey.
What's the closest equivalent to ethy that's available at the moment?
Probably a company called Provenance who are doing some really great work helping brands market their sustainability in a transparent way.
What other sustainability labels do you admire and see as a mark of trust?
I like the model that GreenStory is using. They help brands showcase their sustainability in a relatable way that everyone can understand.
Aside from labelling and certifications, what are some of the most exciting sustainable brands that you're following at the moment?
Where do I start! Here's a few that really caught our attention recently:
Sustainability can be a tricky concept to define. What's your definition?
To me, sustainability means living in harmony with people, planet and animals. This means a balanced and cooperative relationship between us, our environment and the people around us.
We could be on the verge of an economic crisis, do you think this could present any problems for sustainability's… sustainability?
In regard to sustainable shopping, then yes. There's no doubt that more sustainable products and services can come with larger price tags, and the current situation will mean that many of us can no longer afford to pay this premium. So yes, I do believe the current financial climate will force some UK shoppers to reconsider the products they buy and prioritise cost.
However, I also believe there is a common misconception that shopping sustainably has to be more expensive. But that's not always the case. When you consider the alternatives, often you'll find that sustainable products cost more upfront but will save you money over time. I think we need more attention around this, especially at this time.
If you'd like to know more about ethy then take a look at their website.
And here's another post from Akepa on sustainability certifications that might interest you if you want to learn more…