Brace yourself, it's almost time for Black Friday. The delirious day of discounts where almost everyone plans to stock up on gifts and goodies before Xmas.
It's tempting to think that the pandemic should have slowed down the unstoppable force that is Black Friday but no, it seems like it came back bigger than ever. The event brought in billions of in sales last year. And it surely won't be any different in 2023.
It's not just about the economy though. In the UK alone, Black Friday sales were predicted to release 386,243 tonnes of carbon in 2021, according to Money.co.uk. That's equivalent to the CO2 produced by 215 flights between London and Sydney. It's also said that 80% of products bought on Black Friday end up in the landfill or incinerated after a very short life. What a waste.
If you ask us then, Black Friday is a little dubious. It encourages overconsumption and then there's also the risk of inter-shopper combat if you visit the shops to find the most exquisite deals.
So, to avoid all the messy Black Friday mayhem, of the environmental and interpersonal kind, let's take a look at some brands who are doing things differently and more sustainably this year:
Note – while we wait on news on what brands are doing for 2023, this post includes initiatives from 2022. Many of the same Black Friday alternative campaigns will be running this year – as many of the featured brands tend to take the same approach each year, or vary it slightly – but stay tuned for our focused update around a month or so before the event. Subscribe to our newsletter at the foot of the post and we'll send you an update once that's done – plus other helpful sustainability content, meanwhile.
1) REI
Product: Outdoor gear
Campaign: #OptOutside
Region: USA
Outdoor gear brand REI will take a boycott stance to Black Friday this year, as it did last year and every year since 2015. Its doors will be slammed shut to encourage its shoppers to #OptOutside. Or, in non-hashtaggy language, spend some time in the fresh air instead of in shops. To help you escape, they've got all kinds of useful advice for all outdoor adventures, as well as packages for adventure guides if you don't want to do the adventuring yourself.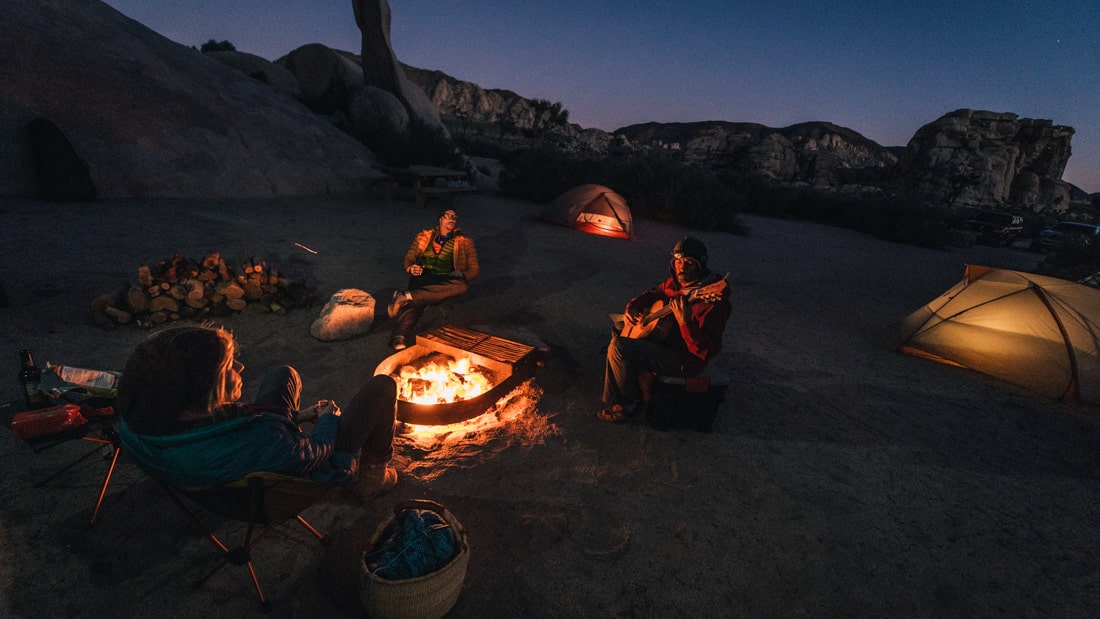 It's the eighth year in a row where they've done this. And it's all part of a wilder campaign to encourage more folk outdoors, where REI supports organisations such as Wild Diversity and the Center for Native American Youth.
2) Everlane
Every year since 2014, Everlane picks a new organisation to support with their Black Friday Fund and, for 2022 it's TreePeople. This year the goal is to grow trees in LA to reduce the heat that vulnerable communities are exposed to. By doing so, they're helping solve shade inequity while reducing carbon emissions for everyone at the same time. $1 will be donated to TreePeople with every order.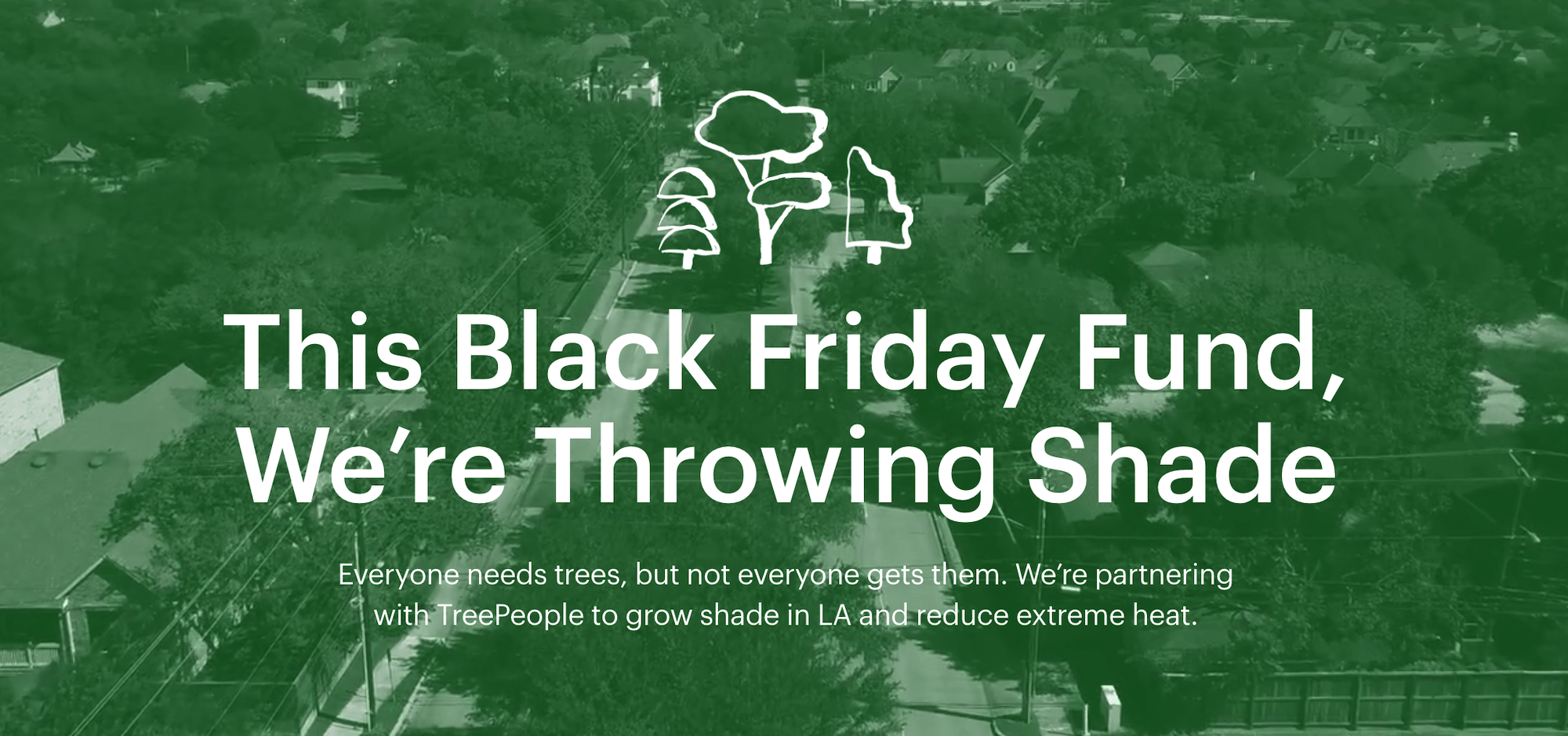 In 2021, they partnered with Oceana who fight single-use plastics and clean up oceans in the process. They successfully raised their goal of $300,000 from sales, which was enough to support a full year's worth of Oceana's activity in three major markets.
3) Lucy & Yak
Product: Sustainable clothing & dungarees
Campaign: #FiorDiLotoFriday
Region: Worldwide
Since 2018, Lucy & Yak has taken advantage of Black Friday's delirium to donate profits to the Fior Di Loto Foundation, a charity that helps girls in Pushkar, North India, get a vital education. The villages in the area are also where the brand makes their joyous printed dungarees.
Last year, Lucy & Yak gave a third of all profits to the Foundation – and this year they're bettering that. A HALF of all Lucy & Yak's profits from the 21st to the 28th of November will be donated.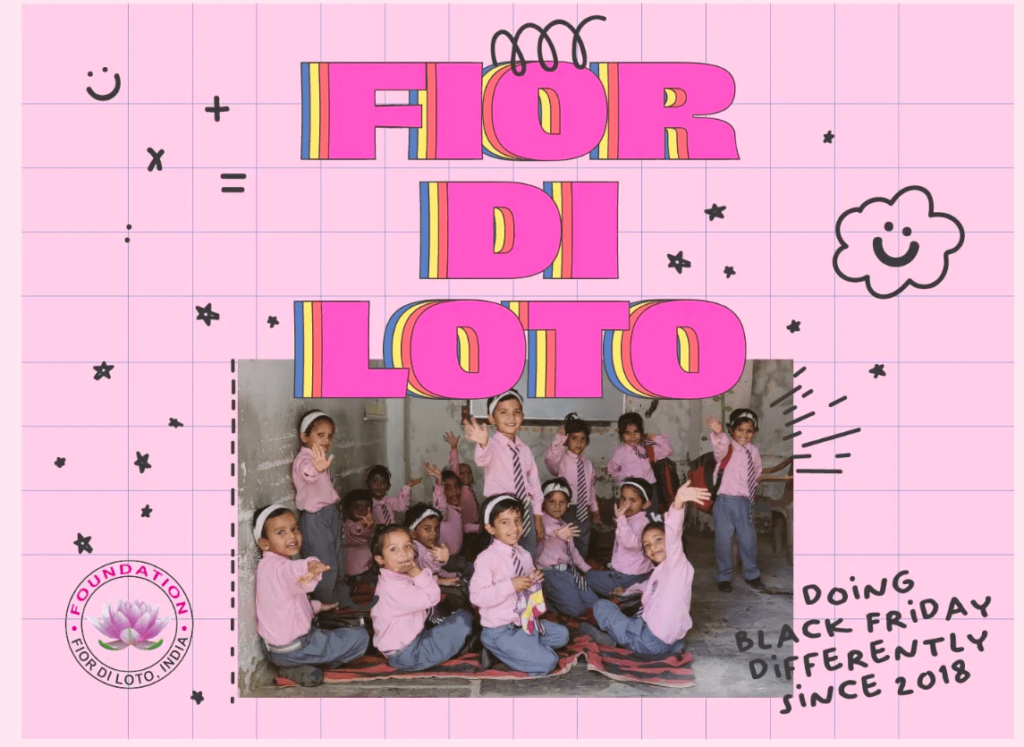 And of course, there won't be any special Black Friday discounts to support the whole shebang.
4) POMP
Product: GOTS-certified organic cotton clothing
Campaign: #TakeBackFriday
Region: UK & EU
Wouldn't it be great if Black Friday were more fulfilling, less landfilling? That's the premise behind POMP's alternative: Take Back Friday.
Instead of buying new items at a discount, customers are encouraged to send back worn-out POMP garments, so they can be recycled into new ones. To do so, it's just a simple case of using the QR code on the label. In return, customers will receive store credit to spend on future purchases. If you don't have any POMP garments to send back, here's a link to their recycled clothing range. You might be able to try again next year. But bear in mind there are no Black Friday discounts!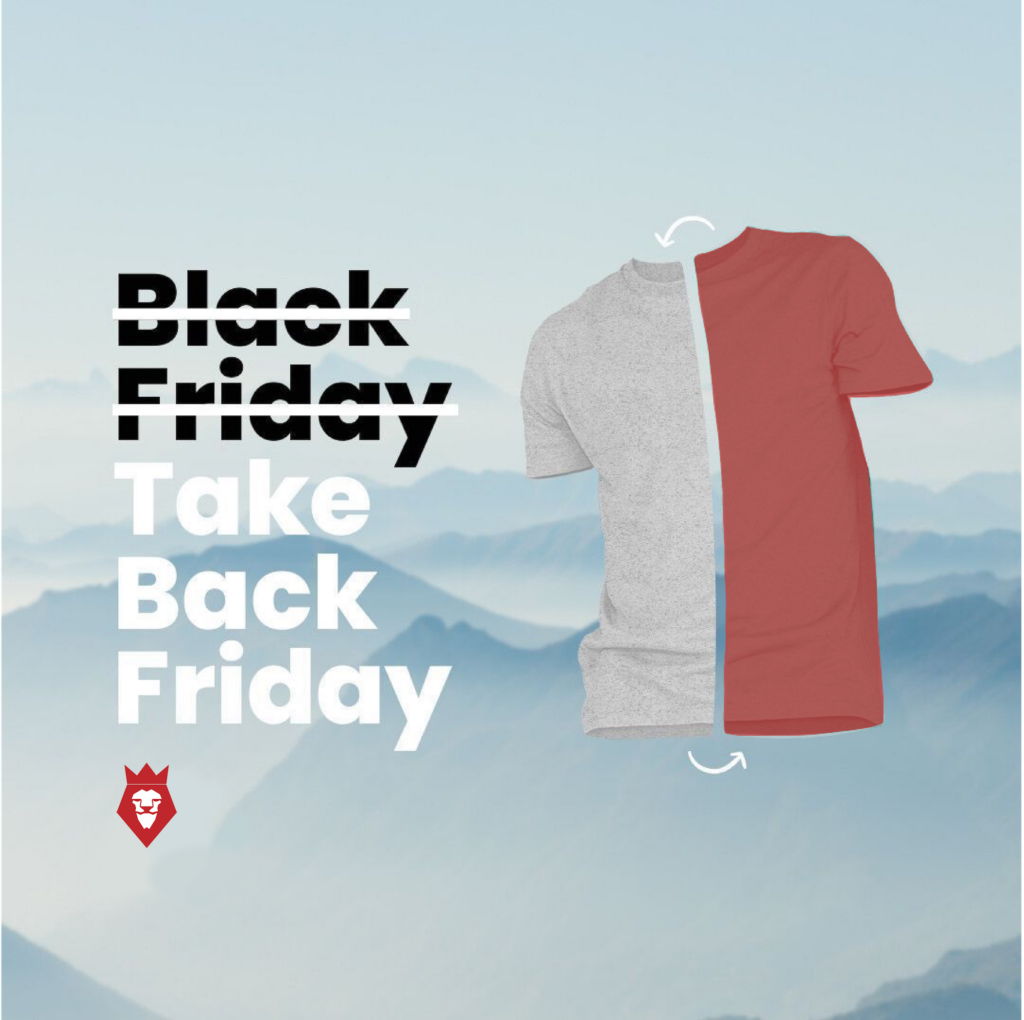 5) The Swapshop x BlueCity
Product: Secondhand clothing x Circular economy platform
Campaign: F*ck Black Friday
Region: The Netherlands
The Swapshop is anti-overconsumption by nature, as their business is based on connecting people with secondhand clothes. This year, they've partnered with BlueCity, a circular economy platform in Rotterdam, to hang posters around the city that read "F*ck Black Friday".
This swear-y approach is to promote their upcoming event on Saturday, November 26th, 2022, where they're hosting a mega clothing swap to counteract the equally obscene sales of new things. At the event, people will be able to swap clothes as a more sustainable alternative to scoring the cheapest deals. There will also be a circular market with over 20 brands and entrepreneurs incase you do need to purchase a sustainable gift for the holidays. Sounds f*cking great to us.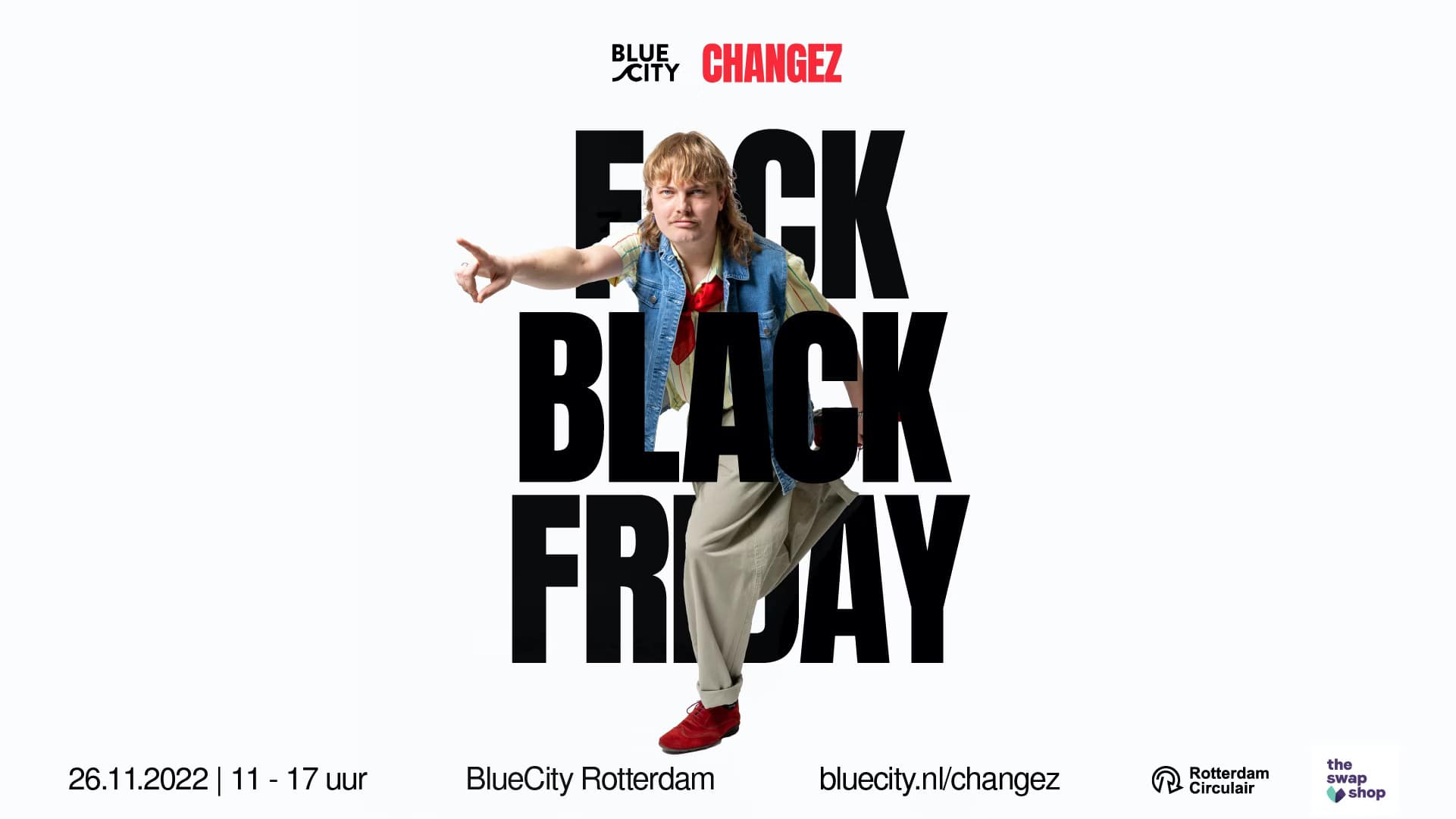 6) Dille and Kamille
Product: Home, garden, & kitchen store
Campaign: Green Friday
Region: EU
For Dille and Kamille – a one-stop shop for sustainable home, garden, and kitchen appliances – Black Green Friday is not about discounts but about doing something good for nature. They've been doing this since 2018 but in 2022 they're going the extra mile and closing all their physical stores and their online store while doing voluntary work in nature. Bereft customers are encouraged to replace shopping with a simple walk, helping the birds in the garden or balcony, making candlesticks with greenery, or doing something else that's 'green'.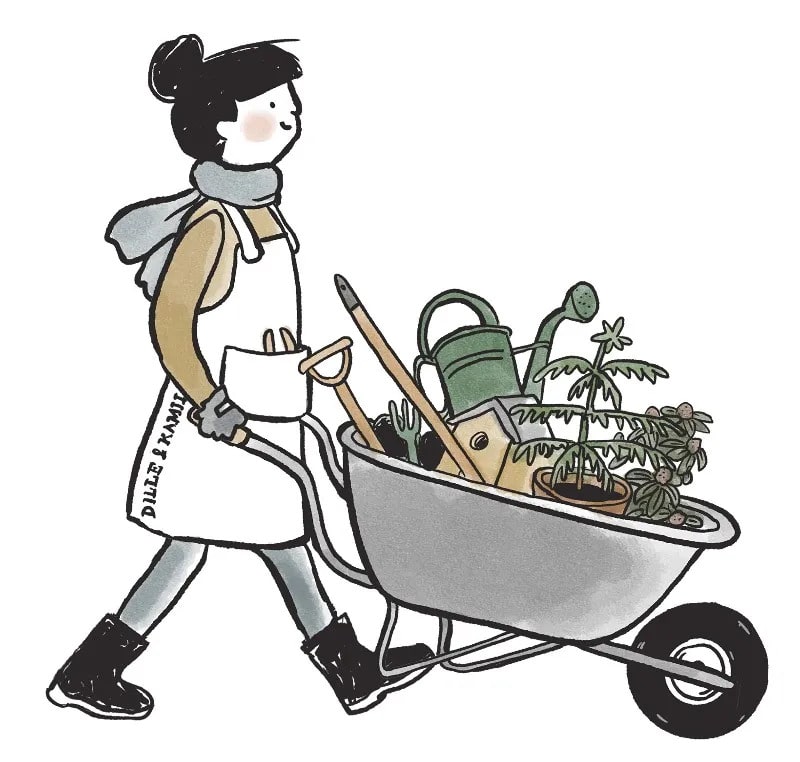 7) Swyft Lab
Product: Creative solutions to pre-loved fashion
Campaign: Swyft Saturday
Region: South Africa
Swyft Lab is a new brand with a unique approach to pre-loved clothing. They partner with South African artists to upcycle used garments creatively, making the clothes a kind of canvas. Like other sustainable brands, they've decided to boycott Black Friday while publishing content on why Black Friday is a problem. But they're also hosting a clothing swap, panel talk, and upcycling workshop on Saturday, November 19th, in Johannesburg.

8) ALOHAS
Product: Sustainable clothing & shoes
Campaign: #NoToBF
Region: Worldwide
ALOHAS is a sustainable fashion brand that promotes on-demand production by offering 30% off when you purchase ahead of time on their website, all year round. And it's for this reason that they refuse to give meaningless percentage discounts on Black Friday. Instead, they'll run an Instagram giveaway with the goal of raising awareness of the harmful impact of the day. Entrants must comment on their anti-BF post using their #NoToBF hashtag. Then share the post on stories and tag two of their friends.

But despite the brand having good intentions, their marketing has been a case study on the risks of a promotional anti-Black Friday stance. In particular, a click-bait campaign headline about about a 90% off sale on all their products. In response, they've received backlash about the message being misleading, condescending, and classist. But then Alohas would claim that's the price of raising awareness.
9) Remake
Mission: Fighting for fair pay and climate justice in the clothing industry
Campaign: "Let's rethink Black Friday…"
Region: Worldwide
Remake is a global advocacy organization disrupting the fast fashion industry by changing laws and holding brands accountable.
So the least we'd expect from them is to be anti-Black Friday. And of course, they are. While they don't sell products to even be able to give discounts, they've sent out a pretty convincing e-mail sharing some harsh truths about clothing production. In it, they're inviting us to join their fight to help garment workers get the pay they deserve by donating on their website.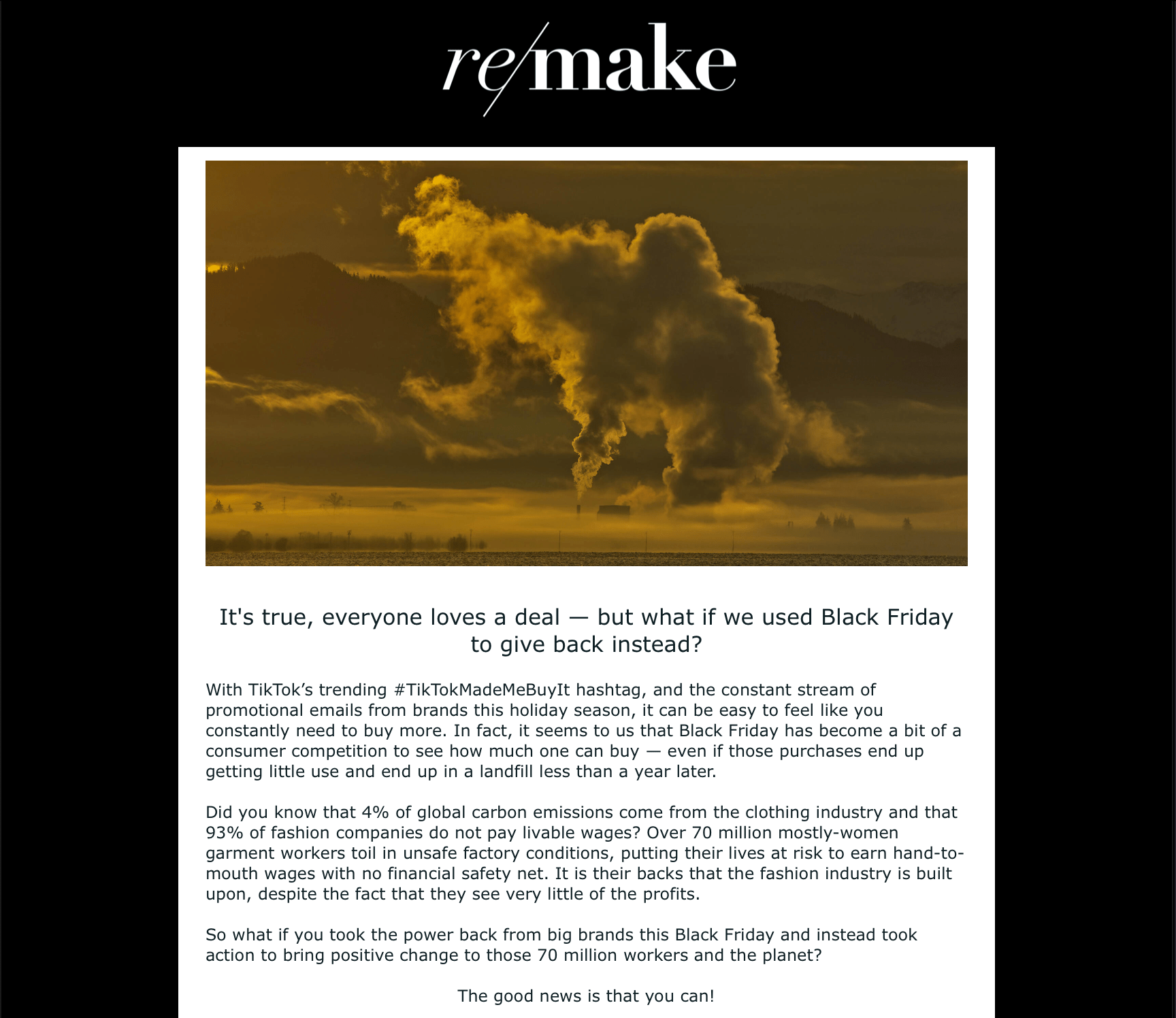 In 2022, the donations they received helped them recover $30 million in wage theft for garment workers around the world.
---
P.s. we recycle our content, as we do our things. So let's not forget the brands that we featured last year, some of whom will be active again this year with similar campaigns or the exact-same campaigns. Here's a quick recap to the brands featured last year and what they're doing this time round.
1) Allbirds
While other companies spent Black Friday slashing prices for the most sensational sale of the year, Allbirds did diametrically the opposite.
Instead of lowering prices, Allbirds raised them by $1, and all for a good cause. With every product sold, they matched and donated the extra $1 to environmental projects, working with organisations such as Fridays for The Future.
This year, despite emitting a lot of schtick about circularity, Allbirds seem to be running at least a Cyber Monday discount to get folk to buy more of their new things. Naughty Allbirds.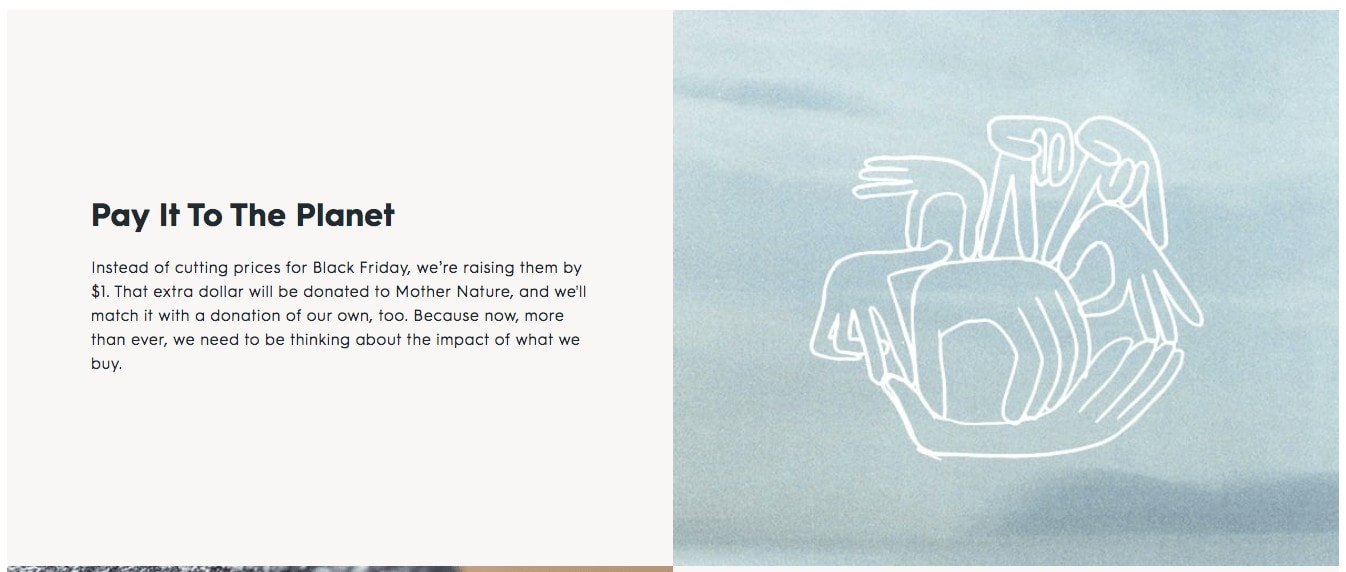 2) SANVT
Next stop is one of our clients, SANVT, who took the opportunity of Black Friday to get more lovely trees planted. This was achieved by planting an additional ten trees for every order made in November – in countries scarred by deforestation, like Madagascar and Haiti.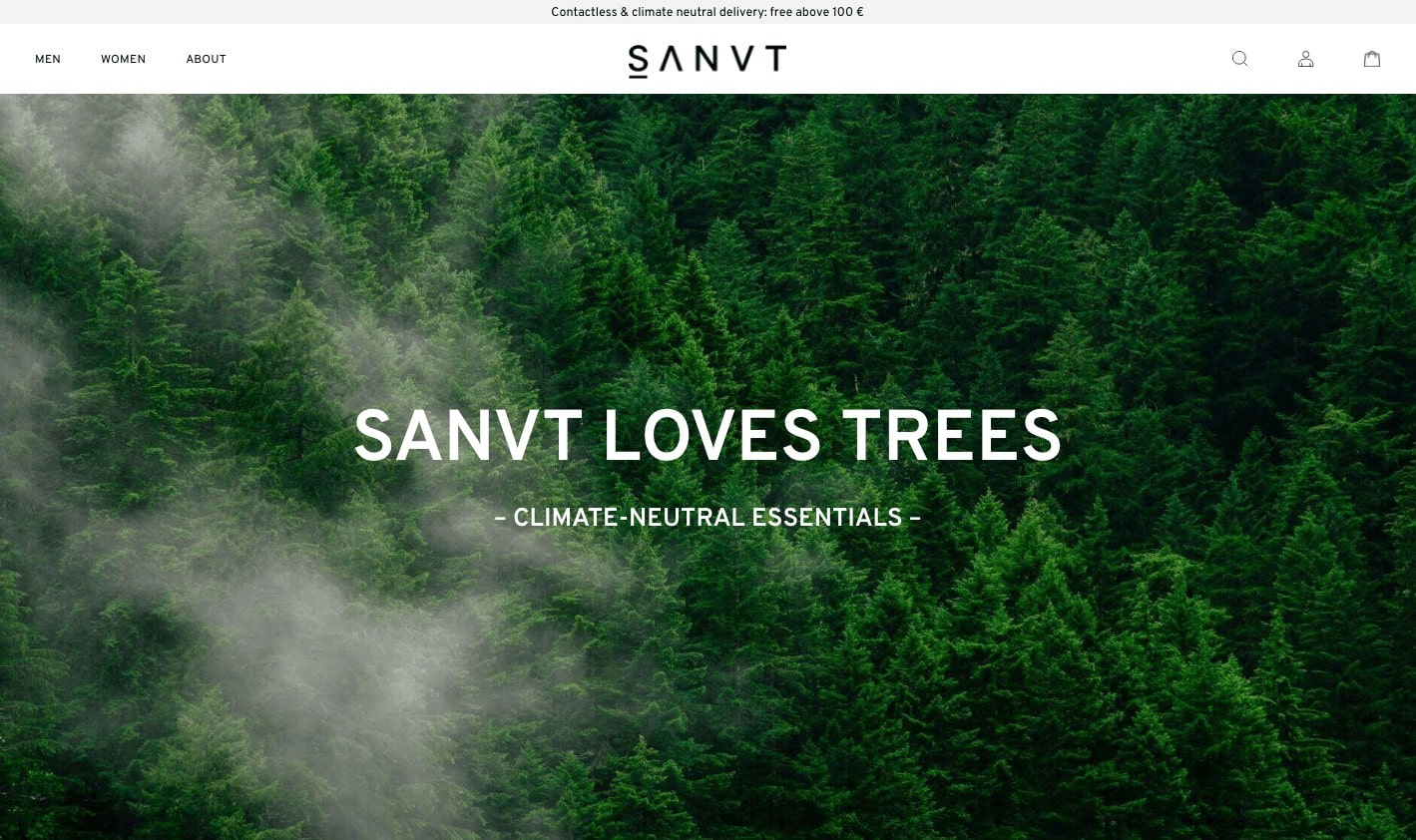 This added to the tree that's already planted for every order, by default. So that means the tree planting would have increased by 900% during Black Friday! What's not to like about that? That's way better than a boring 25% price discount. SANVT will be boycotting Black Friday once again this year and explaining why. But will not be repeating the extra tree planting for new purchases.
3) IKEA
IKEA was one of the bigger companies with anti-Black Friday / Green Friday campaigns in 2021. With month-long special deals, IKEA discounted only its sustainable products that 'you and the planet will love' – in certain regions, not all.
This combined nicely with an improved buy back and resell offering in many countries, where you'd get a lot more money than you usually would for returning used IKEA furniture. They're doing the same again this year.
4) The Ordinary
Product: Skincare
Campaign: Slowvember
Region: Worldwide
Skincare brand the Ordinary sort-of boycotted Black Friday in 2021 – and doing the same this year, too – with a global 'Slowvember' campaign. The idea being that that you shouldn't panic in your quest to find the most delectable deals and buy something you don't really need. Rather, you should shop all of their products slowly and in peace for the whole of November, with 23% off.
Not only that, to encourage more responsible shopping, they closed their physical stores for sales on Black Friday and instead opened them for special events featuring live music, refreshments, and art workshops. Sounds tops!
5) Brothers We Stand
Product: Ethical men's clothing
Campaign: Black Friday
Region: UK / EU
We covered a few retailers who will or have boycotted Black Friday by closing their physical stores. In a step that takes that approach online, East London-based Brothers We Stand banned all purchases on their website for the whole of Black Friday last year.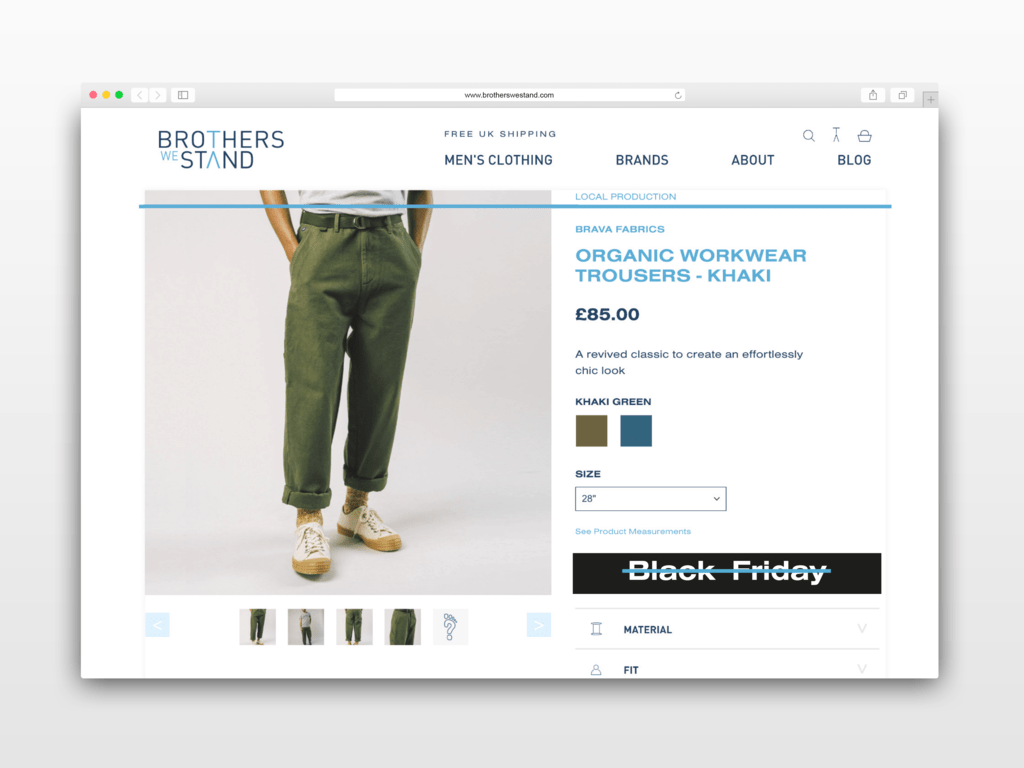 This meant that if you tried to add an item to your cart on November 26th, 2021, you wouldn't have been able to. Instead, customers were given the choice of three alternative actions. With these actions, labelled as 'Learn', 'Stand', and 'Change', would-be buyers could learn more about sustainability or encourage major retailers like Amazon and Nike to treat their workers better. You can't say fairer than that.
So what to do this Black Friday?
With all this blah blah about Black Friday and sustainability, it is easy to forget that the best way to reduce your impact is to buy better and to buy less. But if you just can't help yourself and need to check out this year's Black Friday deals, then why not have a peek at some of smaller, local, and sustainable brands, or at least invest in some big ticket items that you will use for years to come.
And don't forget: if you fancy a massive 126% Black Friday discount on our digital marketing services, plus a free Akepa branded hoodie, then of course get in touch and we'll sort that out for you with our unmissable Black Friday deal that's valid for the entire month of November.
Not really.