We are persistent at Akepa. Every month for a while now we've proffered the finest sustainability news from the preceding month. It's not always easy and it's often a rush but we get there in the end. We will not cease. And on that note we're going to stubbornly tell you what happened in April.
As is tradition, we'll add a timeline of events based on an endangered beast. Last month the Shoebill Stork was the star. This month, the palette is inspired by the majestic Great Bustard. It's the heaviest flying bird and classed as Near Threatened. Most of 'em are found in Spain, just like most of Akepa is.

Tilted art tells the climate story
Throughout April, 2023
Link: Phys.org
Art. It's top stuff. It inspires, provokes, challenges, enriches, educates, and more. It can do endless things, Art. And in May, some of the stuff has been telling the story of unchecked climate change.
You may imagine a fancy new multimedia art installation, perhaps involving AI or AR. That's not the case. Rather, it's simpler. As part of the initiative 'a few degrees more', Vienna's Leopold Museum tilted 15 famous paintings by a few degrees. They did this to illustrate the degrees of temperature change that could afflict the landscapes depicted in the paintings.
Here's Schiele's Houses by the Sea, tilted by 3 degrees.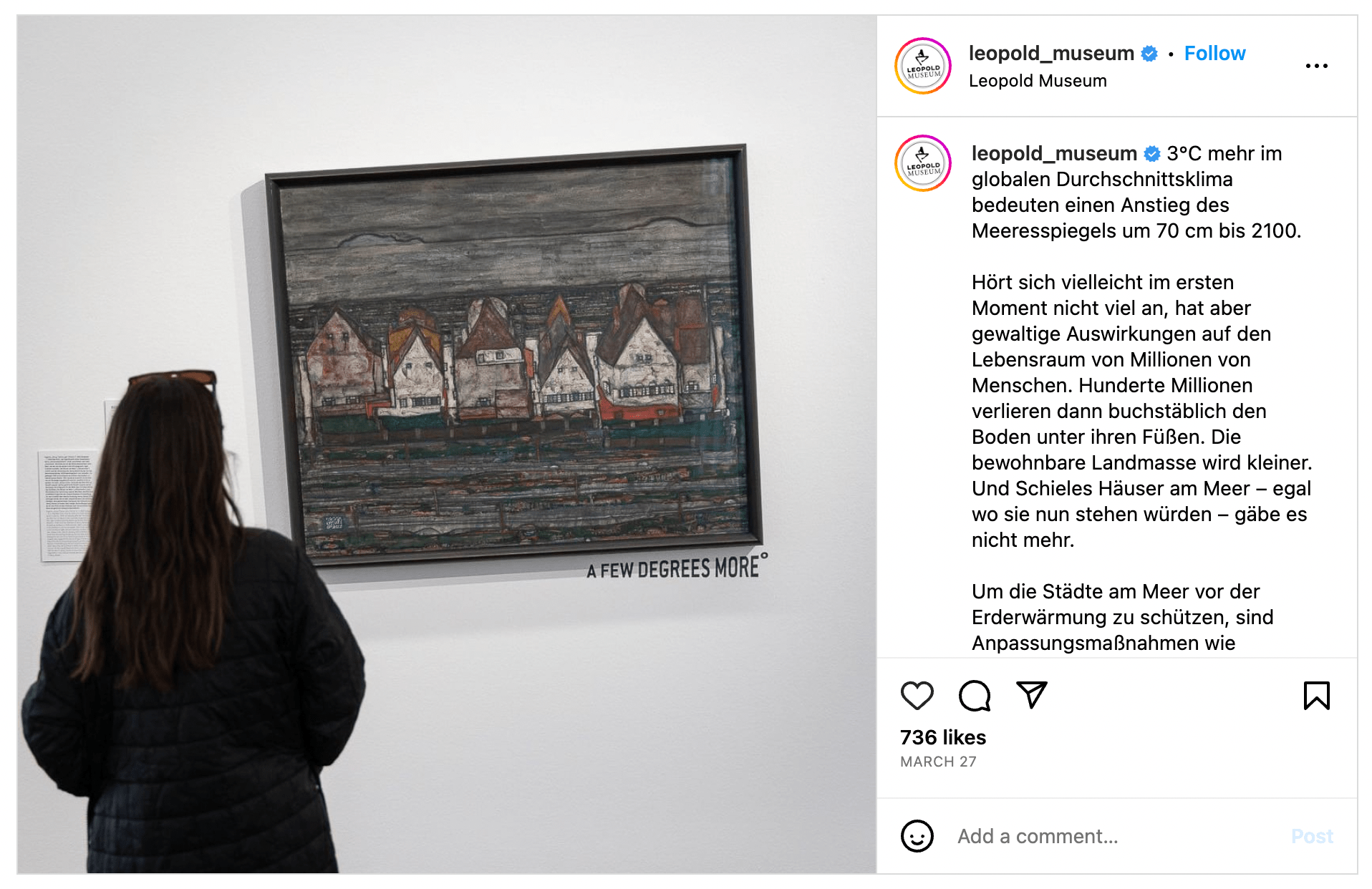 We're not sure if the tilting quite captures the chaos that would ensue. But it seems like a kinder – and dare we say cleverer – way to integrate art with climate change awareness than attacking priceless paintings with pools of black filth.
In any case. Art's not to be underestimated in the fight against climate change.
Nature thrives where indigenous communities do
April 6th, 2023
Link: Mongabay
Recently, biodiversity has become inexorably connected with climate. Biodiversity has climbed so high up the agenda that there are even biodiversity stripes to complement the famous climate warming stripes. With an equally clear trajectory.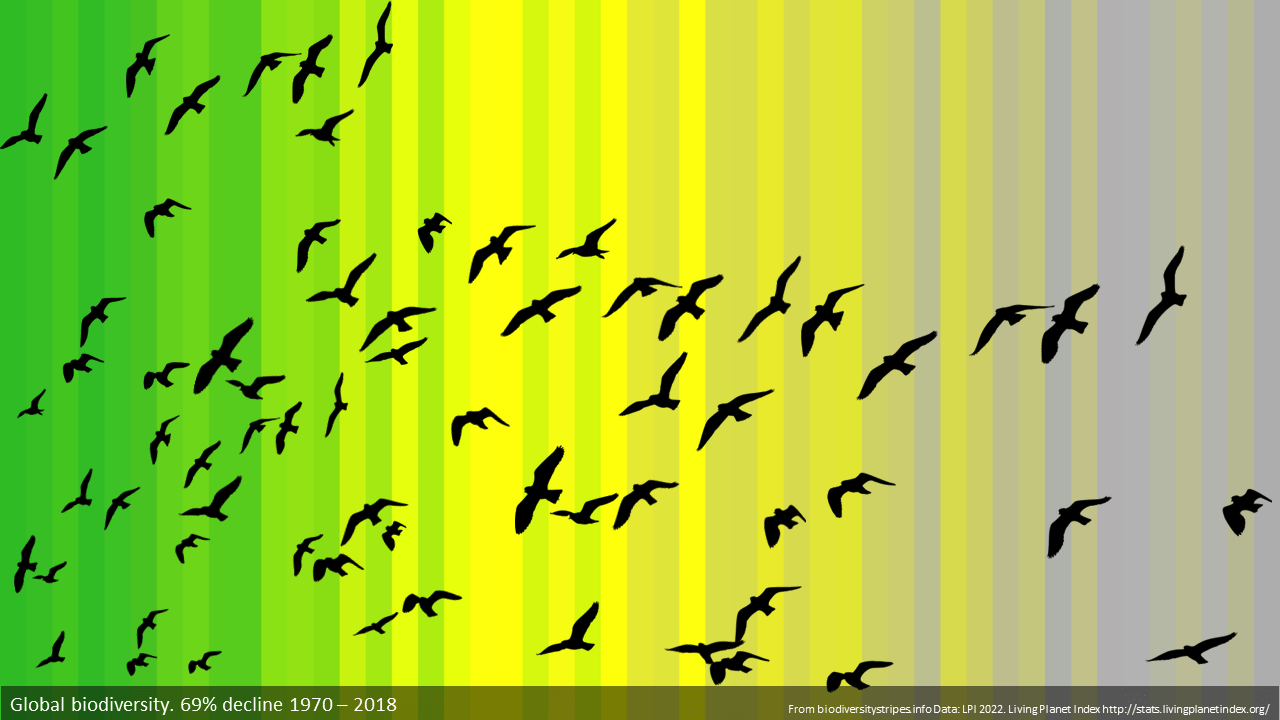 Major international accords, like the 30×30 agreement are also in place to preserve biodiversity. But how can we make sure nature gets protected?
Well, it seems like indigenous people may be nature's greatest champions, according to an insightful article we read in April. It summarised recent studies, from Brazil, that reveal nature thrives and heals when indigenous rights are legally recognised in an area. Deforestation and reforestation rates were far, far better in one of the most biodiverse hotspots on the planet.
Which begs the question: why not get indigenous communities and leaders involved at future COPs instead of fossil fuel lobbyists?
And as a little side note on biodiversity from closer to home, it's also worth a mention that the EU proposes to recognise ecocide as a crime. We stan'.
World's first rewilding centre opens in Scotland
April 14th, 2023
Link: The National
Do you ever stop and think that humans really need a profound connection with nature again? With the creeping sprawl of cities and hyperfocus on technological innovations, our heads are buried in the ground.
At the world's first rewilding centre in Scotland, people can go on a guided walk in the forest to experience rewilding in action and learn more about the native trees, plants, and animals in the space. A former hunting estate, the Dundreggan Rewilding Centre has been quietly rewilding for 15 years – regenerating the land from centuries of overgrazing by sheep, goats, cattle, and deer.
And now it's open to folk! Dundreggan is home to over 4,000 species of plants, fungi and animals, including many that are rare and protected. The centre is also a case study for how nature recovery can benefit rural communities and create jobs.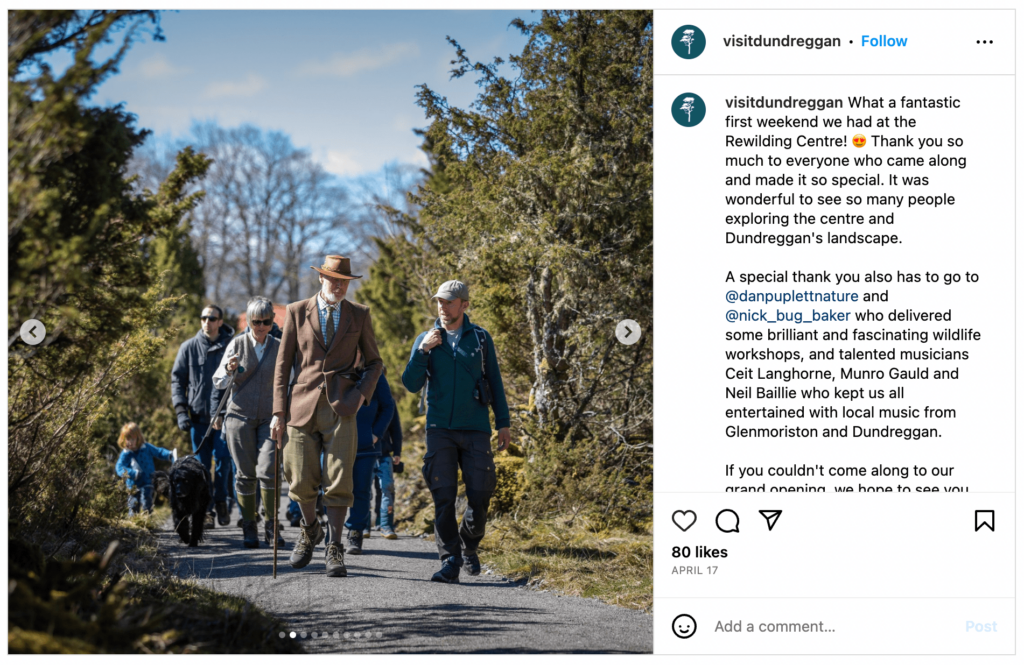 Maybe the next Akepa team meeting will be held here.
Lulemon makes t-shirts with plant-based nylon
April 18th, 2023
Link: CBS News
Now, this is the kind of innovation we like to see! Lululemon, the luxury athletics brand made famous for its buttery soft yoga leggings, debuted its first ever shirts made using plant-based nylon.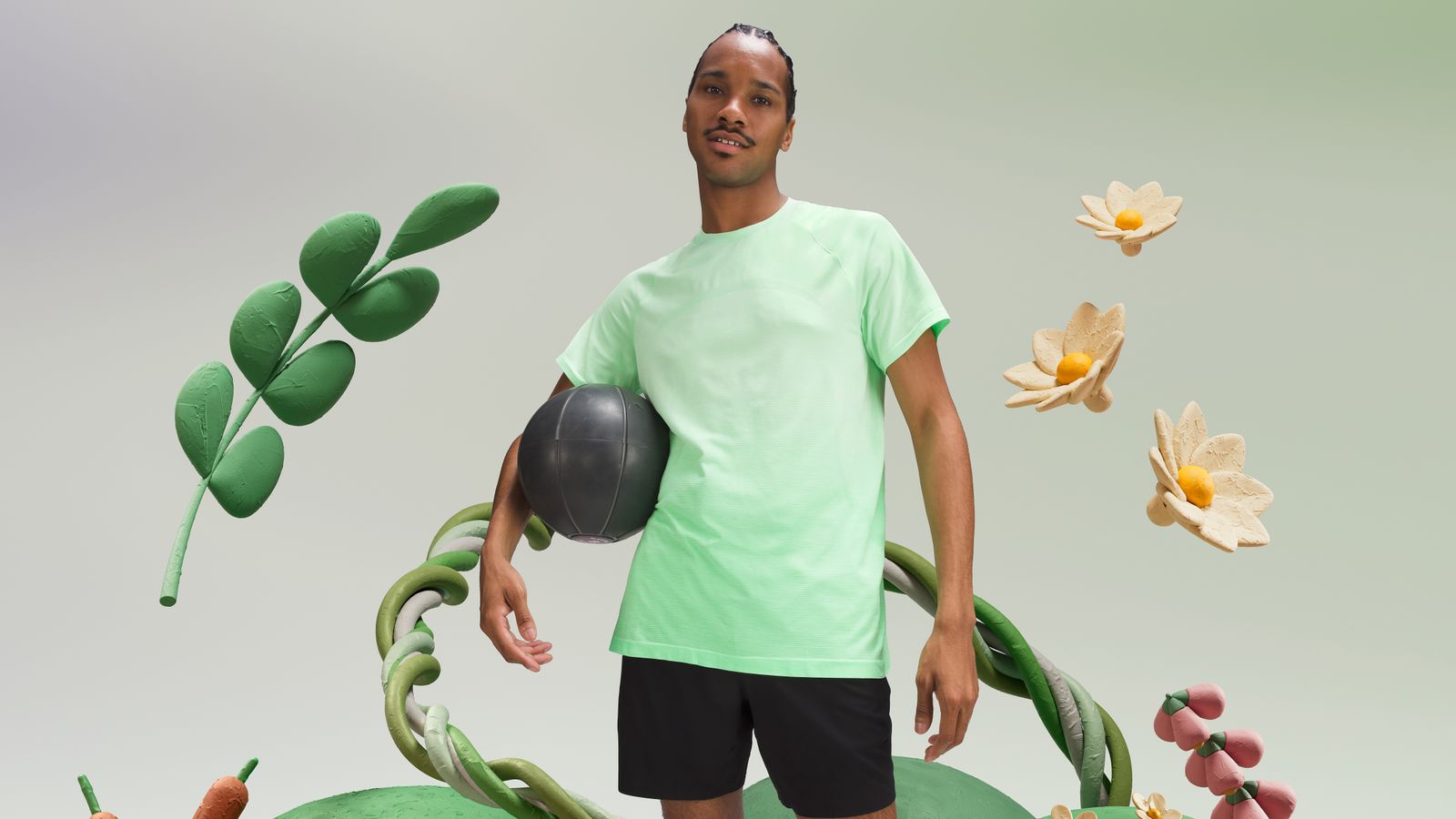 The retailer teamed up with materials company Genomatica to convert plant-based ingredients into the raw material needed to produce nylon, using biotechnology and fermentation techniques. Nylon is indispensable in sportswear due to the stretch it adds. But its fibres typically come from petroleum (ex: crude oil, natural gas). Chances are most of your running shorts or sports bras will have nylon, so it's best to think twice before rushing to buy another.
Somehow, these new sustainable shirts aren't any more expensive than versions made with the regular material! Lululemon gets a few more bonus points for also using recycled polyester and plant-based elastane, to add to bio-based nylon.
Scientists find new coral reef in Galapagos
April 18th, 2023
Link: Reuters
Underwater lovers were ecstatic when Ecuador announced the success of their latest maritime exploration: scientists have found a previously unknown coral reef in the Galapagos Islands.
The country's Environment Minister Jose Davalos tweeted, "A deepwater scientific expedition has found the first totally pristine coral reef… on the summit of a submarine mountain, with abundant marine life." So, if we talk about climate change and biological ecosystems, this latest discovery is a huge help to mother nature.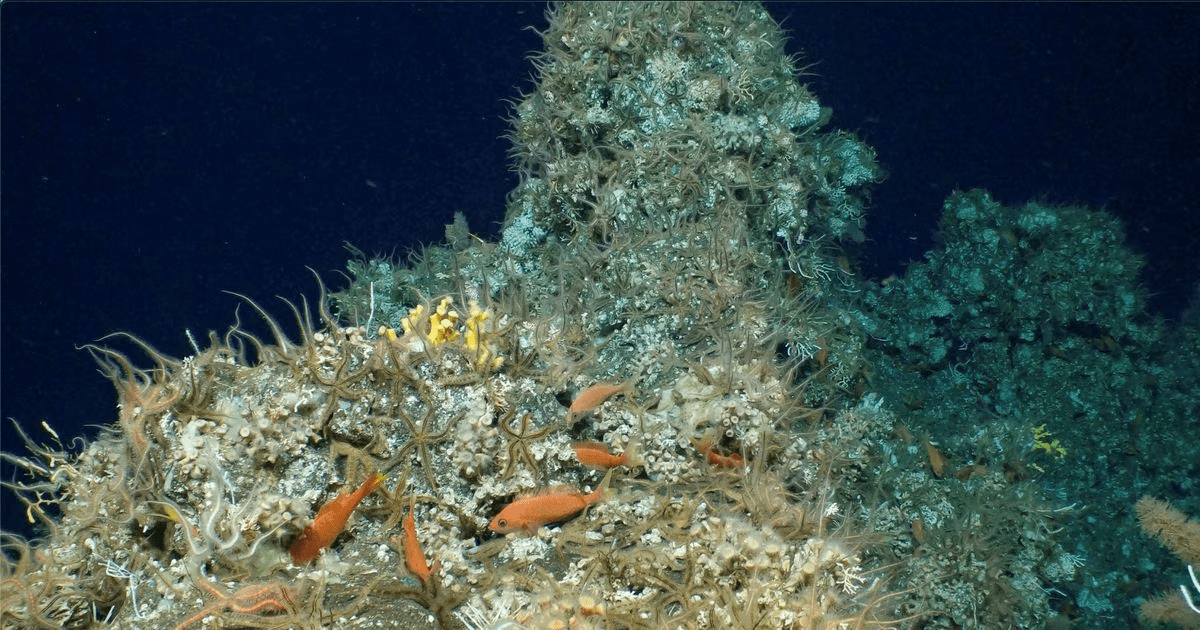 Until recently, the Wellington reef was the only reef in the Galapagos believed to have survived the harsh El Nino weather of 1982 and 1983 – about the same time global warming started to rise at faster-than-normal rates. "El Nino" refers to the annual warming of ocean surface temperatures, which takes place around the end of each year.
Last year, the limits of the Galápagos Marine Reserve were expanded to protect endangered migratory species moving between Ecuador and Costa Rica.
2023 Goldman Environmental Prize Winners
April 24th, 2023
Link: Mongabay
On April 24th, six grassroots environmental activists from each inhabited continent won the Goldman Environmental Prize. Its mission is to recognize individuals for sustained and significant efforts to protect and enhance the natural environment, often at great personal risk.
So who were this year's bravest and commendable fighters?
Alessandra Korap Munduruku – Brazil (South & Central America)
Alessandra stopped mining development by British mining company Anglo American inside indigenous territories in Brazil's Amazon rainforest.
Chilekwa Mumba – Zambia (Africa)
Chilekwa won a lawsuit against Vedanta Resources, the British company responsible for the Konkola Copper Mines operation and its pollution produced in Zambia.
Delima Silalahi – Indonesia (Islands & Island Nations)
Dilemma successfully secured legal stewardship of land for six indigenous communities, preventing it from being converted into a monoculture, non-native, industrial eucalyptus plantation.
Diane Wilson – United States (North America)
Diane won a case against Formosa Plastics for the illegal dumping of toxic plastic waste on Texas' Gulf Coast.
Tero Mustonen – Finland (Europe)
Tero helped restore 62 severely degraded former industrial peat mining and forestry sites throughout Finland, transforming them into biodiverse habitats.
Zafer Kizilkaya – Turkey (Asia)
Zafer expanded Turkey's network of marine protected areas along 310 miles (498 km) of the Mediterranean coast, of which Turkey's marine ecosystem has been severely degrading by overfishing, illegal fishing, tourism, and more.
On a final note
The Show Your Stripes climate warming stripes – mentioned earlier in the post and featured on the front page of the Climate Book by Greta Thunberg – received their 2022 update in April. The path we're on is clear. There's still a reddening trend. But we'll be back in touch with more good news next month about what's being done to cut that unkempt crimsoning.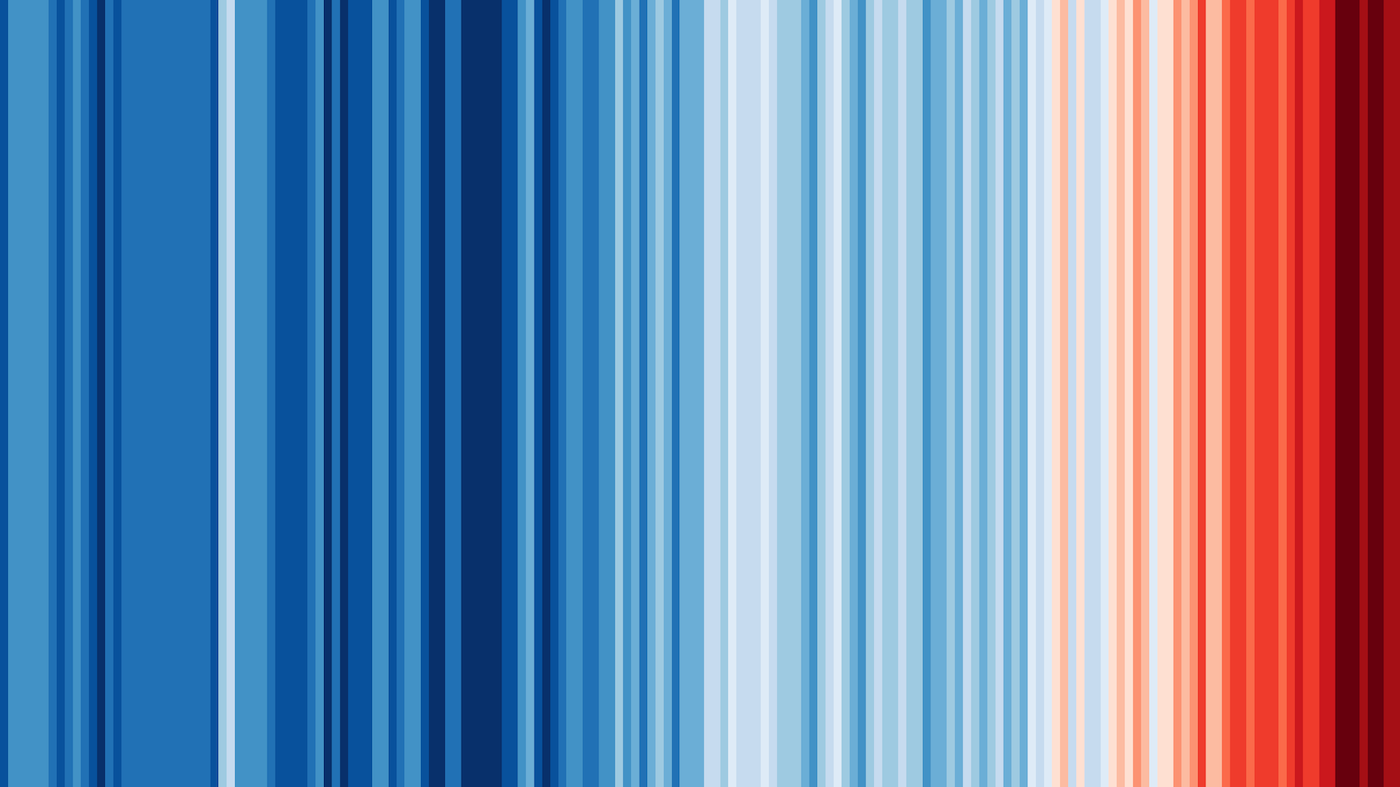 Let's end on the Stripes, for now.