By now, you'll probably have heard about COP26. It's been all over the news for a variety of reasons, from the Pope's unavailability to attend, to expected major protests around the conference. But what exactly is it?
What is COP?
Well, COP simply stands for 'Conference Of Parties', so that clears that up. But what parties? And what are they conferencing about? Confusingly, there's another big acronym in play here: the UNFCCC – or United Nations Framework Convention of Climate Change – which was a treaty in 1993 signed by 153 countries that basically said 'we need to do something about climate change'. COP is simply its decision making body, which meets annually to assess progress.
On the 31st October, the meeting is happening for the 26th time (hence, COP26) in Glasgow, Scotland. It didn't convene last year, due to the pandemic.
Does it get anything done?
Well, yes and no. COP has been meeting since 1995 and some years it gets a lot done, but others see some states throwing their toys out of the pram (see Copenhagen 2006). The meeting's greatest hits include the Kyoto protocol from 1997 and the international smash hit Paris Agreement from 2015, which set out a clear goal to limit global warming to well below 1.5 degrees Celsius.
Which may raise the question, if we have the Paris agreement, why do we need a new COP? What's left to discuss? Well, each country has different targets depending on its level of development and industrialisation, these are known as NDCs (nationally determined contributions).
What are NDCs?
NDCs basically represent each nation's pledges to reduce emissions and take action that will bring global warming down. They're meant to start at a realistic level and be more ambitiously adjusted over time (and they're also not legally binding), so the ones that have been agreed are actually not nearly enough to reach the target set out at Paris. If we were to continue with the NDCs currently set out, we'd see a 16% rise in emissions, rather than the 45% cut needed to meet the Paris agreement.
So, to address this worrying issue, a mechanism was built in whereby countries have to return to the table every five years with fresh commitments and, you guessed it, those five years are up, which is why you might have been hearing more about this COP than previous ones.
Here's a neat graphic from Climate Action Tracker that summarises countries' progress towards the Paris agreement's aims. You can see that only the Gambia's actions are currently compatible with the Agreement.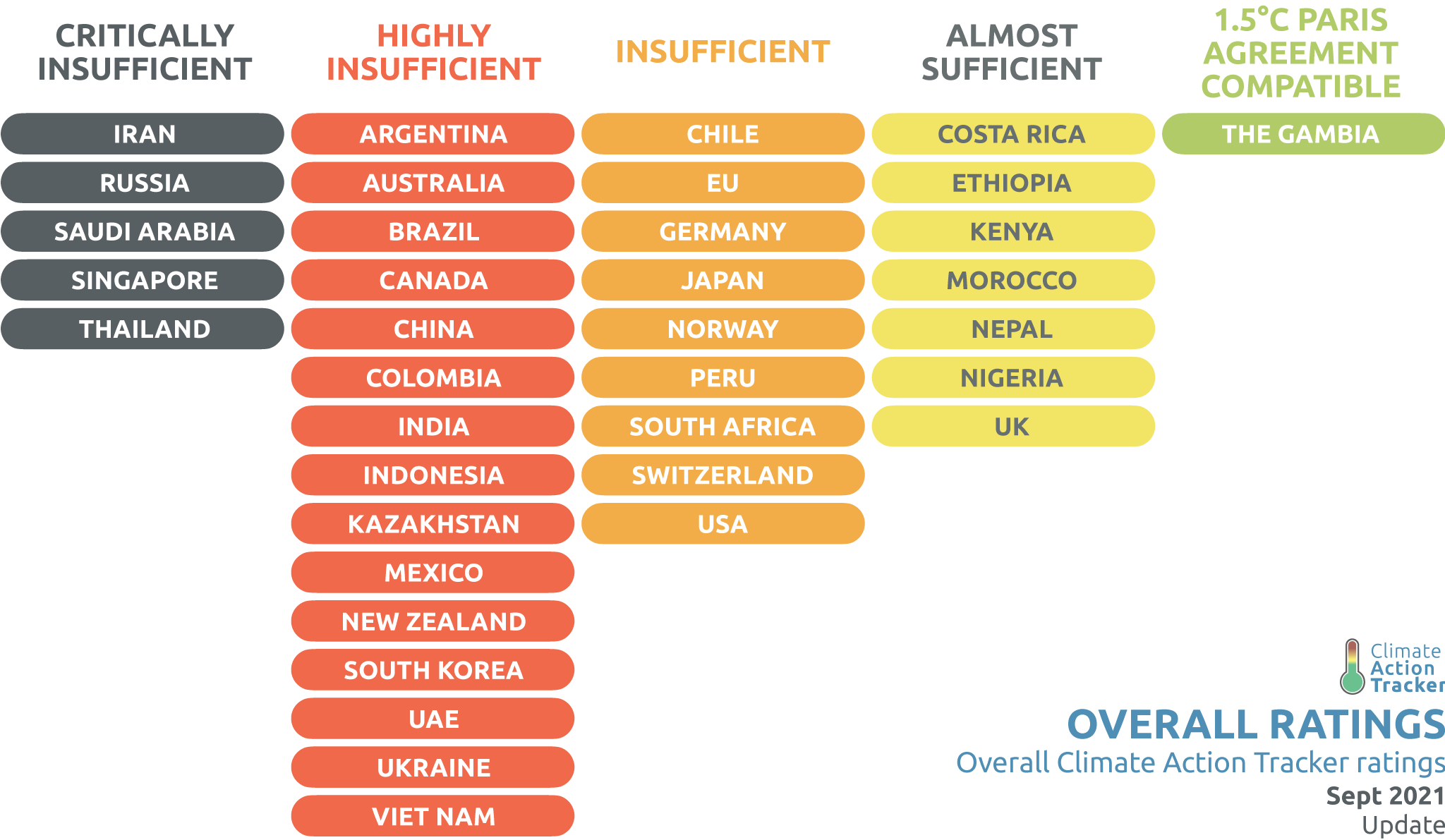 What's on the agenda?
In a word: China. It's the world's biggest emitter of carbon by a clear margin and has yet to commit to a new NDC. Some parties feel that targets are futile without strict commitment from President Xi Jinping, so whether or not he turns up will have a big impact on the mood.
Aside from new NDCs the UK presidency has outlined a focus on three other main areas.
Climate Finance, phasing out coal and nature-based solutions are also all on the table for discussion, whether it be making sure that developing countries are getting the funding to introduce carbon-cutting solutions, creating carbon banks or providing alternatives to coal to markets that rely heavily on it.
In Boris Johnson's words, the summit is going to focus on "coal, cash, cars and trees". And the way John Kerry put it is a decent summation of what it all leads to: "the last best hope for the world to get its act together".
What could all this mean for business?
It could mean regulatory changes. While it's governments who are at the table, the conference is about driving stakeholders to action, whether they're investors, economists, citizen groups, or businesses.
Reduced NDC goals will mean new regulations, and while most of that will affect the awfully pollutive multinationals, there could be new rules that will impact everyone. On the other hand, it may mean new incentives to green yourself up, so watch out for those.
As an example, if your business relies on delivery logistics and you haven't yet investigated electric solutions, there's no better time to start, because that's going to be a big focus in the decade to come. Similarly, now would be a great time to invest in 100% renewable energy if you haven't already.
So, keep an ear to the ground. Or better yet, forget your ears keep an eye on this blog, because if there are any developments you need to know, we'll round them up here for you.