The 27th Conference of Parties (COP27) — an annual meeting where leaders from nearly every country on Earth discusses climate change — is happening this November. It's probably the biggest climate conference on the planet. This article mainly highlights what's on the agenda.
But first, let us not forget the COP26 outcomes. Here's a summary of last year's climate conference before moving on to the issues and challenges to be covered at COP27 in Sharm El-Sheikh, Egypt.
The progress (and failures) of COP26
Climate change continues to transform daily lives, while action remains murky. Do you think this obfuscation has a catastrophic impact on people and the planet? The following articles might help you answer that question:
To think, these are only some of the top failures of COP26.
On the brighter side, here are some highlights. While some scramble to monetize nature and find dubious ways to look good, others implement path breaking initiatives that can make a difference. If you ask me, it's a teeny-tiny glimmer of hope. Progress is progress:
Still, while improvement was made in a few areas, there clearly wasn't enough.
In fact, many climate activists and serious analysts are unimpressed. Activist Greta Thunberg announced she will give COP27 a pass and dubbed the global conference a forum for "greenwashing". Harsh but she may have a point when you consider Coca-Cola (by many measures, one of the world's top polluters) will be a sponsor of the 2022 climate conference.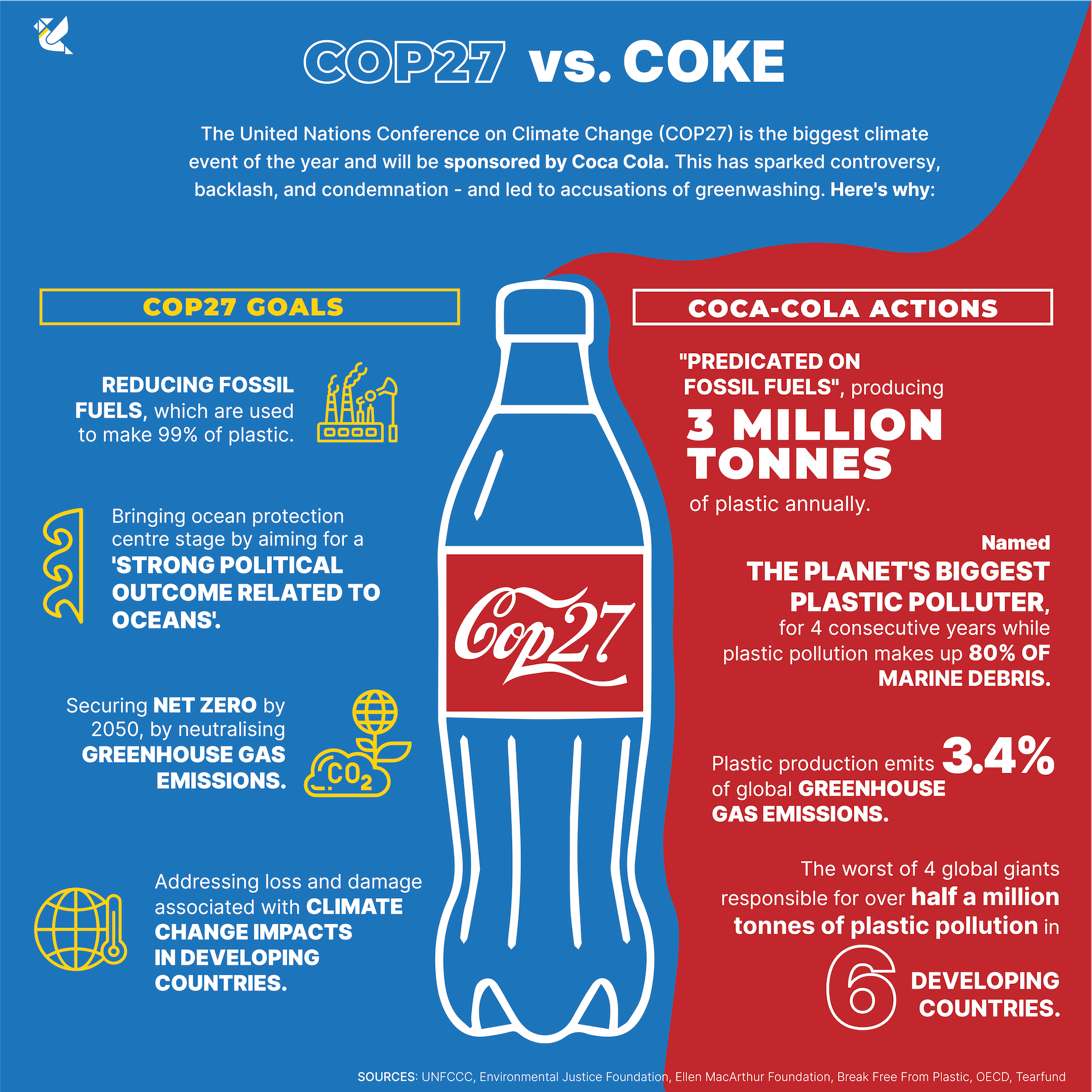 Sometimes money offers relief. But sometimes money is the veil covering undeniable damage. I hope the former towers above the latter.
What's on the agenda at COP27?
Anyway, moving on swiftly… here's a visual overview of COP27, including a list of this year's themes and agenda items.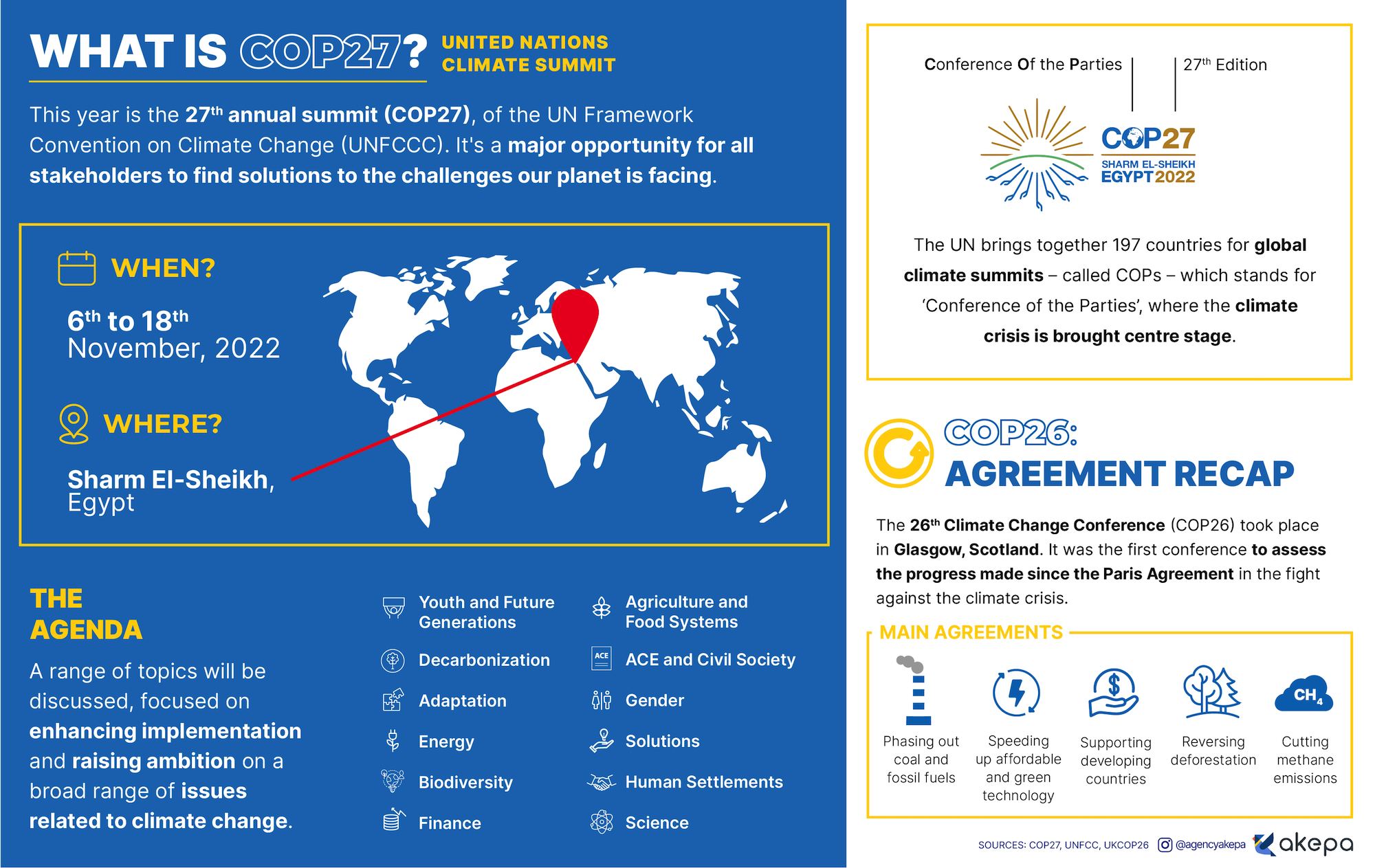 So, what will the biggest objectives and discussions be at COP27?
First of all, these COPs are always about attendant nations renewing their commitments to hit the legally-binding Paris Agreement. That means net zero by 2050 and limiting global temperature rises to no more than 1.5° Celsius. Although some recent news on how that's going hasn't been reassuring.
This year, the topic of "loss and damage" – will also be in the spotlight, even though it's not officially listed on the agenda yet. Countries are expected to review their own climate plans but also how they can alleviate vulnerable communities. This includes decent financial compensation to developing countries, like those in the drought-hit horn of Africa (the ever-lingering elephant in the negotiation room). On that, French president Emmanuel Macron, Dutch PM Mark Rutte and Senegalese president Macky Sall will host an event on accelerating action to tackle climate change in Africa.
COP26 focused on deforestation but did you know that the world's oceans absorb far more carbon than forests? And are by far the largest carbon sink on the planet, sequestering about 30% of CO2 emissions? Well, this year, 'strong political resolution' is hoped for relating to oceans too. After all, we'll need to keep that massive sink in shape if we want to hit the Paris Agreement's targets. And with COP27 surrounded by the Red Sea, which is home to some of the finest marine life you could ever see, such negotiations have an appropriate backdrop.
Still, this COP's polished text form does look a little flimsy in the current sociopolitical landscape. I wouldn't be surprised to see a delay in commitments as a result of the war in Ukraine. Although, some say the war could be a wake-up call for nations to become self-sustained.
For the most part though, true success hinges on the follow-up actions in the run-up towards the next climate summit and the years beyond.
The shift to a circular economy is essential
One important action that attendees should debate is the shift towards a circular economy. According to a recent report, re-entering resources into a continuous and long-lasting system can help reduce the remaining emissions by half. It's a business framework that encourages people to retain value and make efficient use of existing resources – these countries are leading the way right now.
At the heart of it, the idea is to move away from the take-make-waste approach and turn towards a circular approach. Thereby growing prosperity while keeping within the boundaries of our finite planet.
In closing…
To all the conscious-minded alike, I think the expectation is that COP27 will be the axis the world needs to pivot on, especially vulnerable communities that cause the least impact. At least some green shoots of progress will emerge but against a dizzying array of difficulties. I'll be back in touch with a post about the agreements, post-COP. But if COP26 is anything to go by, sticking to these agreements seems challenging too.
Shoutout to all the optimists and climate activists that continue to engage and persist in real efforts to fight climate change together.
Keep track of the event from home