There's a plethora of sustainable fashion marketing campaigns out there but I just couldn't resist blabbing about three lesser-known, rad examples. You know, the type of selling that makes even the most sceptical of folk hit the 'follow', 'share', or 'purchase' button. If you're anything like me (a wary and quirky minimalist looking for a crackerjack of a sustainable brand), you may take a seat…
1. Embracing the silly
Brand: Toad&Co
Campaign: Dear Plastic, It's Over
Good on you score: Good
Most people leave the best for last. I begin with the marvellous. Toad&Co has easily become my favourite brand and I'm no fashionmonger. The more I got to know the brand, the deeper I fell in love. Though, I might be a little biased.
Let's see.
Toad&Co is big on enjoying the simple things in life, embracing the silly and letting go every once in a while — exactly what most people need. The ingenuity shines through the company's website, Instagram content, the pre-rebrand name 'Horny Toad', and their witty marketing campaigns.
Their 'break up' letter must be the champ of all sustainable fashion marketing campaigns. Though the plastic dilemma is no laughing matter, Toad&Co published a chucklesome article that confronts all plastic's wrongdoings. "It's not us, it's you," the article expresses. The letter also promotes its calling to push the industry towards more sustainable packaging. In partnership with prAna, Toad&Co is replacing outdated packaging material with earth-friendly options that work just as well — if not better.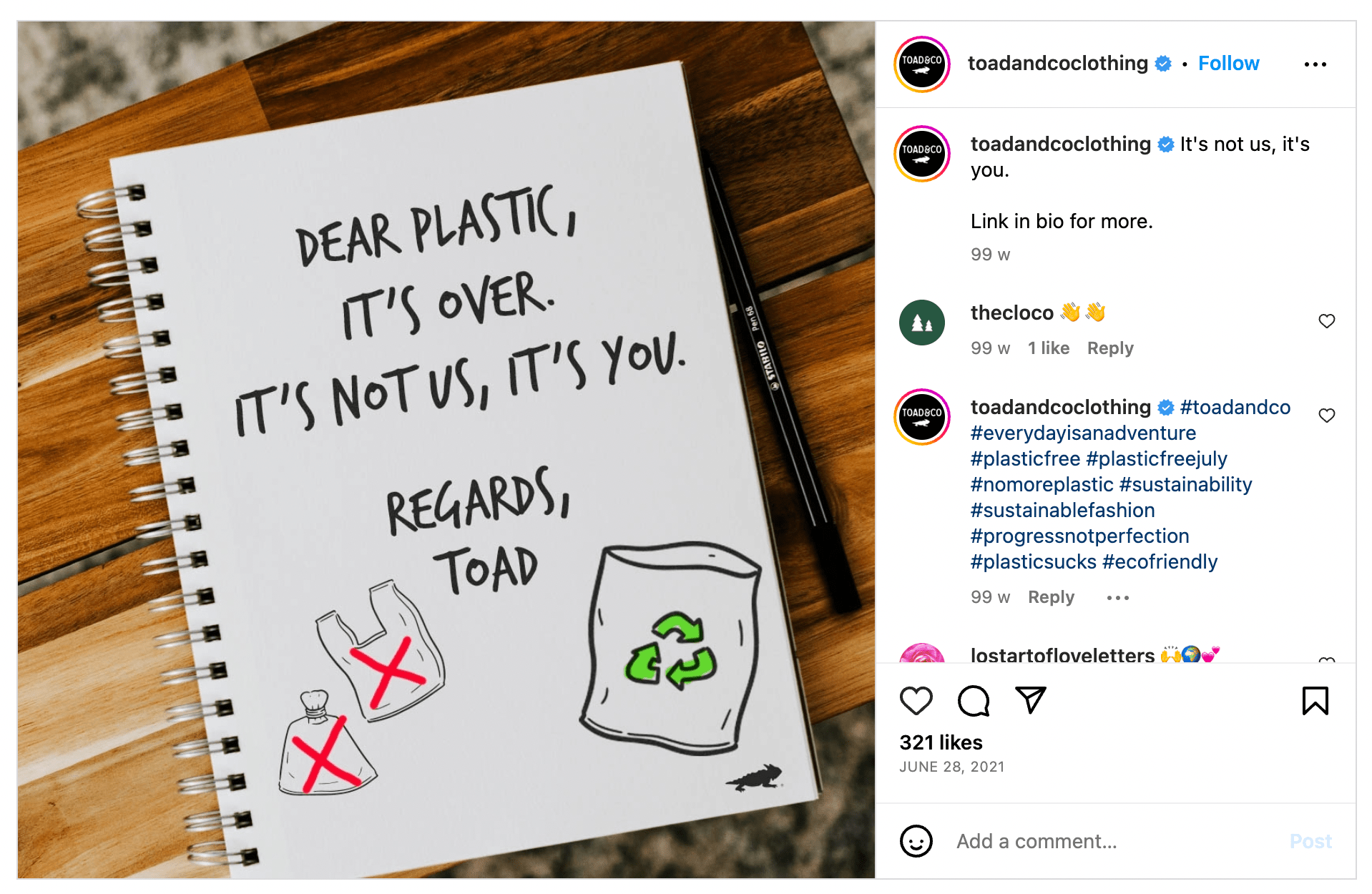 This sustainable fashion marketing campaign stands out among the many yawn-inducing copycats. The company is fun and offbeat. By the by, they also inspire people to go off the beaten track (don't know about you but nature escapades are what I live for) and show how they #AdventureInToad — yet another clever marketing tactic. One that got me scrolling their gram until I felt a stiff pain in the neck. Totally worth it though.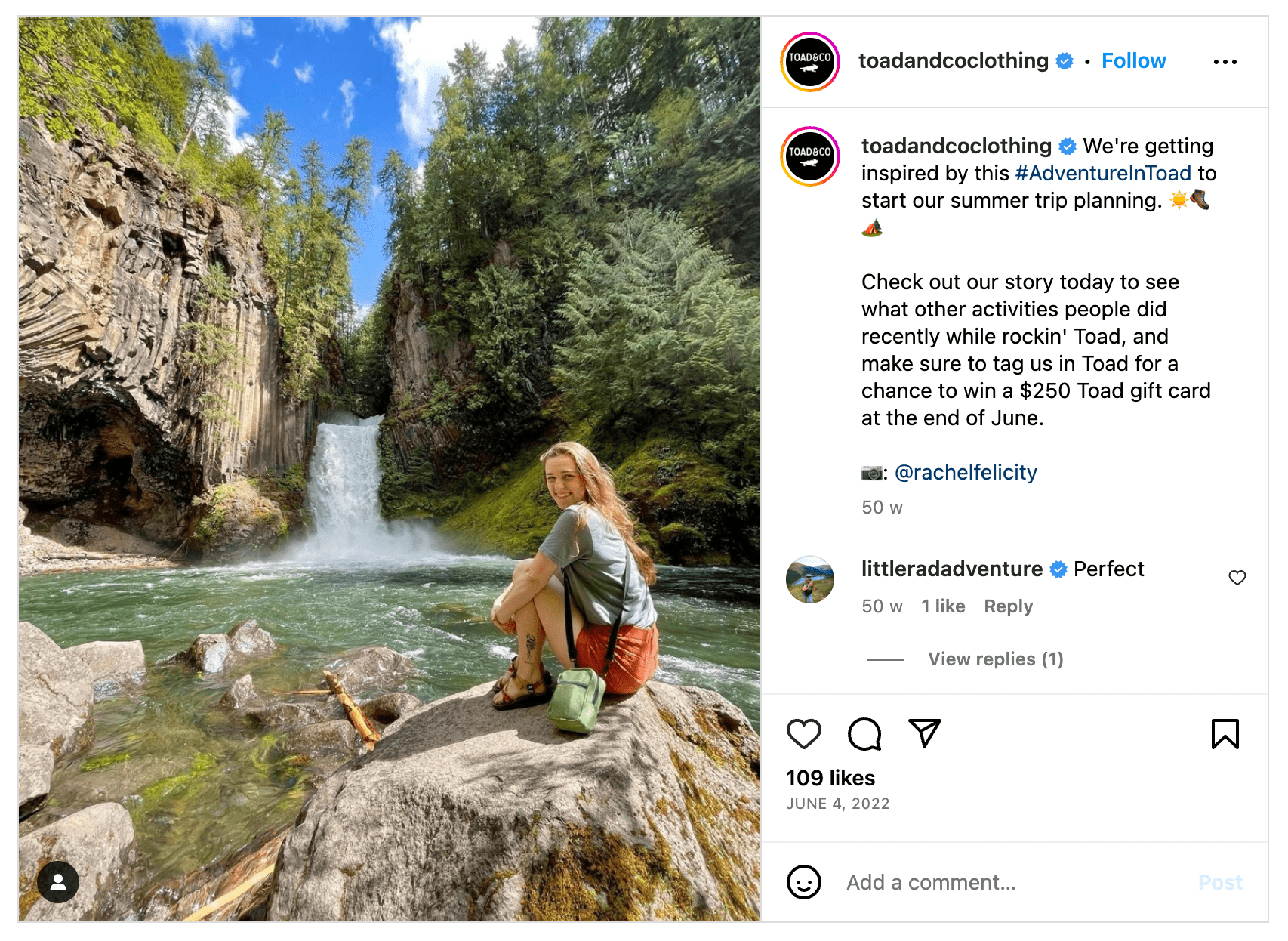 Plus, the peeps behind it all have a thing for alpacas, mountains, ice cream, and other cool stuff. Toad&Co feels like a friend.
And that is how successful marketing is done.
2. Pioneers of sustainable fashion
Brand: Ecoalf
Campaign: #BecauseThereIsNoPlanetB
Good on you score: Good
Next up is Ecoalf's ongoing campaign, #BecauseThereIsNoPlanetB to support the expansion of its most ambitious project: Upcycling the Oceans — a global effort to help remove marine debris from the bottom of the oceans and rework it into quality yarn to make garments. The project has already inspired more than 4,000 fishermen to join the movement (holy smokes!).
Not to mention, for each BECAUSE THERE IS NO PLANET B® item sold, 10% of the sales are chucked into the ECOALF Foundation to kelp out (ha!).
Ecoalf consistently reminds its followers @ecoalf to "Join the Ecoalf Movement. A global community with the same mission: taking care of the only planet we've got." For example, the post below talks to young people and uses simplicity in its messaging that just stirs the heart, "Start them young. Wear the message. Live the message. Be the message." Short, sweet, and to the point.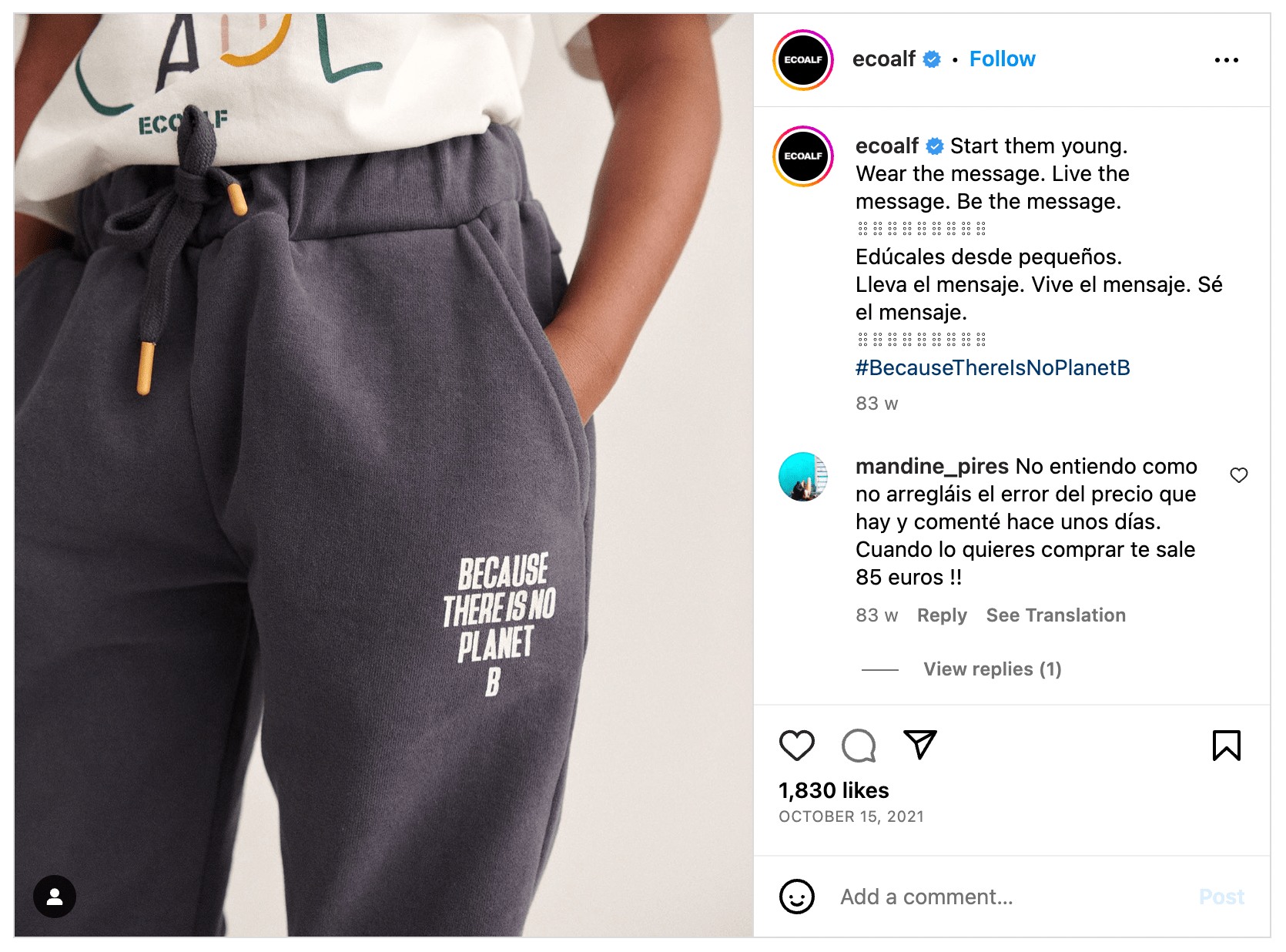 And the post below shows activist and author @carlotabruna wearing a BECAUSE THERE IS NO PLANET B® fleece top. The genuine disapproval on Carlota's face speaks volumes.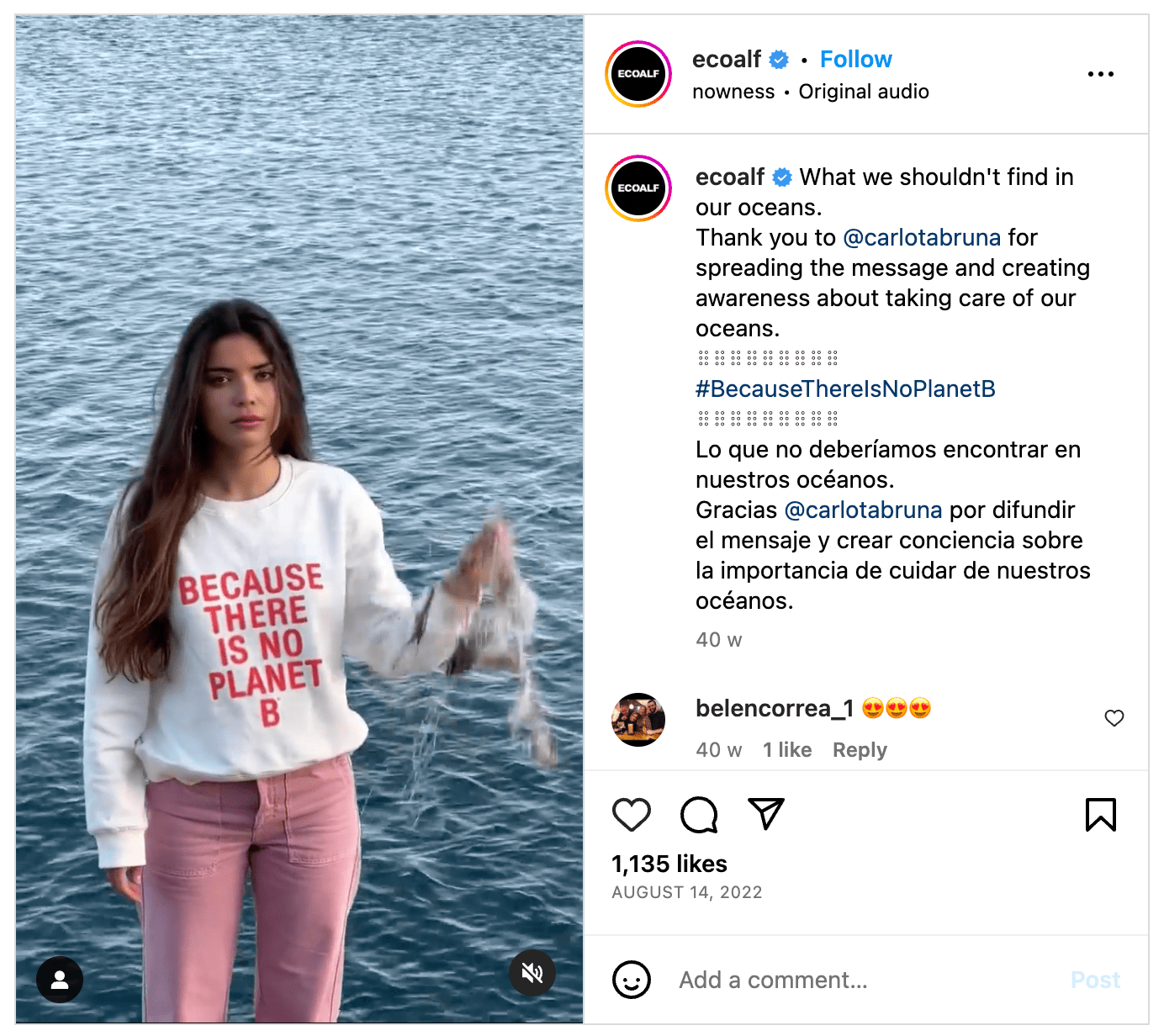 This is the kind of sustainable marketing that charms minimalist fashionistas. If this is you, it's likely you will be drawn to Ecoalf because eco-anxiety doesn't go with your outfit. You might be aware of the unsustainable ways of the fashion industry. Still, you need to know it's possible to create a truly sustainable fashion brand without sacrificing aesthetics.
3. Genuine impact woven into denim.
Brand: Outland Denim
Campaign: Protecting people = Protecting planet
Good on you score: Great
Last but so not least impactful is Outland Denim's gnarly marketing move during the height of COVID times.
In 2020, the denim connoisseur did something a bit unconventional and the results were epic. The company skipped traditional investment routes and took the road less travelled — Equity Crowdfunding, allowing Outland Denim's community to easily become shareholders of the company. The investment led to true, generational change in the lives of the people who make the clothes. This route puts the power directly in the people's hands and that's why it's so effective. Everyone wants to support brands that take responsibility and can show they do good in the world. Outland Denim lives to use the power of people to be the answer. Because, "When we protect people, we protect the planet too." Hats off to the community.
What makes Outland Denim different is that their garments are made in their own production and finishing facilities. This allows the company a degree of security, traceability, and operational agility above brands that outsource their manufacturing and offers a unique place to manage its environmental, social, cultural, and economic impact.
A thunderous bravo from me!
Clearly, there are various ways to market brilliantly. But if you ask me, fun is the cheapest, easiest, and (wait for it…) most sustainable way to change people's behaviour. Fun is free. It doesn't run out and rarely becomes boring. It's not race, gender, or age specific. It's therefore the perfect vehicle to shift any person's mindset. Especially when the behaviour in question has a serious impact. Although, building and maintaining brand originality (aka coolness) might not be that easy.
If your sustainable brand needs help spreading its wings, reach out to Akepa. We're here to support you through your marketing campaign.