At Akepa, we embrace the alternative style, the remote route, and partner with people from all over. Here's Akepa's Roma Dhanani giving her perspective on remote working from Paris, France. It's the sixth in a series of posts from our team on remote work in different parts of the world.
Paris is famous for its charm and romance. You don't often hear that people dislike this city – there seems to be something that draws people in more than other places. With 16% of companies across the globe operating fully remote, the freedom to move wherever is an opportunity that some of us are blessed with. So if the cozy French capital is calling you, these pros and cons of remote working in Paris might help you out in making the final decision!
Pro: Remote work friendly
For those who'll fancy a change of environment from your likely tiny and old Parisian apartment, there's an endless number of places to work remotely. That includes actual coworking spots like WeWork or Anticafé where you can buy a subscription, free public libraries if that's your thing, and also cozy cafes with good remote work vibes where many others are in the same boat as you. Take this coworking eco-friendly spot, for example. Located on the main canal of Paris for more than a century and barely renovated since, you can choose to work from the bathtub or any one of the other rooms in this former lock-keeper's home:
Or take this coworking spot, doubled up as a cultural space. They serve some delicious cocktails which you can treat yourself to after the work day: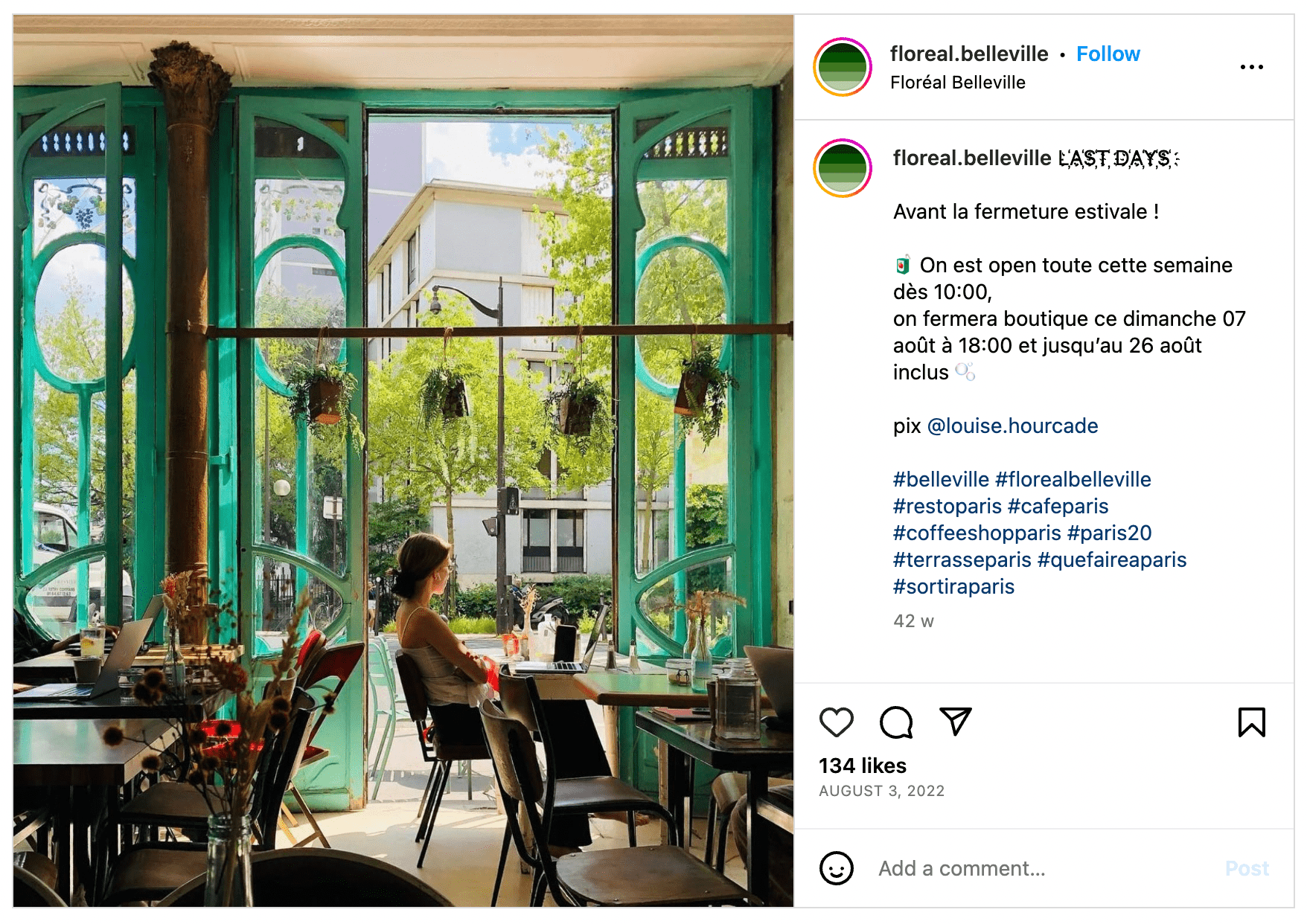 There are also many hostels, hotels, and other living situations where you'll find coworking spaces and other digital nomads. That said, the city is a hotspot for internationals. So if you're looking for a community of remote workers, English-speakers, and in general people to connect with, you'll find it!
Con: Hustle & bustle
While there are a lot of laptop-friendly cafes to choose from, at the same time it might be difficult to actually find somewhere to sit. A lot of the popular cafes can be crowded with remote workers and pretty noisy. This is a typical con of choosing a metropolitan city to remote work from but in Paris it's even more acute.
Besides that, people – like in a lot of big global cities – are very much in their own zone in Paris, not often going out of their way to be friendly, a lot are in a rush, and it's likely someone will bump into you without even batting an eye. It's also not the safest place – pickpocketing is common and be extra careful with harassment if you're a woman, especially so if you enjoy night outs at the bar.
Pro: Hustle & Bustle
Nope, that wasn't a mistake. The busy streets of Paris can be both good and bad. I've put this one as a pro because if you're thinking about working remotely in Paris, it's likely you enjoy city life. And Paris is just that – there is a LOT to do in this lively and happening city. There's all kinds of events going on at any time. As long as you do your research and you know where to go, boredom will be the last thing on your mind. The amount to do and see can be overwhelming.
And with Paris being the hub of France, it's very well-connected to both the rest of France and other countries. Although trains can be expensive, they're high-speed and can often get you to places faster than cars.
Con: The dreaded high cost of living
Paris is notorious for being expensive, having won 2nd place for the world's most expensive city in 2021. Although in 2022 that ranking dropped significantly. Still, rent and groceries in this city are high relative to European countries. So unless your job is paying you generously relative to the city's average cost of living or you've got the savings, that might be a hefty factor to consider.
Not only that but it's also notoriously difficult to find an apartment to begin with, especially as a foreigner. The amount of documentation required to rent an apartment is crushing, and that's even so for the locals. To add to that, housing is in high demand and it's often the case that the people with the highest income are chosen over others. Apartments are also tiny as Paris is the densest major city in Europe and it's hard to cram everyone in.
Pro/Con: (Not) speaking French
All that being said, if you don't speak French and have no interest in learning, then there's a big chance that your experience in Paris will be limited. In general, it can be a bit difficult getting beyond a basic conversation if you can't communicate in French. That's not per se because of people being anti-social, but the level of English among Parisians isn't always high. So there might be a bit of a barrier. But that depends on whether you're planning on sticking with expats and only going to the tourist spots or if you have desires to integrate.
But that's the social side of things. When it comes to bureaucratic stuff, it's frustrating enough already for the locals. Not speaking French will add to that and make it much more time-consuming. Still, if you're secured with a remote job – it means you won't be a part of the expat community looking for a job in Paris and struggling due to the lack of language skills. So if you were mostly convinced so far, you'd be smart to make the move and enjoy the city for a while. You never know when you'll lose that opportunity.
On the flip side, if you do speak French, or want to improve, consider the immersion in the language a big plus. And remember that if you're coming from English, French is one of the easiest languages to learn and shares a lot of vocabulary once you get over the tricky pronunciation.
---
France doesn't offer specific digital nomad visas. But depending on nationality, foreigners can enter freely or apply for the Schengen visa for a 90-day stay. This would be all you need to work remotely. For a stay longer than 90 days, many remote workers use a long-term stay visa and get away with it, but some recommend against it. In which case, there are other ways to work as a digital nomad in France.
Interested in learning more about remote work in some of the world's other places? Have a look at some of our other guides below: